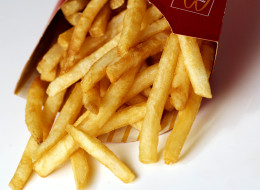 French fries are nothing to joke about -- even in France. Just ask the French man who pulled an ax on an unsuspecting McDonald's drive-thru attendant after he was allegedly served cold fries.
The ax attack occurred at a McDonald's near Paris around 2 a.m. Sunday. The late-night diner bashed in the drive-thru window with the weapon, Le Parisien reports.
He then threw the ax inside the fast-food restaurant and drove off. Police caught up to him shortly after and took the 26-year-old man into custody, according to local reports.
It's not the first time a McDonald's customer has apparently become enraged over a subpar order. Last year, two Tennessee men returned to a McDonald's after throwing back some beers and hurled bricks at the establishment. At the time, the men admitted to police that they were upset because McDonald's had "messed up" their cheeseburgers.