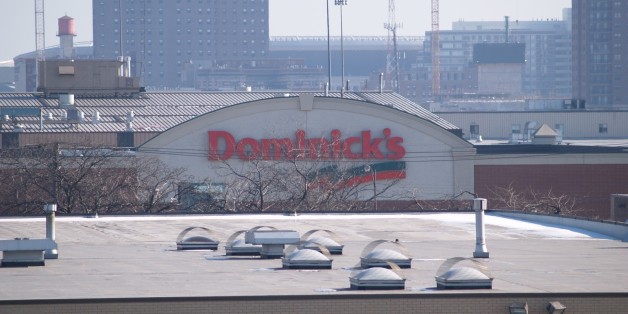 Bargain hunters are cleaning out the shelves at one West Side Dominick's as the chain prepares to leave the Chicago market by year's end.
Shoppers were lined up as early as 6 a.m. last Friday to pounce on markdowns to everything from shampoo to school supplies at the Dominick's in Ukrainian Village, according to DNAinfo Chicago.
"Aisle 7, everything is gone," one worker told the site, noting the aisle with health and beauty products was nearly bare by 3 p.m. Sunday.
Dominick's insiders who requested anonymity from the Sun-Tmes said many items would be marked down by 10-20 percent and increase as the closing date draws near; sales, however, will vary from store-to-store.
Extra workers were on hand to handle the influx of shoppers scouring for closeout deals at the West Chicago Avenue store. According to DNAinfo, grocery items will be half-off come Friday with liquor reduced to 50 percent off come Dec. 20.
Dominick's is closing all of its 68 Chicago-area stores on Dec. 28 and said it may sell select inventory to other retailers. Jewel, Whole Foods and Mariano's are among the stores that have purchased some of the closing Dominick's locations, including 11 in the city.

As inventory is unloaded, Dominick's shoppers will be faced with increasingly bare shelves in the coming weeks and it appears other stores in the Chicago area are also looking similarly barren.
Dominick's on Division in Old Town set to close December 28th. Aisles already closed off and shelves empty. #chicago pic.twitter.com/qErv6UZCEd

— Marissa Bailey (@MarissaCBS2) December 8, 2013
End of an era Chicago peeps. Dominick's by my work. Shelves of health & beauty supplies nearly empty :( pic.twitter.com/p1IC9WihPp

— Amy (@amalama23) December 9, 2013
"If we take over a store with a meat department that's half the size of a regular Mariano's, shoppers at that store won't see the full variety, but we will sell a representative offering at the same quality and the same pricing structure (as the full-sized meat department)," Don Rosanova told the Sun-Times. Rosanova is the executive vice president of operations for Roundy's, the parent company behind Mariano's.
"Eventually, after a full remodel, the store will have the same variety," he added.
ALSO ON HUFFPOST:
PHOTO GALLERY
BEFORE YOU GO
The Best Supermarkets In America, According To 'Consumer Reports'
PHOTO GALLERY
The Best Supermarkets In America, According To 'Consumer Reports'