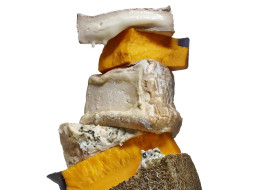 As you have probably noticed, we take cheese very seriously around here. We have threatened to change our name to HuffPost Cheese, have multiple cheese clubs that meet every week and believe that it may be the route to true happiness. That's why, when you tell us what your favorite cheese is, we really take it to heart.
You can tell a lot about a person from their favorite cheese. Are they trustworthy? Should you marry them? Would they be good employee? If you need some help deciphering your favorite cheese-lover, we've made a list of what your favorite cheese says about you. Oh, and if you're one of those people who hates cheese, or thinks the best cheese is no cheese, just go read something else. The Huffington Post has a lot to offer you, but this article just isn't it.
Brie, Camembert, and Other Runny, Creamy Cheeses

Getty

Mozzarella

Getty

Burrata

Getty

Cheddar

Getty

Feta

Getty

Gorgonzola

Getty

Gjetost (Norwegian Brown Cheese)

Getty

Goat Cheese

Getty

American Cheese

Getty

Gouda

Getty

Limburger

Getty

Gruyere

Getty

Parmesan

Getty

Swiss Cheese

Getty

No Cheese
Want to read more from HuffPost Taste? Follow us on Twitter, Facebook, Pinterest and Tumblr.