TALLAHASSEE, Fla. (AP) — Talk about an airing of grievances.
In protest of a Nativity scene at the Florida Capitol, Chaz Stevens has put up a Festivus pole with beer cans around it.
Sound ridiculous? Stevens agrees, but he did drive about 450 miles from the Fort Lauderdale area just to put up the pole.
"What's the point? There is no point. It's ridiculous. This is the most ridiculous thing I could come up with," said Stevens, an atheist. "This is about the separation of church and state."
Because Florida considers the Statehouse rotunda to be a public forum, people can use the space to express themselves or protest, as long as they first apply with a state agency.
Along with the Nativity scene and six-foot Festivus pole, the Wisconsin-based Freedom From Religion Foundation has put up a banner advocating for the separation of government and religion. A Festivus pole is also on display at the Wisconsin Capitol, along with other displays.
"Festivus for the rest of us" is a non-secular holiday made up by the television show "Seinfeld." George Costanza's father, Frank, made up Festivus after becoming fed up with the commercialism of Christmas. The celebration includes the airing of grievances during dinner followed by "feats of strength" in which a guest must pin the host before the party ends. Instead of a Christmas tree, Frank Costanza put up a plain aluminum pole — with no ornaments.
At the Florida Capitol last week, several dozen people gathered for the Nativity celebration, including a children's choir. The only people there for the Festivus pole installation were media and Pam Olsen, who organized the Nativity scene.
"I believe in prayer and you know what? I've been praying for you. I mean that sincerely, Chaz," Olsen said. "As a Christian, I have the Nativity because it's Christ in Christmas. And you have the right to have the beer cans here."
Stevens laughed. A theological discussion followed, with Olsen talking about her faith and Stevens saying Jesus might as well be Santa Claus or the Easter Bunny.
"You know what I'm praying for next year? I'm going to pray that they get rid of that thing," Stevens said, gesturing to the manger scene.
___
Follow Brendan Farrington on Twitter: http://twitter.com/bsfarrington
Also on HuffPost: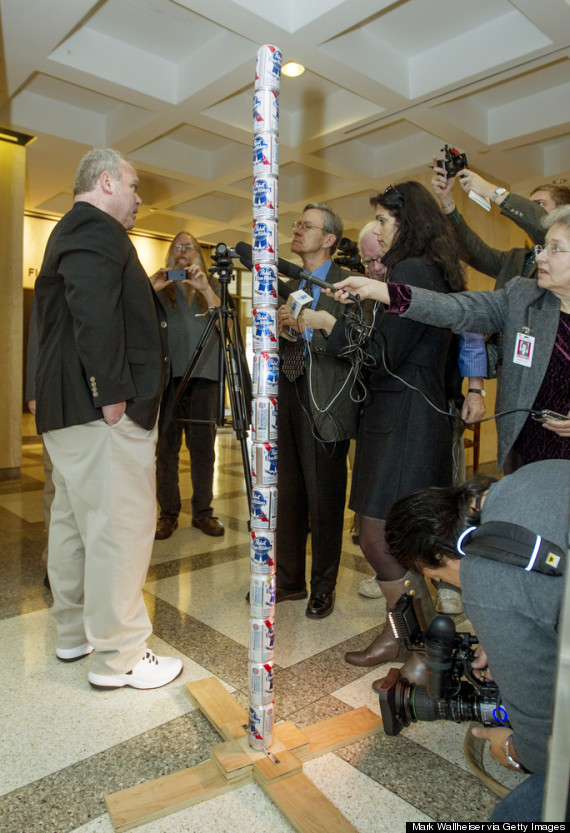 Loading Slideshow
Doctored Newspaper Front Page

Florida Governor Rick Scott's Facebook managers <a href="http://www.huffingtonpost.com/2012/04/11/rick-scott-facebook_n_1417499.html?utm_hp_ref=rick-scott" target="_hplink">posted an image containing a doctored <em>Miami Herald </em>headline</a>, prompting the paper's managing editor to demand it be removed. The post, since deleted from the Governor's social media page, swapped in the headline "New Law Helps Put Floridians Back To Work" in place of the paper's original headline from 2007, "Murders Highlight Rise In Crime In Guatemala" -- making it appear an editorial from the governor had run above the fold on the <em>Herald</em>'s front page.

Non-Transparent Transparency Program

After Florida Governor Rick Scott encouraged journalists to access his emails through his transparency program Project Sunburst in lieu of filing public records requests,<a href="http://www.huffingtonpost.com/2012/07/31/rick-scott-emails-omitted-project-sunburst_n_1723747.html" target="_hplink"> it was revealed that emails to his official email account weren't in fact included</a> -- Project Sunburst was only displaying emails sent to a second account that appears on Florida Tea Party websites. As a result at least one news report included a positively-skewed view of Scott after his Lt. Governor made anti-gay comments.

"Prayers" In Public Schools

Scott approved <a href="http://www.huffingtonpost.com/2012/03/01/florida-house-inspirational-messages-bill-approved_n_1313368.html" target="_hplink">SB 98, which means that Florida students are now allowed to deliver "inspirational messages" </a>that include everything from prayers to manifestos at mandatory school events.

Refuses Affordable Care Act

In a statement, <a href="http://www.huffingtonpost.com/2012/07/01/florida-health-care-law_n_1641990.html?utm_hp_ref=miami&ir=Miami" target="_hplink">the governor said the healthcare law would not aid</a> economic growth in his state "and since Florida is legally allowed to opt out, that's the right decision for our citizens."

Spain Gaffe

Scott met with King Juan Carlos of Spain during his economic development mission and immediately managed <a href="http://www.huffingtonpost.com/2012/05/24/rick-scott-king-of-spain-elephant_n_1542066.html?utm_hp_ref=rick-scott" target="_hplink">to bring up the uncomfortable topic of the monarch's disastrous elephant hunting trip to Botswana</a>.

Ads On State Trails

In the midst of old-growth live oak hammocks, wild orchids, and vistas of Lakes Wales Ridge in Lake Kissimmee State Park, Florida hikers may soon see signs boasting "Buster Island Loop, brought to you by Pollo Tropical." <a href="http://www.huffingtonpost.com/2012/05/09/rock-scott-ads-state-trails_n_1502972.html" target="_hplink">Governor Rick Scott approved a bill </a>permitting advertising on state greenways and trails, which went into effect July 1, 2012.

Voter Purge

The Governor is in a legal battle with the U.S. Justice Department over the state's <a href="http://www.huffingtonpost.com/2012/06/26/rick-scott-florida-governor-voter-list_n_1628607.html?utm_hp_ref=rick-scott" target="_hplink">effort to remove non-U.S. citizens from lists of registered voters </a>ahead of this year's presidential election. (Photo by Joe Raedle/Getty Images)

Reverses Ban On Dying Animals Artificial Colors

Just before Easter, <a href="http://www.huffingtonpost.com/2012/04/07/rick-scott-approves-artif_n_1409749.html" target="_hplink">Florida Governor Rick Scott approved an agricultural bill, which permits animals to be dyed neon green and dayglo pink</a>.

Random Drug Testing

The governor passed <a href="http://www.huffingtonpost.com/2012/02/27/drug-testing-florida-state-workers-lawmakers_n_1300331.html" target="_hplink">a law permitting state agencies to randomly drug test employees every 3 months</a>.

49,000 Voters Discouraged From Polls

Florida took center stage in the 2012 elections, when voters around the state had to wait in line at the polls for up to nine hours. Gov. Rick Scott (R) initially denied that there was any problem, saying it was "very good" that people were getting out to vote. But a new study shows that <a href="http://www.huffingtonpost.com/2012/12/19/rick-scott-not-favored-by_n_2328614.html?utm_hp_ref=rick-scott" target="_hplink">tens of thousands of people were actually discouraged from voting because of the long lines</a>. According to an analysis by Theodore Allen, an associate professor of industrial engineering at Ohio State University, as many as 49,000 individuals in Central Florida did not vote because of the problems at the polls.

Dismal Approval Rating -- Even Amongst GOP

Most Florida voters, including Republicans, would like to see Gov. Rick Scott (R) challenged in 2014, <a href="http://www.huffingtonpost.com/2012/12/19/rick-scott-not-favored-by_n_2328614.html?utm_hp_ref=rick-scott" target="_hplink">according to a poll released by Quinnipiac University</a>. More than half of voters said Scott didn't deserve a second term, and 55 percent, including 53 percent of Republicans, wanted another candidate to challenge the governor in a primary. Scott's approval ratings, though improved from 2011, were also underwater.

Cost Taxpayers $1 Million In Legal Fees

Governor Rick Scott's long list of controversial legislation -- including tweaking the state's pension plans, require drug testing of those on welfare, cutting teachers' pay, and purging voters -- may have cost Florida taxpayers <a href="http://www.huffingtonpost.com/2012/12/31/rick-scott-costs-florida-_n_2388780.html" target="_hplink">upwards of $1 million in legal bills</a>. The latest legal bill tallies at $190,000 after a federal court ruled that Florida has to pay the attorney fees as Scott fights for the right to drug test state workers. The Orlando Sentinel found that Scott has already cost taxpayers nearly $900,000 in attorney fees as he fights for his conversational legislation, making this latest legal bill tilt the tally over $1 million.

First-Time Drug Offenders

Florida Governor Rick Scott <a href="http://www.huffingtonpost.com/2012/04/10/gov-rick-scott-vetoes-bil_n_1414758.html">vetoed a widely popular bill that would send certain non-violent drug addicts to treatment after serving half their sentences</a>. "He said it was a 'public safety' issue. No it's not," said bill sponsor Sen. Ellyn Bogdanoff (R-Fort Lauderdale) according to the Miami Herald. "These are non-violent drug offenders." The bill, a rare common sense favorite during a legislative season that saw Scott approve dying animals and Jay-Z lyrics debated on the House floor, was opposed by only four state lawmakers.

Docs. vs. Glocks

Gov. Scott <a href="http://www.huffingtonpost.com/2012/07/30/docs-vs-glocks-appeal-ric_n_1720370.html">pushed back when a federal judge ruled</a> a law gagging Florida physicians from asking patients if they owned guns unconstitutional. U.S. District Court Judge cited the government-imposed gag order as a violation of free speech protection under the First Amendment.

Scott's Boletera?

Campaign finance reports show Florida Governor Rick Scott -- who framed recent evidence-defying efforts to purge state voter rolls, limit registration and reduce early voting hours as a protection of "honest" elections -- <a href="http://www.huffingtonpost.com/2012/09/17/rick-scott-hired-boletera-boletero_n_1890552.html">hired an alleged Miami-Dade absentee ballot broker during his 2010 gubernatorial campaign</a>. Scott's campaign paid a $5,000 "contract labor" fee to 74-year-old Hialeah resident Emelina Llanes, who was identified as a so-called boletera to the Miami Herald and by El Nuevo Herald, multiple Miami-Dade watchdog blogs, and former Hialeah Police Chief Rolando Bolaños.

Closes TB Hospital

In an austerity measure, Florida Gov. Rick Scott and state representatives <a href="http://www.huffingtonpost.com/2012/07/09/florida-tuberculosis-outbreak-kept-secret_n_1658916.html">voted to close A.G. Holley State Hospital in Palm Beach County, the state's only tuberculosis hospital</a>, citing a decline in Florida TB cases since 2010. But according to a report by the Centers for Disease Control and Prevention, Florida was suffering one of the largest uncontained TB outbreaks in 20 years -- and the largest spike nationwide -- resulting in 13 deaths and 99 illnesses, mostly among the homeless.

Gives Out Number For Sex Hotline

Florida governor Rick Scott <a href="http://www.huffingtonpost.com/2012/10/10/rick-scott-phone-sex-hotline-meningitis_n_1954060.html">accidentally sent constituents seeking information on a fungal meningitis outbreak to a phone sex hotline</a>.

Vetoed Funding For Mass Animal Deaths Research

The Harbor Branch Oceanographic Institute at Florida Atlantic University was counting on $2 million in state funds to study the <a href="http://www.huffingtonpost.com/2013/06/20/indian-river-lagoon_n_3472190.html?utm_hp_ref=rick-scott" target="_hplink">dead pelicans, manatees, and dolphins piling up at Indian River Lagoon, described as a 'killing zone</a>.' Scott vetoed the funding.

Sped Up Death Penalty

Scott <a href="http://www.huffingtonpost.com/2013/06/18/death-penalty_n_3459048.html?utm_hp_ref=rick-scott" target="_hplink">signed a law that will speed up Florida's execution process</a>. The governor now must sign a death warrant within 30 days of the Supreme Court certifying that an inmate has exhausted all appeals. The execution date must be six months from the date of the warrant.