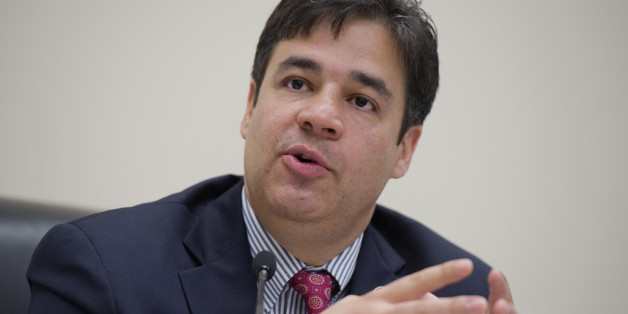 WASHINGTON -- On a conference call with reporters earlier this week, Rep. Raul Labrador (R-Idaho) said he doesn't support an increase in the federal minimum wage. Rather than demanding better pay, Labrador said, fast-food workers who've been going on strike should instead try to acquire more skills through their employers, like his single mother did.
"My mom worked at McDonald's," Labrador said, according to Boise State Public Radio. "And she decided she wanted to make more money, so she got into the management program at McDonald's. And that's how you move up the chain. It's not by demanding that minimum wage is raised, it's by actually acquiring the skills. That's the way that people get ahead in life."
Labrador's remarks echo a common argument used by the restaurant industry and its backers when opposing a minimum wage hike -- that opportunities abound for ambitious fast-food workers, so long as they're willing to seek them out.
But there's research showing that such opportunities are quite limited. Rising through the ranks to a position with good pay and stability, as Labrador suggests his mother did at McDonald's, appears to be a fairly rare feat in America's fast-food kitchens. It's a simple matter of mathematics: The workforces are dominated by low-wage front-line employees, while managerial positions are hard to come by.
The liberal National Employment Law Project, in a rebuttal to arguments like Labrador's, released an analysis earlier this year finding that advancement opportunities are actually more uncommon in fast food than in other industries. By analyzing labor statistics, NELP found that a mere 2.2 percent of jobs in the industry are managerial, professional or technical positions, compared with 31 percent in the wider economy.
For workers who dream of one day franchising a McDonald's or Taco Bell, the numbers are even starker: Just one percent of jobs in fast food are occupied by franchise owners, according to NELP. In other words, acquiring greater skills or higher-paid positions in fast food isn't as simple as looking for them.
McDonald's lists a few training and education opportunities on its website, such as a company-sponsored educational assistance program, its famous Hamburger University school, and a $2,500 scholarship that's given annually to one employee in each state. HuffPost asked a spokesperson for more details on how many workers rise to managerial positions or receive financial aid through the company but didn't receive a response.
HuffPost also asked Labrador's office for more details on his mother's McDonald's story -- how long she worked for the company, what position she rose to and what kind of life it afforded her and her family -- but didn't receive a response to those questions, either. According to Labrador's official bio, his mother worked a series of jobs "to make ends meet, ultimately relocating their small family to Las Vegas, Nevada, where she worked in the booming hospitality industry." She eventually earned an education degree while working full-time and became a teacher.
In the past, the tea party-backed congressman has credited his mother with making the sacrifices necessary to get him to where he is today, as well as with giving him a certain scrappiness. His mother "didn't suffer fools gladly," Labrador told The Huffington Post back in July.