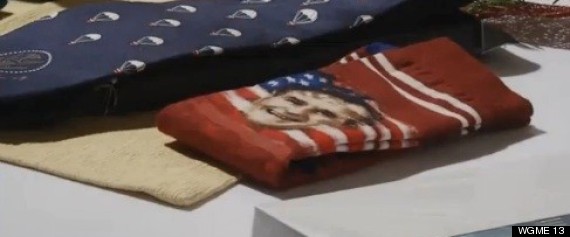 These socks pretty much outdid every other zany pair, but George H. W. Bush still donated them to a good cause.
President Bush recently gave his red striped socks that featured his face to the Yarmouth Chamber of Commerce. The Maine group auctioned them off on Wednesday night to the winning bidder for $535. The proceeds will benefit its scholarship and fuel assistance funds, WGME 13 reported.
The 41st president was first spotted wearing his "face socks" earlier this month when he received a service award from the Lyndon B. Johnson Foundation.
41 (w Mrs B) accepting LBJ Award w daughters Luci & Lynda 12/3 in Houston. 41 "honored" b/c "great respect" for LBJ. pic.twitter.com/537hhZOUYe
But this isn't the first time the president parted with a particularly striking pair of socks for charity.
In October, Bush donated cactus-themed socks to the Roman Catholic Diocese of Portland, which were auctioned off to support the diocese's Harvest magazine, according to the Associated Press.
While Bush seems happy to be making the contributions, he may be getting a bit of a push from an outside source to do it.
Also on HuffPost:
George H.W. Bush's Sock Styles
SUBSCRIBE AND FOLLOW
Get top stories and blog posts emailed to me each day. Newsletters may offer personalized content or advertisements.
Learn more