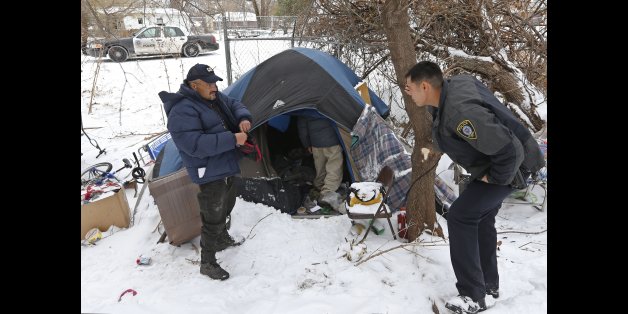 The song "Feliz Navidad" got people dancing, singing and smiling Tuesday at the Day Center for the Homeless, which has had more visitors than usual during this cold snap.
Bobby Joel, 48, was among those bouncing across the floor as members of St. Bernard's and St. Mary's Catholic churches served a Christmas dinner and performed holiday music.
He has been homeless for about eight years and said the cold can make issues of depression and mental illness worse.
"You have all these people with different personalities in one spot, and sometimes that can get into trouble," he said. "But days like today, with the spirit of God, we can come together."
The homeless shelter staffs have been putting in overtime hours and relaxing restrictions on people barred for past rule breaking.
"We don't want anyone to lose their life," said Sharon Catalano, development director for the day center. "We are allowing people to come in under supervision. Everybody has been polite, though, and waiting patiently in line. We haven't had any problems."
Despite the dangerous weather conditions, some homeless people still decide to make it on their own.
Jon Michael Brough, who was walking Monday along Lewis Avenue on his way to sell scrap metal he had collected, endured the recent cold snap by sleeping in the garage of a good Samaritan.
On average, shelters have about 550 residents daily, according to Keith Anderson, program manager of the homeless information database at the Community Service Council of Tulsa.
It jumped to 620 residents on Monday.
"For winter, that's typical and will stay up there until spring," Anderson said.
A critical time
An outreach team at John 3:16 Mission started Thursday evening visiting known homeless camps to get people to come in from the freeze.
Most complied, trusting the staffers were telling the truth about the dangerous temperatures.
One man who was lying in trash refused, and his reaction still tugs at the Rev. Steve Whitaker, executive director and chief executive officer.
Rather than leave the man to possible death, they worked with the Tulsa Police Department to get him into a hospital for an evaluation and promise of a bed at the mission.
He hasn't shown up at the mission yet.
"John 3:16 trucks in compassion and hospitality, but we may have burned our bridges with him," Whitaker said. "I wouldn't have a chance with him at all if he froze to death. We don't know where he is, and part of our job is to find out. It is a sad circumstance."
Some reasons homeless will forsake shelter are mental health issues, trauma, anti-social behavior or substance abuse.
John 3:16 has 140 beds for men available but doesn't turn anybody away.
When women come in for shelter, the mission contacts the Salvation Army, Tulsa County Shelter and other locations to find accommodations.
On Friday, a woman came in late and stayed next to the security officer in the front office until the following morning.
"This is a crisis for them. They have no place to go," Whitaker said. "It's been remarkably quiet considering everyone is jammed on top of each other. We try to make it easier and do what we can to comfort people in the midst of this."
The John 3:16 family center has been providing clothing and food to families caught unprepared by the snow days.
The mission heeded the predictions in two almanacs that stated Oklahoma would be in for a harsh winter.
"This is a critical time for us," Whitaker said. "We and others who do the work we do will be struggling. We are hoping people during this time, with Christmas upon us, will be thinking of John 3:16 by giving money or gifts in kind to get past this time."
The Salvation Army shelter -- the city's largest with a capacity for 300 people -- has had a steadily increasing number of residents but not significant enough to use overflow space.
"The numbers ebb and flow anyway, so they are already ready to handle it," spokeswoman D.J. Morrow said.
Because the storm hit at the first of the month, some homeless people with disability or other income may opt to rent a hotel room.
"The time of month makes a difference," Morrow said. "If it happens for another week, you'll see difference. Finances will start running low for people."
Making preparations
The Tulsa County Emergency Shelter has been at capacity for at least five years, so it has not been able to take in more residents.
It is a family shelter with about 75 beds, and it's prepared to have enough food and necessities.
"Probably our biggest issue are kids getting cabin fever," said executive director Linda Johnston. "We also have issues of parents needing day care because their kids are normally in school while they work. These are common problems we deal with."
Johnston said this freeze "is nothing" compared to the 2007 ice storm and 2010 blizzard.
"That was really challenging, but we learned a lot from both of those events," Johnston said. "This has not been a blip on the radar screen."
Tulsa has a plan to extend the number of homeless beds if there is a dramatic increase.
The Salvation Army and John 3:16 are designated as overflow facilities, said Jim Lyall, associate director at the Community Service Council.
"This is to ensure no one gets turned away in the worst kind of weather for lack of space," Lyall said. "Shelters may have well-established, well-maintained beds. They may add capacity with floor mats and other items to allow people to stay for short periods of time.
"People still may elect to stay out of doors. There is no law to force them indoors for health or mental health. That is their choice. But we've assured in this plan for the gradual increase and a surge."
The weather is not expected to trigger the plan, which was created when the average number of homeless people being sheltered in Tulsa was between 250 and 300 a night.
Since then, shelters have changed policies for expansion in cold weather, and nonprofits have expanded transitional living programs.
"We've done what we can with the resources we have," Lyall said.
Ginnie Graham 918-581-8376
ginnie.graham@tulsaworld.com ___