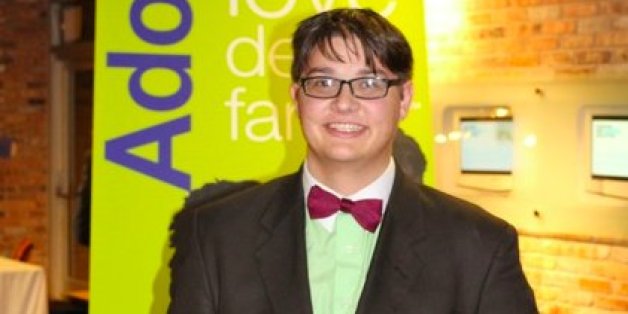 This week's Huffington Post Gay Voices RaiseAChild.US "Let Love Define Family" series installment features the story of twenty-three-year-old James McIntyre. I had the good fortune of meeting James at the National Adoption Month RaiseAChild.US event at Chicago's Center on Halsted in November. James shared parts of his personal story with our guests. I was so moved by his story that I asked James if he would share it here. His experience of abuse is chilling, and yet this openly gay young man has turned his tragedy into triumph as he works on behalf of other children in foster care. -- Corinne Lightweaver, RaiseAChild.US
James McIntyre's life was not like that of most other children growing up in Illinois. At just 3 years of age, James and his four sisters were removed from their biological family's home and put into the foster care system. Two of his sisters went to live with a caring adoptive family in Rockford, IL, while James and his other two sisters were placed in a separate foster home.
James remembers his foster home as a positive experience, particularly because he stayed in one home rather than being moved frequently like some other foster children. But when he was five years old, James and his two sisters were adopted by another family and soon things took a chilling turn.
"At first, my sisters and I were so happy to be in a permanent family again," said James. But the initial relief wore off quickly as he realized his predicament. In the new home, James was subjected to years of severe physical, mental, and sexual abuse.
"I was locked up in my room for many days at a time, forced to go to the bathroom in my closet or out the window," says James. "My meals, when fed, were constant peanut butter sandwiches. I ended up picking at paint around the window sills and eating the paint chips to try to stop feeling hungry."
He appealed to school counselors for help, but the process was long and convoluted. In the meantime, he was transferred to two successive group homes, each receiving state contracts, where the abuse continued.
"It took me six years to escape the home where I had been adopted," says James, "and I had to leave my sisters behind." Fortunately, James was referred to One Hope United, a residential treatment facility in Lake Villa, IL where he was helped to work through the abuse he had experienced. There he received the encouragement to become the first of his siblings to graduate high school and even finished early.
"In care, I learned to speak up for myself," explains James. "I learned how to turn my experience of oppression by my adoptive parents and abuse at two state agencies into a powerful tool for changing the lives of other foster kids."
James was haunted by his childhood experiences and thoughts of the two sisters whom he had to leave behind. As a result, he has dedicated himself to helping foster youth by working with nonprofits that provide direct services and advocate for policy change.
"When I saw people getting hurt, I needed to act because others did not," says James.
After leaving One Hope United at age 19, James majored in mass communications at Parkland Community College in Champaign, Illinois. During that time, he served as Downstate Vice President and then President of the Central Region Youth Advisory Board, an organization funded by the Illinois Department of Children and Family Services to teach wards how to advocate for themselves and others. He later served as the Statewide Vice President of the Youth Advisory Board.
"One of my proudest accomplishments so far," said James, "was helping to spearhead legislation to guarantee sibling visitation rights after adoption. The DCFS-Sibling Placement-Contract (Illinois House Bill 5592), written in partnership with State Representative Sara Feigenholtz, requires both adopting parties to signing contracts to ensure sibling visitation. Governor Pat Quinn signed the bill into law in 2012.
"There are so many children, especially adolescents, who need good parents and the parents' sexual orientation does not matter," said James. "What these kids need is a safe home, a place where they can grow up feeling loved. They need a voice and deserve a second chance. I support the work of RaiseAChild.US because, as a former foster child, I know the feeling of wanting caring and supportive parents. It's something that every child should have."
Illinois has one of the highest rates of emancipating youth in the nation, referring to the number of foster children who "age out" of the system without being adopted. Consequently, these young people are without family support as they try to pursue educational goals and find housing and jobs.
James' experience meeting with multiple lawmakers about HB 5592 has served him well as he continues to advocate for foster wards that are in the state's care and volunteers his time on various fundraising committees, including supporting One Hope United. He is co-founder of the Foster Care Alumni of America Illinois Chapter (FCAA IL). Today, he works at a nonprofit, Struggling Youth Equal Successful Adults (SYESA), that helps former and current foster wards achieve success by age 25 by providing life coaches and skill building through one-on-one mentoring, among other services.
"One of the biggest lessons I've learned is that you can't give up on people," said James. "I know from firsthand experience that many levels of the foster care system are broken. I may have been a victim of child abuse, but I refuse to be a victim going forward. I know that I am only one person, but one person with a dream can accomplish great things."
Among his efforts to increase permanent, safe, and loving homes for foster children, James calls on the LGBT community to step up to the plate. "I see a large community of people who can make a tremendous difference," said James. "I hope with all my heart that LGBT people who read about my story will find it in their hearts to offer their home to a hurting adolescent who needs a family. Don't leave it up to somebody else. Find a way to make a change starting here and now. All it takes is time, love for all children, and the desire to make a difference in a child's life."
One Hope United protects vulnerable children from child abuse or neglect, strengthens their families, and prepares children for a prosperous future. As an accredited, not-for-profit human service organization, One Hope United provides a diverse array of high-quality prevention, intervention, counseling and child development programs to positively impact tens of thousands of children and families each year through community-based programs in Illinois, Wisconsin, Missouri and Florida.
RaiseAChild.US educates and encourages the lesbian, gay, bisexual, and transgender (LGBT) community to build families through fostering and adoption to serve the needs of the 400,000 children in our nation's foster care system. Since 2011, RaiseAChild.US has run media campaigns to educate prospective parents and the public, and has engaged more than 2,000 prospective parents. For more information, visit www.raiseachild.us.
PHOTO GALLERY
BEFORE YOU GO
James McIntyre
PHOTO GALLERY
James McIntyre