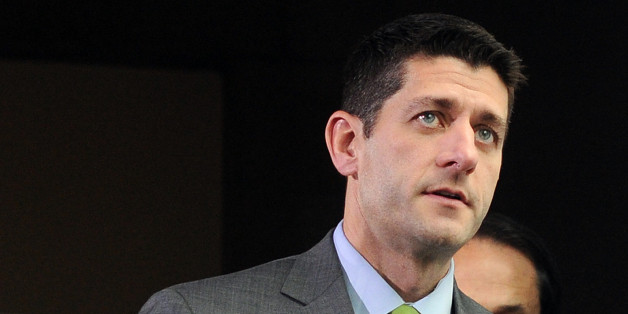 The Des Moines Register poll finds Iowa Republicans adore Paul Ryan, but two years before the next Iowa caucuses, it is too early to care? And liberals still approve of Barack Obama, but their enthusiasm is waning. This is HuffPollster for Monday, December 16, 2013.
CLINTON, RYAN MOST POPULAR IN EARLY IOWA POLLS - Jennifer Jacobs: "Iowa Republicans are wowed by Paul Ryan, a new Des Moines Register Iowa Poll shows. Mitt Romney's 2012 running mate is wildly popular here with a 73 percent favorability rating, a surprise finding that reveals he's at the forefront of potential 2016 GOP presidential candidates in the nation's kickoff voting state. Two former winners of the Republican caucuses have the second and third highest favorability ratings among voting-age GOP'ers — 66 percent for Mike Huckabee, 58 percent for Rick Santorum — among 10 buzzed-about Republicans tested in this poll. But their popularity isn't as striking as the overwhelming affinity Iowa Democrats have for Hillary Clinton, with 89 percent saying they have a positive opinion of her….The poll of 650 Iowa adults ages 18 and older was conducted Dec. 8-11 by Selzer & Co. of Des Moines and has a margin of error of plus or minus 7.3 percentage points for Republicans and plus or minus 8 percentage points for Democrats." [Des Moines Register]
Tea party Republicans love Ryan - Jacobs: "Tea partiers give [Ryan] a 66 percent favorability rating, higher than any of the other nine GOP presidential possibilities tested, and born-again Christians give him 54 percent, second best after Mike Huckabee. Among Republicans overall, 73 percent view him favorably, compared with just 10 percent who give him an unfavorable rating, the Iowa Poll shows. A striking 34 percent have 'very favorable' feelings about him. Three days of polling had been completed before his budget deal with U.S. Sen. Patty Murray, D-Wash., was widely publicized Wednesday, the final day of polling….Several GOP poll respondents said in interviews last week that although they don't like the budget plan, it doesn't tarnish their opinion of Ryan, essentially because at the end of the day they believe he's a true conservative." [DMR]
Is it too early to care about 2016 horserace polls? - If you listen to the prominent pollsters and political scientists we often quote here, and you listen to, well...us...the answer is yes, at least with respect to early vote preference questions. Early "horse race" trial heats have poor records as predictors, particularly with respect to presidential nomination contests and the subgroups of "Democrats" and "Republicans" reported in these early polls are often too broad (e.g. the Des Moines Register reported on results from all adult Democrats and all adult Republicans). You need not be a polling expert to understand why: Only a small handful of voters have thought enough about the coming 2016 campaign to form real candidate preferences. For many, the response to a 2016 horse race questions on a poll is usually just an impulse reaction that largely reflects the name recognition of the names of the pot entail candidates. [See HuffPollster, Pew Research, MysteryPollster]
-See also the advice (and animated gif) suggested by Kristen Soltis Anderson (R): "How you should feel about any 2016 polls at this point:
[link] [@KSoltisAnderson]
...But it's not too early to check candidate ratings - While primary voters may not yet know who they will support in 2016, they can tell you about which names the recognize and whether their initial impressions are positive or negative. Those early ratings may not predict the ultimate winner -- and unknown candidates can become well known during the campaign -- but they are a critical guide to the perceived strengths and weaknesses that potential candidates will bring to the 2016 race. In the 2008 Democratic campaign, for example, John Edwards started out with strong residual popularity in Iowa based on the impressions he made there during the 2014 campaign. He didn't win the Iowa caucuses, but his early and enduring popularity there helped shape the race.
LIBERALS APPROVE OF OBAMA, BUT NOT ALL FEEL STRONGLY - Seth Motel: "President Obama continues to have sky-high job ratings among liberal Democrats — 90% approve and just 8% disapprove in Pew Research's poll earlier this month. Their approval of his job performance is twice the rating given by the public as a whole (which rose slightly to 45% after steadily declining over six months). But many liberal Democrats are lukewarm about this approval. While 54% say they strongly approve of the president's job, about one-in-three (32%) say they "not so strongly" approve of the president....Compared with Obama after five years in office, George W. Bush had a lower level of approval among his base – but more of them strongly approved. [Pew]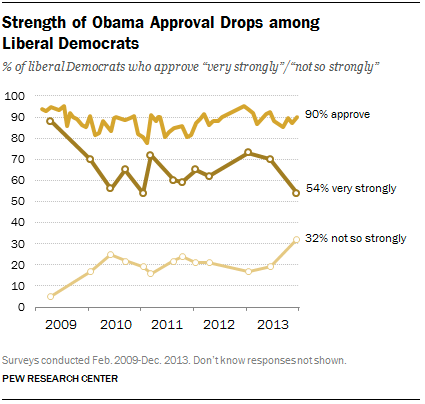 HUFFPOLLSTER VIA EMAIL! - You can receive this daily update every weekday via email! Just enter your email address in the box on the upper right corner of this page, and click "sign up." That's all there is to it (and you can unsubscribe anytime).
MONDAY'S 'OUTLIERS' - Links to more news at the intersection of polling, politics and political data:
-Americans with health insurance coverage are blaming ACA for rising premiums and deductibles. [AP, toplines]
-Just 47 percent of Americans, a record low, rate the honesty and ethical standards of people in the clergy as high or very high; the differences in ratings of clergy and policy differ most by party[Gallup here and here]
-Americans are not bullish on stock market's prospects for 2014. [AP]
-More prefer to work with men than women -- among both men and women -- but a majority of both genders don't care. [Pew Research via @WendyRWang]
-Rachel Gillum finds no difference in religious fundamentalism between American Muslims and Christians. [WaPost's Monkey Cage]
-Keith Bentele and Erin O'Brien find that voter ID laws are laws are more likely to be proposed in states with larger African-American populations and where minority voter participation has been rising. [Perspectives on Politics]
-Ed Kilgore thinks enthusiasm is overrated as an indicator of turnout. [Washington Monthly]
-Frank Newport runs the numbers on consumer spending, Congress and compromise. [Gallup]
-Kathy Frankovic explores popular perceptions of when people can resort to violence against a government. [YouGov]
-Alan Reifman sees a bit of a rebound in ratings of Obamacare in early December. [Health Care Polls]
-The backstory on Democrats' competition to take data and analytics "to the next level" on behalf of Hillary Clinton in 2016. [Politico]
-Patrick Ruffini (R) storifies his day at the Democrats Rootscamp conference. [Storify]
-Jon Turney ponders the limitations of computer models. [Aeon via @OpinionToday]
-Nathan Yau reviews the year in data visualisation. [Flowing Data]