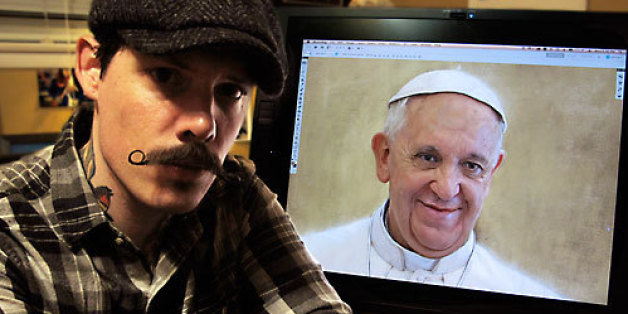 As media watchers waited to see who would be chosen as TIME Magazine's 2013 person of the year last week, artist Jason Seiler -- known for his hyper-realistic paintings and caricatures -- was celebrating.
The Chicago-based artist was originally contacted by TIME to make a painting of NSA whistleblower Edward Snowden, the man who would eventually be the runner-up to the winning pick, Pope Francis.
"[TIME] called me on speaker phone with three different art directors and said, 'We're really, really happy with the Snowden piece. Would you like to do another cover for us?'" Seiler, 36, told HuffPost by phone.
After he turned in the somber yet graceful painting of the Vatican's new pontiff, Seiler said TIME called him last Tuesday night and told him, "All we can tell is, you're going to want to watch the 'Today' show tomorrow morning."
(See steps from Seiler's 70-hour process of creating the TIME cover painting.)
A classically-trained oil painter who is self-taught in digital painting, Seiler's work has appeared in magazines like Rolling Stone, Mother Jones and Der Spiegel. With his only formal training being a two-year stint at Chicago's American Academy of Art, Seiler told HuffPost seeing his work on the cover of TIME for its "Person of the Year" issue has been nothing short of "surreal."
"For me personally, it feels like an Academy Award or something. And the fact that it's the Pope! The last time the Pope was on the cover as 'Person of the Year' was 1994," Seiler said.
Story continues below
PHOTO GALLERY
BEFORE YOU GO
The Art Of Jason Seiler
PHOTO GALLERY
The Art Of Jason Seiler
Almost a week after the issue's release, the Chicagoan added the impact is "still sinking in."
"It's a cover that's making history. No one can ever take that away. It's still sinking in, but I didn't realize it when I was working on it. I just wanted it to be a beautiful painting."
Capturing the essence of the pontiff for the high-profile cover wasn't easy.
Despite Pope Francis being heavily photographed since he was elected Pope in March, Seiler said it was tricky to find a photo that matched how he wanted to depict the Pope, who Seiler said he respects despite describing himself as "not religious at all."
"From what I've seen of him and read about him, he seems to be a really genuine person, he seems to be a very good person."
In order to capture that goodness, Seiler resorted to "making up part of his face" beyond the photos supplied by TIME.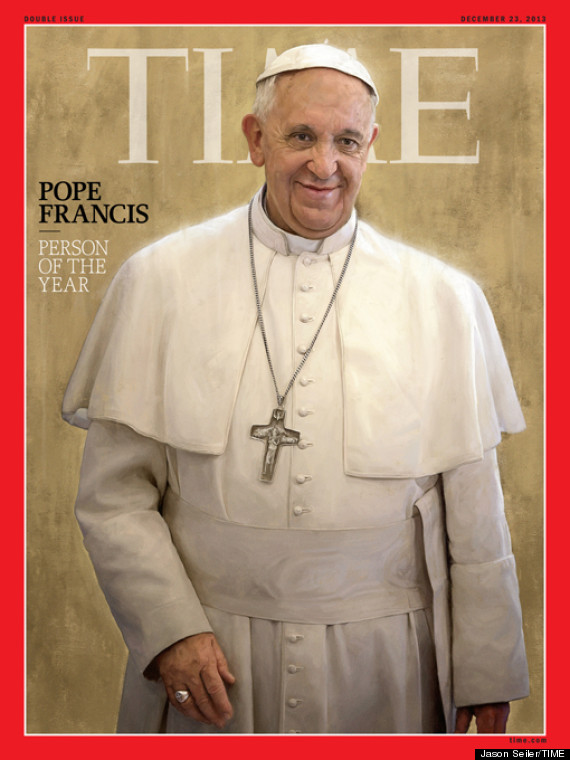 The final version of Seiler's painting for TIME.
"It was like having to do surgery on his mouth," Seiler said of the photos. "All the references I had were with his mouth wide open and his teeth showing. I know that's how he looks, but I wanted to capture the emotion of how I think he looks. I was going for iconic."
"[The Pope] has this real special look in his eye," Seiler added. "These little creases. It looks like his eyes are smiling. That was really tough to capture."
Now that he's landed the cover of one of the most anticipated issues of the year, Seiler said his plan is to continue earning his living as a painter -- and hopefully continuing to work with TIME -- while also building support for a new Kickstarter campaign for a book aimed at helping young artists succeed in the creative industry.
ALSO ON HUFFPOST:
PHOTO GALLERY
BEFORE YOU GO
Controversial Magazine Covers
PHOTO GALLERY
Controversial Magazine Covers