Hear that? It's the sound of another Urban Outfitters controversy brewing.
The retailer is in hot water over $8 socks featuring the Hindu deity Ganesh. The "UO Exclusive" has prompted President of the Universal Society of Hinduism Rajan Zed to release a statement decrying the use of the religious symbol and asking Urban Outfitters to remove the socks from its site.
"Lord Ganesh was highly revered in Hinduism and was meant to be worshipped in temples or home shrines and not to be wrapped around one's foot," the statement reads.
Zed has also asked for an apology from Richard A. Hayne, Chairman, President & Chief Executive Officer of Urban Outfitters, Inc., and Tedford Marlow, Chief Executive Officer of Urban Outfitters Group. We've reached out to the Urban Outfitters for comment.
Similar controversies have erupted in the past when the retailer attempted to incorporate religious themes into its apparel. In 2012, the Jewish community was outraged when Urban sold a "Jewish star t-shirt" that mimicked Holocaust imagery. Before that, the Navajo Nation had to send the store a cease-and-desist letter so that it would stop selling merchandise marked as "Navajo."
Perhaps this new religious scandal within the Hindu community might just make Urban Outfitters learn its lesson.
UPDATE: We received a statement from an Urban Outfitters spokesperson: "We sincerely apologize if we offended the Hindu community and our customers. We appreciate Rajan Zed and the Universal Society of Hinduism for bringing this matter to our attention and for helping us understand the cultural and religious sensitivities this product carries. We will remove the Ganesh Socks immediately from our website and stores."
PHOTOS: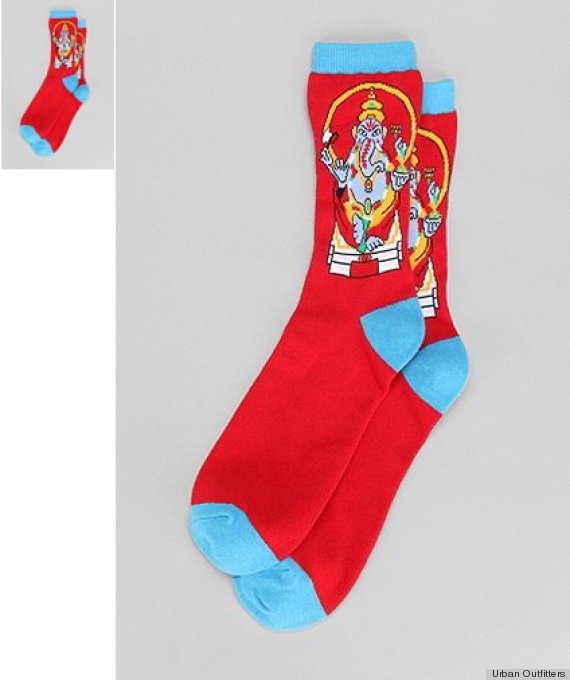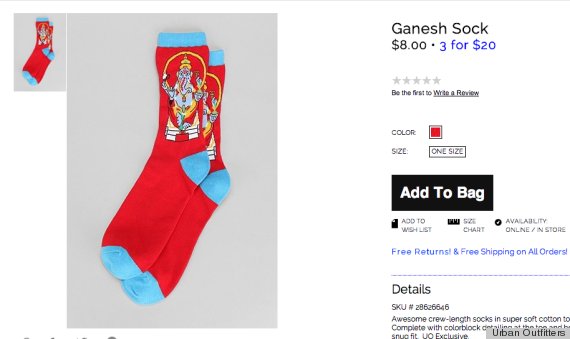 Remember these controversies?
Outrageous Urban Outfitters Scandals
In March 2012, Urban Outfitters began selling St. Patrick's Day-themed clothing that included shirts with derogatory statements about Irish people, such as: "Irish I Was Drunk." These shirts received negative reactions from Irish-Americans and were pulled. (Urban Outfitters)

In June 2010, Urban Outfitters released this t-shirt with this description: "Eat less or more or however much you'd like in this seriously soft knit tee cut long and topped with a v-neck." They should have printed that whole description instead of just "eat less" which seems to promote an unhealthy lifestyle and body image. (Urban Outfitters)

Urban Outfitters received heat from anti-gay groups for this photo in their April 2012 catalogue depicting two female models kissing. A group known as One Million Moms wrote on their website: "On page two of this catalog is a picture of two women kissing in a face holding embrace!...The content is offensive and inappropriate for a teen who is the company's target customer." (Urban Outfitters)

In April 2010, Urban Outfitters pulled a t-shirt from their online store with a color option of 'Obama/Black.' The store had produced Obama-themed shirts but none of them with this color description. In response, the store released this statement: "The burnout pattern on this shirt is comprised of two colors - one is an internally developed color we called "Obama Blue" and the other is "Black." Unfortunately our website database truncate this combination to read "Obama/Black." We should have caught the error, and apologize for offending anyone." (Urban Outfitters)

In March 2012, Urban Outfitters came under fire for a greeting card that was deemed transphobic by LGBT advocates. (Urban Outfitters)

Another derogatory t-shirt against Irish and Irish-Americans saying: "Kiss me. I'm Drunk, or Irish, or whatever." (Urban Outfitters)

Surprisingly, the offensive St. Patrick's Day-themed items have not been pulled from Urban Outfitters' shelves, even when this trucker cap outraged Irish and Irish-American people. (Urban Outfitters)

In April 2012, Urban Outfitters angered the Jewish community by selling a $100 shirt that critics said mimicked the design of star patches Jewish people were forced to wear during the Holocaust. (Urban Outfitters)

In May 2011, an independent jewelry designer accused Urban Outfitters of stealing her designs. She wrote on her blog: "I understand that they are a business, but it's not cool to completely rip off an independent designer's work." Urban pulled the collection. (I Make Shiny Things)

Amidst the dealings of Proposition 8 in 2008, Urban Outfitters began selling shirts that said, "I Support Same-Sex Marriage." The shirts were pulled a week later. (Courtesy photo)

Model Hailey Clauson posed for photographer Jason Lee Parry when she was just 15-years old. Parry released this photo of Clausen to Urban Outfitters, which he had agreed not to release when the young model's agency complained about the salacious nature of the "crotch shot" pose. The photo became a t-shirt and Clauson sued Urban Outfitters and Parry for damaging her reputation. (Courtesy photo)

In 2003, Urban Outfitters began selling a Monopoly knockoff called Ghettopoly, complete with "Hustle" bonus cards and "Smitty's XXX Peep Show." The game angered the African-American community and Rev. Glenn Wilson of Philadelphia called for a boycott, saying, "There's no way that game could be taken in any way other than that this man had racist intent in marketing it." (Courtesy photo)

Although Urban Outfitter's biggest demographic is 18-24 year-olds, the company is selling shirts that encourage underage drinking. Jan Withers, national president of Mother's Against Drunk Driving (MADD) says, "Kids shouldn't be wearing these t-shirts...Marketing [alcohol-related products] to teens is not in any way acceptable." (Urban Outfitters)

In October 2011, Urban Outfitters offended Native Americans by describing some of their products as "Navajo." The Native American-inspired items received heat from the Navajo Nation, whose attorney general sent the store a cease-and-desist letter. (Urban Outfitters)
Want more? Be sure to check out HuffPost Style on Twitter, Facebook, Tumblr, Pinterest and Instagram at @HuffPostStyle.