Christmas Brunch Recipes You Can Make Ahead Of Time (PHOTOS)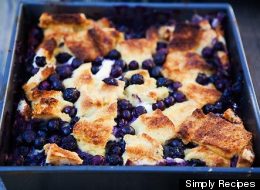 You know this feeling: it's Christmas morning. The presents have been unwrapped. A second round of coffee has been brewed. As the last errant scraps of gift wrap get bagged up, someone inevitably voices what we're all thinking -- "I think I'm starving."
Lucky for you, you smart, over-prepared, perfectly-caffeinated cook, you got brunch prepped last night and now all you need to do is pop it in the oven. Or poach a few eggs. Or slice up some coffee cake. Or, we're hoping, all of the above. How did you do that? You used a few of these easy, make-ahead Christmas brunch recipes. All of these recipes are either prepped the night before, a few days before, or are a snap to assemble on the fly. So you can get back to drinking coffee in front of the fireplace. Happy holidays!
Want to read more from HuffPost Taste? Follow us on Twitter, Facebook, Pinterest and Tumblr.
Homemade Gravlax

Love & Olive Oil

Triple-Cheese Spinach Strata

One Cake Two Cake

Blueberry Maple Breakfast Bake

Simply Recipes

Asparagus Rolls With Prosciutto And Basil Ricotta Cheese

Flat Art Studios

Shakshuka With Fennel And Feta

A Sweet Spoonful

Chickpea & Potato Hash

Peter Ardito

Breakfast Enchiladas

Macheesmo

Greek Walnut Spice Cake

Ken Burris

Chocolate Chip Monkey Bread

Macheesmo

Orange And Grapefruit Slices With Coconut

Flat Art Studios

Smoked Salmon And Goat Cheese Toasts

Simply Recipes

Raspberry-Swirl Sweet Rolls

Quentin Bacon

Smoked-Trout Salad With Mustard Dressing

Con Poulos

Zucchini Breakfast Casserole

Simply Recipes

Winter Chicken Salad With Citrus And Celery

Quentin Bacon

Sweet Potato, Red Onion & Fontina Tart

Ken Burris

Cheddar, Ham And Scallion Cups

New Media Publishing