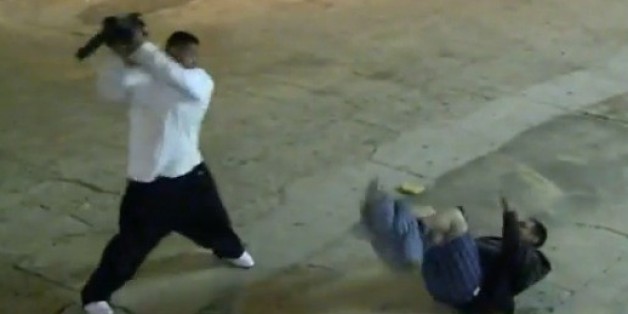 A brutal beating of a transient in Venice Beach, Calif. was captured on video, and police are hoping that footage of the incident will help them arrest the attackers.
The incident occurred along the Venice Beach boardwalk at about 4 a.m. Friday morning and was filmed by a resident living above, James Karhu.
"My heart was beating out of my chest," Karhu said to NBC. "All I heard was the main guy in white saying, 'Get out of here. Get out of Venice Beach. You don't belong in Venice Beach.'"
"He just does not stop. I thought he was going to stop," Karhu recalled to ABC. "At this point, I'm honestly scared. They were throwing beer bottles. I tried to get in the middle of stuff in the past, and then I become the target."
As seen in the video below, two men started beating a man who was on the sidewalk. They beat him with what appear to be foldable metal sticks.
Then one of the suspects continuously bashed the victim in the head with a folding chair taken from where homeless people were sleeping. The beating went on for over two and a half minutes.
The two suspects fled before officers arrived, leaving the victim lying in the middle of the street. The victim suffered severe lacerations and a broken arm, CBS reports.
"I had heard somebody else had called 911, so what I was trying to do was I was trying to get video footage that would at least help catch this guy," Karhu said to ABC.
Police do not know the motive for the beating. "It doesn't appear to be provoked, and this is still in the early stages of the investigation," Los Angeles Police Department Capt. Victor Davalos said to the Los Angeles Times.
Anyone with information about the incident was asked to contact the LAPD Pacific Division.
WARNING - The video below contains graphic content:
ALSO ON HUFFPOST:
PHOTO GALLERY
BEFORE YOU GO
10 Major Crimes That Shocked America (SLIDESHOW)
PHOTO GALLERY
10 Major Crimes That Shocked America (SLIDESHOW)