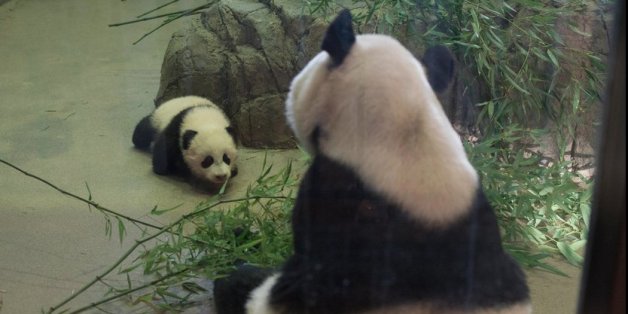 Move over royal baby.
It's no secret that we are nuts about little Bao Bao, the giant panda born to mom Mei Xiang at the National Zoo in August.
Lucky Hugh Jackman was granted an audience with the four-month-old cub when he was in D.C. last weekend, hosting the annual "Christmas in Washington" concert. The actor's visit, which the zoo described as "personal in nature" to NBC Washington, led to some jealousy-inducing Instagram pics, like this one:
Until now, non-Wolverines have had to be satisfied with the Panda Cam -- a livestream from the pandas' den that broadcasts their every movement, at least when the federal government hasn't furloughed this precious lifeline.
But soon everyone (who's in D.C.) will get to see Bao Bao in person -- er, panda -- as well: the zoo announced on Wednesday that the panda cub will be making her public debut on January 18.
In a media release, the zoo cautioned that Bao Bao may still be scarce, at least in the beginning:
The amount of time Bao Bao and her mother Mei Xiang (may-SHONG) will be on exhibit each day will depend on the bears' behavior. In the first few weeks they may not be on exhibit for long periods of time; they will spend more time on exhibit as Bao Bao gets older. They will also have access to the den, where Bao Bao has spent much of the past few months, and may choose to spend time in it instead of in public viewing areas.
The zoo said on Monday that Bao Bao recently spent her first entire day outside the den. Our girl sure has changed a lot since she was a teeny pink infant weighing an impossibly small 4.8 ounces.
Here, let's take a trip down what we're comfortable calling the world's cutest memory lane:
PHOTO GALLERY
BEFORE YOU GO
Bao Bao The Baby Panda
PHOTO GALLERY
Bao Bao The Baby Panda
ALSO ON HUFFPOST:
PHOTO GALLERY
BEFORE YOU GO
Dogs Are Family For Life
PHOTO GALLERY
Dogs Are Family For Life