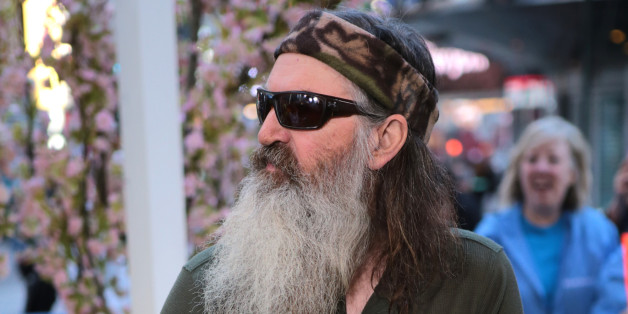 Fred Lee via Getty Images
If duck dynasty gets cancelled over talking anti gay then fuck A@E they can go suck a dick
This crap is out of control: A&E suspends Duck Dynasty's Phil Robertson for agreeing with the Bible http://t.co/GFiCEHC0qj

— Herman Cain (@THEHermanCain) December 19, 2013
So tell me this: what IS NORMAL about Gay, Queer, Homo, Fag. Is putt'n in the rough normal? We want Duck Dynasty.
@CloydRivers Phil Robertson got kicked off Duck Dynasty for remarks about queers!Support freedom of speech Fear the beard fags!

— Jason Dalton (@35Dalton) December 19, 2013
Some faggot is on tv talking about how offense Phil Robertson is on duck dynasty 😂😂😂 #ShutUpGayBoy
So now I can't watch Duck Dynasty because the homosexuals are offended? I wasn't going to say anything about this, butt fuck them!

— P-Wil (@SittingYoda) December 19, 2013
@AETV I stand behind Phil and Im not Christian. I will no longer watch A&E I watch Duck Dynasty because their are no gays on it,clean family
I hope A&E loves their heterophobic, anti-Christian values because that's all they're going to be left with. Epic misfire.

— Bryan Fischer (@BryanJFischer) December 19, 2013
Some faggot got his feelings hurt and complained, so Phil can't be on Duck Dynasty anymore because he publicly agreed with the Holy Bible!
Phil Robertson suspended from Duck Dynasty because, again, gays want to shove their beliefs down everyone's throats. #doublestandard

— Jasper Kleinjan (@JasperKleinjan1) December 19, 2013
Duck dynasty will not be the same cause people are pussies and can handle people saying gay or fag
The Gay Mafia does a hit on Duck Dynasty http://t.co/2vKhq5rvJK - via @MsEBL @BatshitCrazyNwz #IStandWithPhil #tcot

— Robert Stacy McCain (@rsmccain) December 19, 2013
So they suspend Phil Robertson from Duck Dynasty for stating the Bible? What has this world come to?
Sign the petition to bring Phil Robertson back! http://t.co/aeQLQmuXyt #DuckDynasty #DuckNavy #FreedomOfSpeech #God pic.twitter.com/9G23WX5klg

— BoycottAETV (@BoycottAETV) December 19, 2013
Duck Dynasty is all about God, guns, family, hard-work, camo and working for success, of COURSE the left is attacking http://t.co/qxWbw9iumZ
Duck dynasty got cancelled cause Phil Robertson stuck up for the bible saying gay marriage is wrong....it's a sad world...

— Opie Taylor (@trueopietaylor) December 19, 2013
Duck Dynasty worships God. A&E worships GLAAD.

— toddstarnes (@toddstarnes) December 19, 2013
Pretty disheartening, to say the least. However, at least SOMEONE has his head on straight:
The Duck Dynasty guy who likened homosexuality to bestiality makes a living helping people trick ducks into thinking they want to fuck them.
(h/t The New Civil Rights Movement)
Correction: Twitter user @bran_hamilton's tweet was originally included in this story but was taken out of context and was not meant to be anti-gay. We apologize for the inclusion.
Anti-Gay Celebrity Statements
FOLLOW HUFFPOST