Conversations about aging gracefully can be polarizing -- where you stand on Botox, facelifts and other forms of anti-aging procedures can quickly turn into a heated discussion.
Luckily, Julianne Moore's managed to find the perfect response to the entire debate. Speaking candidly to The Edit, the actress maintains her stance on aging without the help of plastic surgery (she's publicly stated that she hasn't had any work done) whilst staying positive about those who choose other options:
"I'd like to think that I can age as naturally as possible. I don't want to come out condemning anything anybody does, because I think that all of these things can contribute to making people feel better about themselves, and that's great. But I also want to look like myself. I mean, we're not going to live forever. You could be dead at 45, and guess what? Then you don't have to worry about aging."
Preach, Julianne. The discussion is now closed.
See Julianne Moore on the cover of The Edit: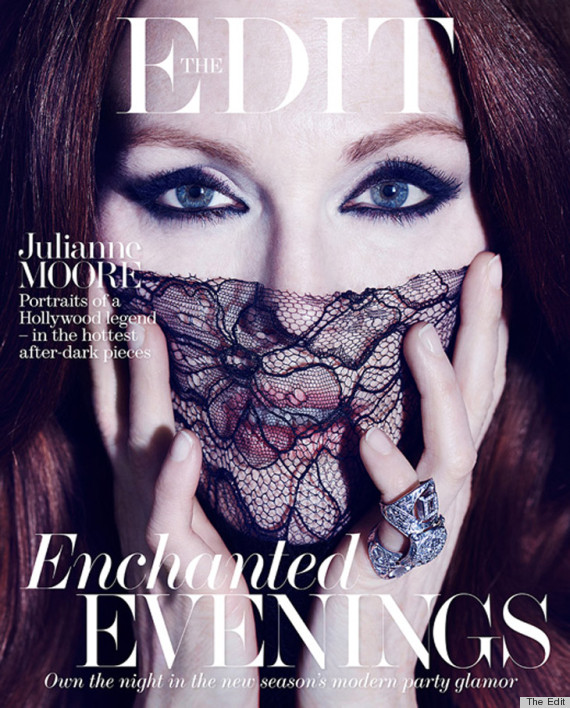 More ladies who haven't gone under the knife:
11 Celebs Saying No To Plastic Surgery
Curtis, 54, admits to getting Botox injections in the past, but insists that she regrets that decision. "I am appalled that the term we use to talk about aging is 'anti,'" Jamie Lee Curtis wrote in a blog post for Huff/Post50. "Aging is as natural as a baby's softness and scent. Aging is human evolution in its pure form."

Rossellini, 60, has often asserted that plastic surgery might be the new "foot binding" for women. As the former model told the Huffington Post: "I age, it just happens; it's like, tell a baby don't grow (but) it will grow. ... I age comfortably."

Diane, 66, has never had plastic surgery -- although she has said "never say never." Apparently the star of such films as "Annie Hall" is still on the fence.

After a botched Botox job a few years back left 56-year-old Delany with a droopy eye, the former "Desperate Housewives" star swore off plastic surgery.

Streep, 63, has often expressed her opposition to plastic surgery, being quoted as saying those who succumb to Botox draw more attention to their features than those who don't. The mother of four has said she prefers to age gracefully, without any artificial interference.

Thompson, 53, is so against plastic surgery that she's joined forces with friends Rachel Weisz and Kate Winslet to form what they have dubbed the "British Anti-Cosmetic Surgery League." She says it's awful that everyone thinks people, at 60, should look 30.

At 48, Hatcher admits that she has -- in the past -- tried Botox. But she now insists she's against the idea of plastic surgery, even going so far as to post photos of herself fresh out of the shower on Facebook so that everyone can see her wrinkles.

The sex symbol star of "Basic Instinct" admits she had a bit of work done on her lips following her divorce from San Francisco newspaper editor Phil Bronstein in 2004, but has since sworn off plastic surgery. The 54-year-old is even one of those stars that doesn't mind getting photographed without makeup. We love what she had to say about her fellow anti-plastic surgery supporter, Meryl Streep in an interview with Britain's Tattler magazine: "Meryl looks like an unmade bed. That's what I look like. To me, that looks true."

The

Jodie Foster just turned 50 and, as a former child star, may have felt pressure at times to remain youthful, looks-wise. But she has publicly declared opposition to plastic surgery, saying she'd rather "hear somebody say 'wow, that girl has a bad nose' than 'wow, that girl has a bad nose job.'"

At 45, Julia is not quite a boomer -- but she's pretty darn close. The star of such films as "Notting Hill" says that Botox just isn't for her. She told Access Hollywood, "I have three children who should know what emotion I'm feeling at the exact moment I'm feeling it."

Jon Stewart And 49 More Post 50s Who Are Aging Gracefully Older Actresses Over 50 Are Hitting The Big Screen This Fall 7 Biggest Beauty Blunders By Post 50 Women Susan Sarandon: Age Brings Character (VIDEO) Leading Men Over 50 Hitting The Big Screen This Holiday Season
Want more? Be sure to check out HuffPost Style on Twitter, Facebook, Tumblr, Pinterest and Instagram at @HuffPostStyle.