With just a handful of days left in 2013, it's about time to decide on New Year's resolutions for 2014, and 10-year-old Rowan Eckler has gotten a head start on choosing what she'd like to change next year.
The first, to quote Rowan's handwritten list exactly: "Make my hormonzes not act up so much so I'm not so emotionle." The spelling is hers, of course.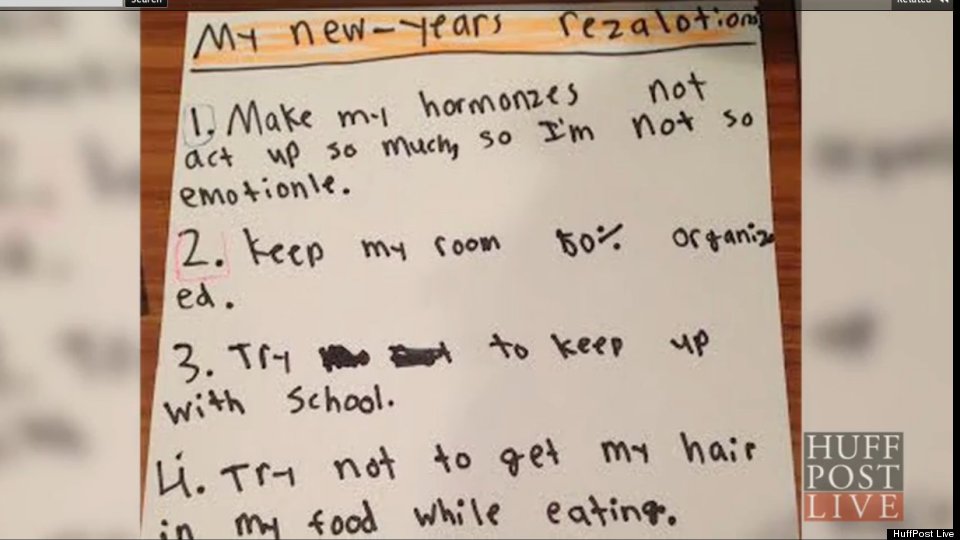 Rowan joined HuffPost Live from her home in Toronto to share her adorable resolutions for the new year. It seems 2014 will be quite busy for Rowan -- she's got a total of five resolutions, each cuter than the last.
"One of mine is keeping my room 50 percent clean, because right now I can't even tell where the floor is," Rowan told host Josh Zepps.
Perhaps she's leaving the other 50 percent for 2015?
See more of Rowan's New Year's resolutions at HuffPost Live HERE:
This clip is part of HuffPost Live's "Tell Me Why" series, featuring young enthusiasts discussing the subjects they're passionate about -- from horror movies to string theory -- with experts.
ALSO ON HUFFPOST:
PHOTO GALLERY
BEFORE YOU GO
Cute Kid Notes
PHOTO GALLERY
Cute Kid Notes