It has been quite a year for fashion. There have been some ups and downs, but thankfully, there are certain stars we can always count on to look amazing. To sum up the year in style, we've chosen the 10 best outfits from the past 365 days.
Surprisingly, Miley Cyrus made our list (see Miley, covering up isn't so bad), while other not-so-shocking A-listers also found themselves among the best-dressed of the year. Kerry Washington proved that she most certainly deserved first place on Vanity Fair's "2013 International Best-Dressed List," and Zoe Saldana, Rooney Mara and Kiernan Shipka continued to be fashion forces to be reckoned with.
Check out the 10 best outfits you need to see from 2013 and let us know which is your favorite.
Charlize Theron in Gucci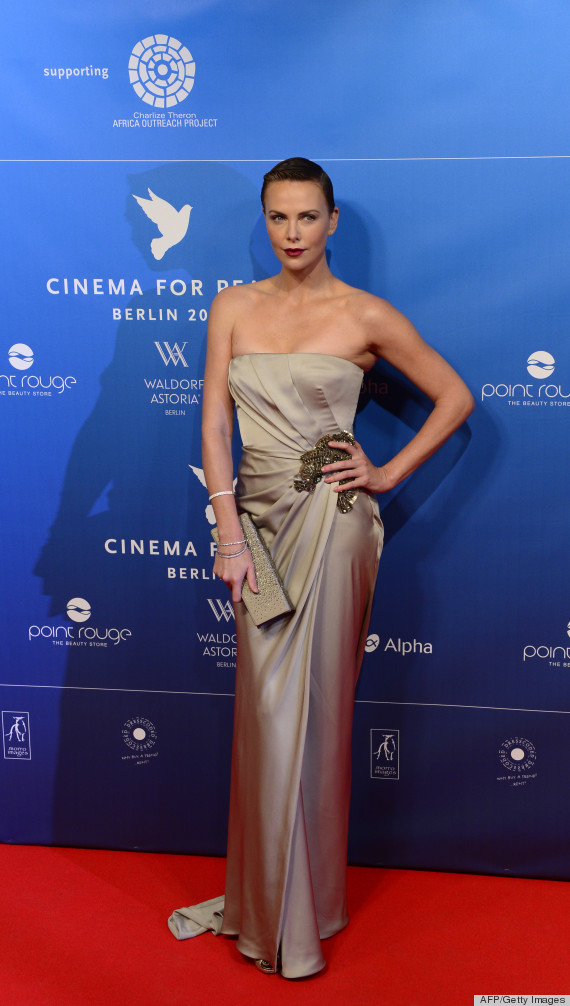 This is one of the most sleek looks we've seen all year. The statuesque beauty is radiant in this light gray gown with strategic gathering. And clearly more stars need to start slicking back their hair.
Rooney Mara in Alexander McQueen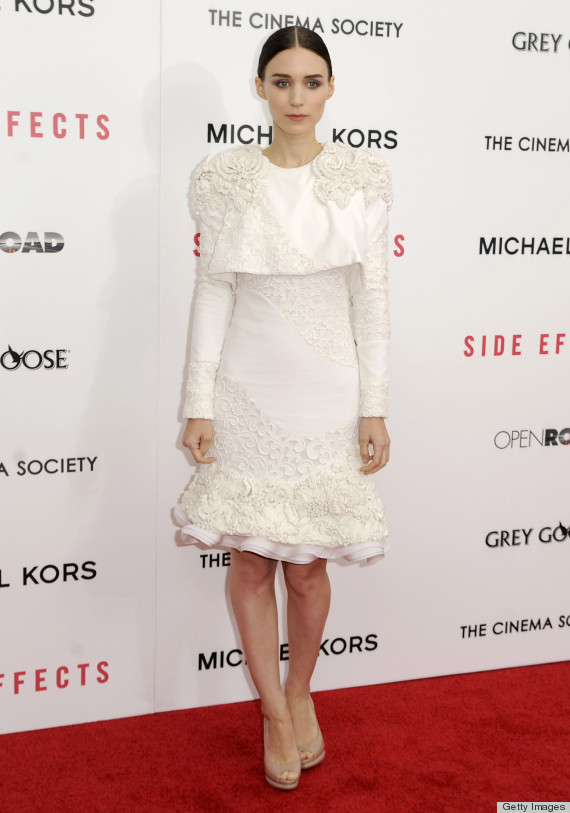 Not many people can pull off a look as avant-garde as this, but Mara can. The heavy detail on her dress works because of the light color and the short hemline, and the actress' sleek center part is the perfect way to ensure that the focus remains on the dress.
Olga Kurylenko In Elie Saab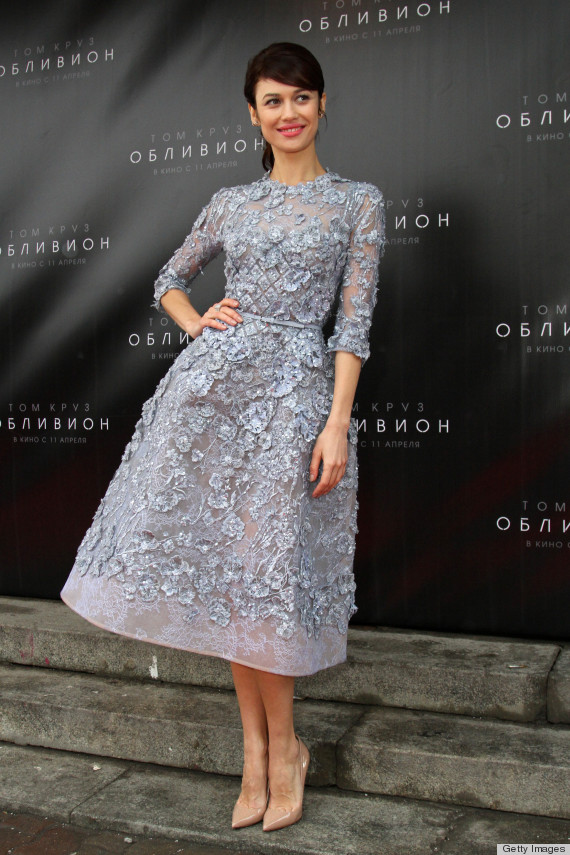 The French actress' '50s-inspired dress emphasizes her small waist and all the texture in the frock keeps our eyes moving. Her nude pumps are the perfect compliment to this midi-length frock, as they elongate her legs. Meanwhile, her red lipstick adds a touch of sex appeal.
Kerry Washington in J.Mendel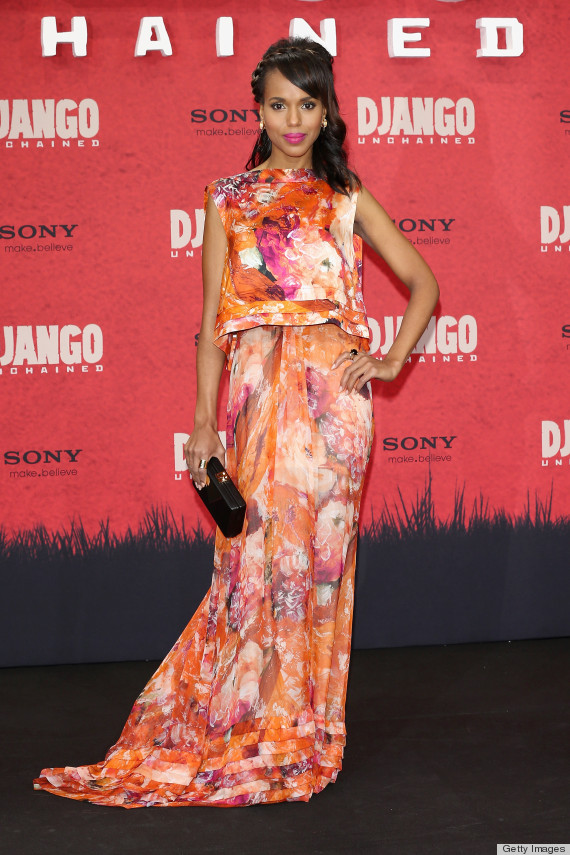 It's so nice to see color on the red carpet, and no one does bold hues better than Kerry Washington. This sleeveless chiffon sorbet-colored gown features a faux tank overlay, which expertly works to break up all the floral. Washington's simple black clutch and bright pink lipstick serve as the perfect backdrop to her jaw-dropping outfit.
Kiernan Shipka in Oscar de la Renta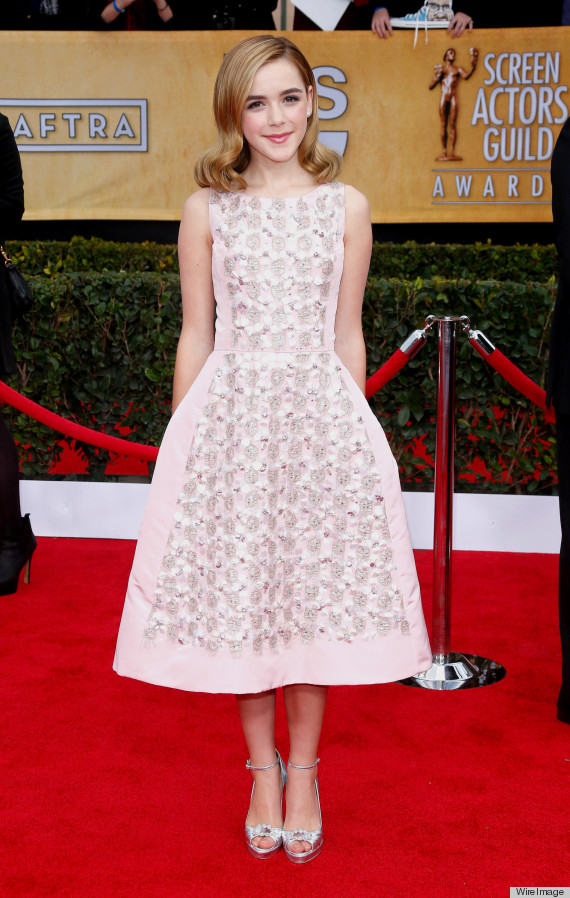 Let us remind you that the "Mad Men" star is only 14 years old, yet she already has more style than most of Hollywood's leading ladies. This ensemble embodies everything we love about Shipka -- she always manages to pick classic, age-appropriate pieces that are still very fashion-forward. And this soft pink midi dress is just that.
Zoe Saldana in Alexis Mabille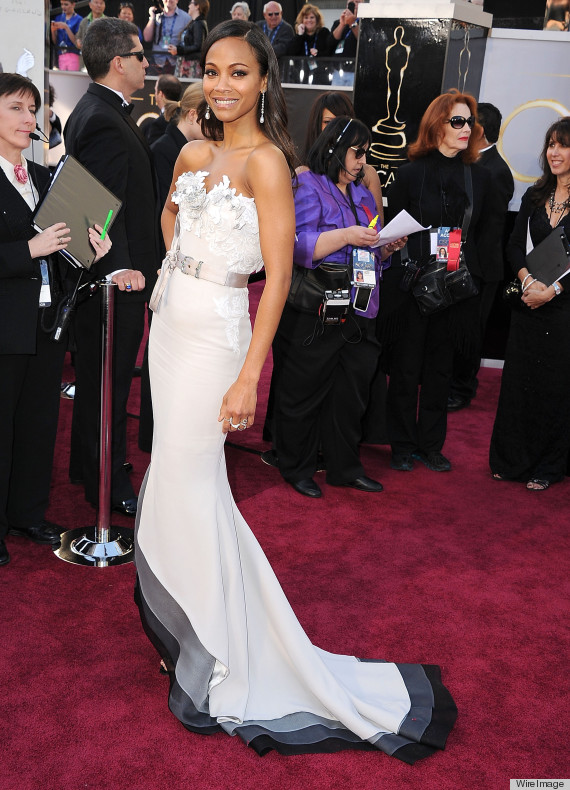 Now this is an Oscars dress. The talented actress chose an unconventional Academy Awards gown with a sweeping hem that exposed several different colors at the bottom, a bodice with floral appliqués and a tonal belt. Not only was her ensemble extremely figure-flattering, but it stood out in the crowd.
Sandra Bullock In Dsquared²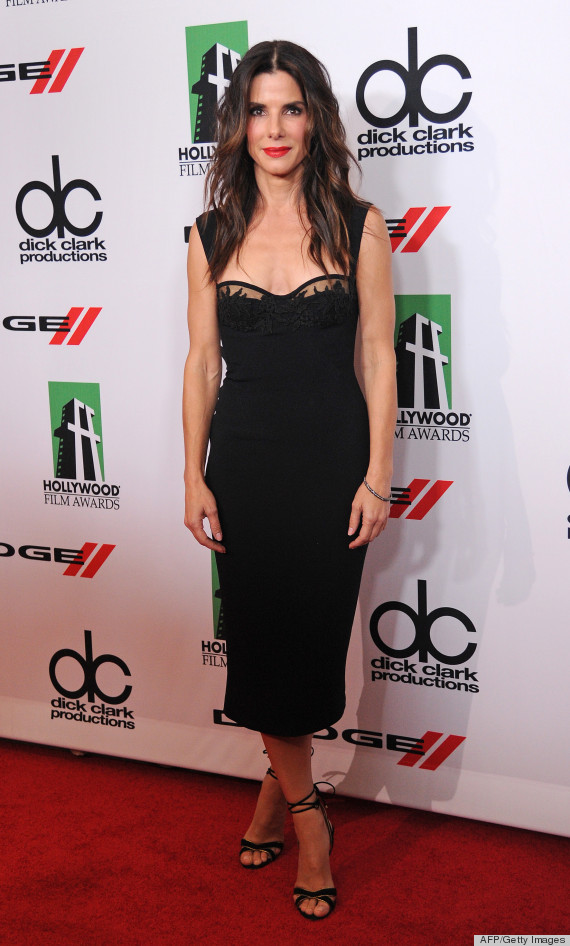 This has been the year of Sandra Bullock. Her body-contouring LBD with a lingerie-inspired neckline is incredibly sexy, while her tousled waves and fierce red lip bring this outfit into best-dressed of the year territory.
Miley Cyrus in Marc Jacobs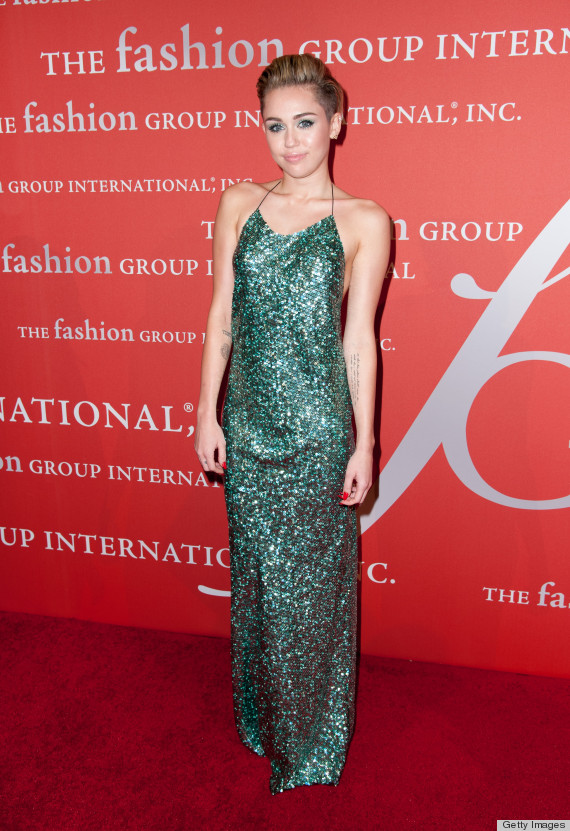 Cyrus cleans up well. This gown reminds us of how stunning the star can be when she isn't showing so much skin. This sequin dress highlights her amazing figure and adds just the right amount of sparkle. If only Miley dressed like this more often.
Coco Rocha in Greta Constantine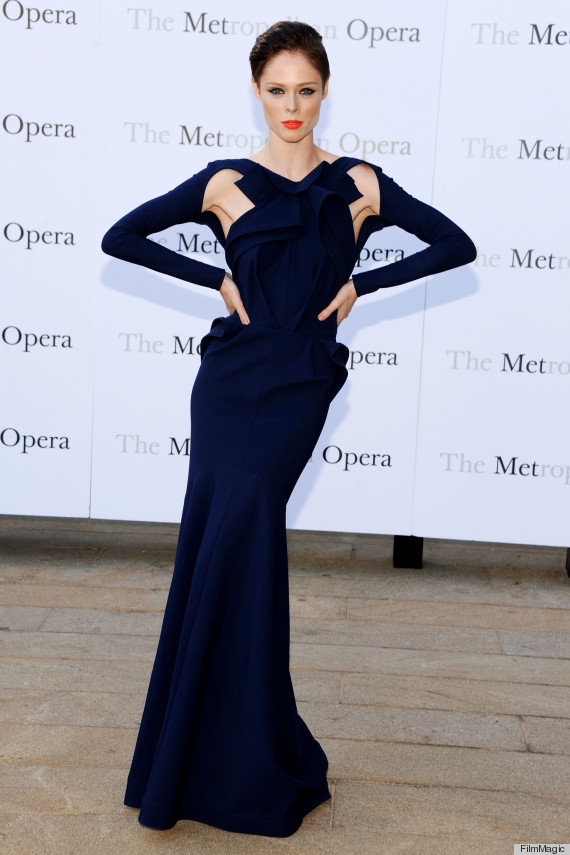 Rocha clearly knows how to get dressed. Her body-skimming gown with architectural cut-outs highlight her best features, while her bright orange lipstick is the perfect accent to the rich navy dress.
Allison Williams in Misha Nonoo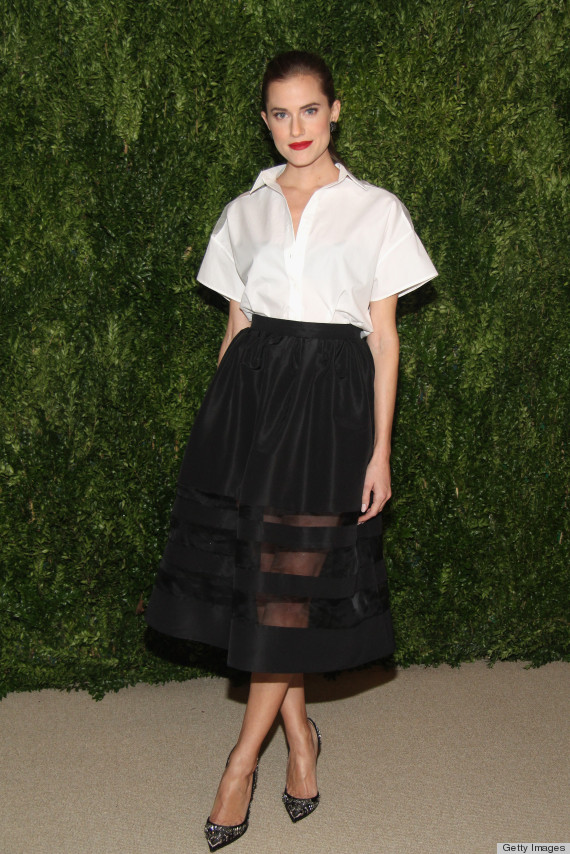 We're head over heels in love with this outfit. The boxy button-up shirt paired with her black silk faille dirndl skirt is genius -- so simple, yet so elegant. Her beauty look is spot on, too. Williams' slicked-back updo and red lips are the perfect compliment to her effortless ensemble.
More celebs who made the best-dressed list:
Best-Dressed List: Fall 2013
This dress left us awestruck. The emerald off-the-shoulder gown highlights her famous guns, while her delicate diamond necklace draws the attention towards her voluminous locks and flawless complexion.

Lively looks like a blonde bombshell in this ensemble. Her flapper-style dress hugs her curves, and her retro waves and bold red lipstick make the look very old Hollywood.

It's hard to go wrong in an LBD. This one is special because of the lace detailing around the neckline and the long sleeves -- few people opt to cover their arms on the red carpet, but it can actually make a dress very sexy.

Though this ensemble has a lot going on, it works because Saldana stuck to a neutral color palette. The various dots and stripes work together harmoniously and make the actress look fashion-forward.

Biel's all black outfit is so special because of the various textures in her outfit, her patterned pumps and that pink lipstick.

This simple red dress is perfection on Nyong'o. The color really pops against her skin tone, and the added sparkle keeps the look interesting.

Sometimes all you need is a tight, long-sleeve black top (just ask Audrey Hepburn). The laid-back nature of her shirt, paired with her grey peplum pencil skirt and strappy heels, is the perfect mix of casual and sexy.

There is a reason that Mara always sticks to neutral colors -- they look amazing on her. This white gown is very classic, but has a beautiful sculptural shoulder piece, which is the type of fashion risk-taking that Mara has become known for.

'Tis the season for sparkle. Collins' little shift dress is adorable on her, especially when paired with thigh-high boots, tousled waves and deep red lipstick.

This gray dress fits Witherspoon like a glove, and the black lace detailing around the edges is very slimming.

Mustard yellow is a tricky shade to pull off, especially when worn head-to-toe, but Padukone managed to make it work since she has the perfect coloring for the hue. The dress itself is very classic and when paired with pulled back hair and chandelier earrings, it makes for one glamorous look.

We're not sure whether it's the embroidered top, the flowing skirt or her effortless braid, but there is something about this ensemble that is so mesmerizing,

This is a perfect outfit. The oversized, menswear-inspired coat is a great compliment to her feminine, little white dress, while the red lipstick adds just the right amount of sex appeal. Her tousled waves, graphic clutch and platforms round out the look, making the style icon look fashion-forward yet effortless.

Though Jones' oversized black dress could have easily skewed sloppy, the deep-V alludes to her slim figure, while her black bralette poking out ensured that she looked sexy.

Lea Michele sure did shine in this dress. Not only is red a great color choice for the season, but the tiny, expertly placed embellishments made sure she was the center of attention.

This rich burgundy gown looks amazing on Campbell. Not only does the shade work well with her complexion, but the silhouette compliments her long, lean frame.

Donaldson has managed to look demure in a completely sheer gown. Though her dress is revealing, the long sleeves and hemline, combined with the print, keep our attention on the dress and not what's underneath.

Aah, minimalism at its best. The blue-grey dress is so simple, yet the fit is spot on, which makes it extremely flattering. The Victoria's Secret model went with barely-there makeup and side-swept, straight hair which made the entire ensemble look very clean and elegant.

The "Rizzoli & Isles" actress achieved perfect balance with this gown. The voluminous top works so well because it is offset by the textured, slim white skirt, while her sleek updo is ideal for the strapless neckline.

Velvet dresses aren't just for the holiday season anymore. Though many people are scared of the fabric because it can easily look outdated, if it's worn in a modern silhouette (and with a fierce red lip), it can be lovely.

The "Hunger Games" heroine's press tour has been rough (there have been a few worst-dressed moments), but she seems to have found her footing in this vanilla-colored strapless gown with a crystal embellishment. It's refined yet beautiful, and the slightly higher hemline in the front of the dress allows us to see her delicate strappy shoes. This is also the best neckline to show off her new short 'do.

Sometimes less is more, as proven by Adams. The dress itself is rather simple, but the grape color really pops against her fair skin and makes this a standout look.

Longoria's dress is a very wearable take on the popular lingerie trend. The lacey straps on her gown are a subtle nod to the fad, but the actress kept the rest of her look classic, making this an ensemble that can stand the test of time.

The 14-year-old "Mad Men" star looked cute and age-appropriate in this matching top and skirt combo. But what really put this ensemble over the top was her tri-colored pumps.

Long, clean lines are what make this outfit so successful. Harris' pin straight hair and floor-length gown are making her look 10 feet tall.

This body skimming black dress is a great silhouette for the "Veep" star. It is hugging her in all the right places, while the keyhole embellishment is adding just the perfect amount of bling to her otherwise neutral look.

Wearing feathers on the red carpet is often a challenge, as they can easily come off as costumey. But here, the "Catching Fire" star paired them with an elegant, long navy dress featuring a sleek halter neckline, which balanced out the playful plumage.

This jewel-encrusted white dress is a real show-stopper. The interesting neckline is a nice departure from what we usually see on the red carpet, and her graphic pumps kick the look up a notch.

Saldana's dress may have been simple and clean, but it definitely wasn't boring. The grid pattern on the dress added a bit of visual interest, while her gold belt, red lipstick and sparkly pumps took the look from ordinary to extraordinary.

It's not news that slip dresses are having a moment right now, but the challenge is making them look appropriate for the outside world (and not like lingerie that wandered out of the bedroom). Here, Collins opted for a red silk dress with lace detailing, and she made the outfit very glamorous with red lipstick and intricate pumps.

This outfit is spectacular on every level. First of all, the oversized button-up shirt paired with that black silk faille dirndl skirt is genius -- so simple, yet so elegant. And her beauty look is spot on, too. Her slicked-back hair and red lipstick are the perfect compliment to her effortless ensemble.

This is a great LBD with a twist. The yellow embroidery and white and lilac panels made this a nice dress to transition into cooler weather. We also love that she matched the yellow detail in her shoes to her outfit.

When you wear a jumpsuit, the fit needs to be perfect. And here, Portman made it clear that this one was tailored to fit her body exactly. The fold-over top gives the look dimension, while the bodice fits right against her ribcage, showcasing her curves.

We couldn't be more pleased to see Rita Ora on the best-dressed list this week -- it's about time. The singer finally pared back her look and went with a classic, long black dress, simple makeup and sultry waves. This is the Rita Ora we want to see more of.

This dress is so simple, yet so beautiful. The Australian actress found a great color and silhouette for her body.

A print on the red carpet can be tricky to pull off if it's not the right color or the right size. But this graphic black and white pattern is doing wonders for the actress. The cut of the dress, the off-the-shoulder neckline and the darting is extremely figure-flattering, and her choice of turquoise pumps makes the outfit that much more exciting.

Seriously, how is the "Mad Men" star only 14 years old? She always kills it on the red carpet, and this white look is no exception. The asymmetrical hemline is a nice detail, while the geometric print on her shirt keeps her ensemble age appropriate.

We'll admit that Poppy's dress is a little summery for this time of year, but the photo was taken in Los Angeles, so we'll give her a pass. The cut of this frock is what makes it so successful. It is fitted up top and flares out to a midi-length that is so flattering on the tall socialite. We are also in love with her Valentino ankle booties.

We love the simplicity of Biel's white strapless gown and how her neckpiece is so elegantly draped over her shoulders. This look is just fashion-forward enough without being too much. It looks like Mrs. Justin Timberlake doesn't just have good taste in men.

There are so many things that are right with this gown. The plunging neckline works so well on Hudson, especially when paired with a more demure skirt. She looks refined and sexy, all at once.

This dress is amazing on Dennings. The color, pattern and cut all work together to make her look fabulous. Her choice of pumps is also spot-on, as their nude color is making her legs look longer.

If you ignore the crown (in her defense, she was at a derby), her dress is actually quite pretty. The lace detailing and tiering at the bottom are very delicate and make this a stunning ensemble.

We know, we know, it's after Labor Day, but something that looks this good can't possibly be wrong. While the color choice may not be ideal for November, the cut and fit are. We are obsessed with Garner's minimal jewelry and sleek updo. She deserves an A+.

There is perfect balance in this look, and that's why it works so well. Though the actress went with wide sleeves, they don't overwhelm the ensemble because of the short hemline. We also love how she has injected a little personality into the outfit by wearing red heels and red lipstick.

This pale blue hue is heavenly on the brunette actress. The strapless dress with the nipped-in waist highlights all her best assets, and her side-swept locks help to draw attention towards her bold brows and minimal makeup.

Now this is a dress. Red looks great on Swift (no wonder that's the title of her latest album), and the embellishments and long train on the gown are just enough drama for the red carpet.

The country music singer hit it out of the park with this outfit. The combination of the full, printed skirt with the long-sleeved black top is so laid back, yet so effortlessly chic. It is very reminiscent of Audrey Hepburn.

A LBD is a classic, but we love how this particular one has a plunging back. It keeps us on our toes and makes things interesting.

So simple, yet so elegant. The princess-style dress looks gorgeous on the "Thor" star. Portman is the picture of Hollywood glamour.

It's rare that we see off-the-shoulder done so well on the red carpet. Lively's bouclé houndstooth dress looks stunning against her complexion. The sparkly, gold-accented is fashion-forward, while the flouncy skirt helps to keep the look young and fun. Clearly, she has learned something from her "Gossip Girl" days.

If anyone understands sex appeal, it's Dita Von Teese. This outfit is so alluring, without being too sexy. Her head-to-toe black ensemble shows off her curves (thanks to that belt), while her leather gloves, red lipstick and expertly coiffed hair pull everything together.

Sometimes all you need is an LBD and red lipstick. Dockery's look is incredibly sexy and subtle, we just can't get enough.

Though we admit that Wilde's dress looks a little summery, she wore it in LA, which is undoubtably warmer than the East Coast right now. The delicate floral print is so pretty, especially when paired with the actress' tousled locks and minimal makeup.

Without the embellishments, Bosworth's dress isn't anything special. But the added detail around her neck pulls the focus towards her face, while the detailing at her waist helps to define her shape so she doesn't get lost in all the loose material.

We can't say we're surprised that Kruger managed to find herself the perfect strapless gown. Though the dress has a lot of colorful accents, it's short hemline and simple silhouette keep it from being over the top.

This dress is perfect for the actress. The voluminous bottom is balanced out nicely by the fitted bodice, while the subtle rhinestones help to keep the gown interesting.

There is something so effortless about this look -- it's as if she just threw it on, without giving it much thought, and voila! But her red strappy shoes, which add a nice pop of color, let us know that this lady is a discerning fashionista.

Bullock is looking better and better with every red carpet appearance. We love this lingerie-inspired LBD. Not only does it fit her body like a glove, but it's also a subtle take on the underwear as outerwear trend.

Well, that's one heck of a cut-out. Though the Victoria's Secret model is baring a lot of skin, the long hemline and flowy skirt compensate for the sexy top.

Moore's style is only getting better as she gets older. This rich, navy halter dress is fun, yet still age-appropriate.

There are so many things that are perfect about this look: The black and white color blocking is extremely flattering, the light draping accentuates her small waist, while the keyhole detail at the top breaks up all the material.

All that glitters really is gold, or at least, this dress. The embellishments, halter neckline and neutral color are the trifecta of chic.

There are few ways you can go wrong in a plunging red wrap dress, but the vibrant color and lines on this gown make Beckinsale stand out for all the right reasons.

We adore the simplicity of this look. The bold dress with the thin white line is not only captivating, but draws our attention to the actress' beautiful updo.

The proof is in the pudding -- Taylor Schilling is not only a talented actress, but she also has killer style. Even though it's way past Labor Day, the star's white dress works because of the black accents and long sleeves.

The fit of this dress is perfection. It hugs the Academy Award-nominated star in all the right places, and the V-neck complements her physique. Davis has also mastered the art of picking the right hue for her skin tone.

We were starting to forget what Miley looked like with clothes on. This dress is so sexy without showing too much skin -- she's on the right path.

Now this is show-stopping gown! The Chinese actress may be wearing a revealing dress, but the high neckline, delicate beading and long hemline ensure that it reads very classy.

Bullock is on fire in the fashion department lately, and this dress is no exception. The long sleeves on her black lace dress are balanced out nicely by the frock's short hemline, while her deep red lips and tousled locks make the entire look totally effortless.

The queen of minimalism is finally wearing color (alright, a little bit of color). This dress looks fabulous on Mara because it's refined yet of the moment. The leather top, combined with the tummy cut-out and pleated metallic strips, stay true to the actress' avant-garde style, but are still slightly unexpected.

Clearly, Pfeiffer knows how to put together a balanced outfit. The strong shoulder pads on her blazer are nicely countered by her fitted white dress shirt and slightly flared pants. (Not to mention the fact that her legs look about 12 feet long).

Who says royalty can't be fashion-forward? We love how Queen Maxima elevated her simple grey dress with bold accessories. Her oversized hat, metallic clutch and gold hoop earrings ensure that she is best-dressed material.

Ruching and wrapping are always figure-flattering, so Hudson was smart to pick this style of dress. The singer's strappy sandals further elongate her legs, while her sexy cat-eye makeup amps up the sex appeal. A+, Hudson.

Pinto understands how to wear a statement piece. The actress' metallic jacquard pencil skirt is the standout garment in her outfit, so she kept the rest of her look simple, allowing us to be wowed, once again, by her fashion-forward ways.

Now this is a dress! What makes this gown so special is the silhouette. The halter neckline shows off William's toned arms and creates simple, clean lines which make the actress appear taller than she is.

Yellow can be a tricky hue to wear given not all shades of the color are very flattering. But Mulligan seems to have nailed it with this strapless dress. The boning towards the top helps to give her a nice hourglass shape, while her pink lipstick and black pumps compliment the delicate look.

We were happily suprised to see Willis on the best-dressed list this week. We think the young star has finally learned that less is more. This classic black dress, with a slight slit and a deep-V, is showing off all her best assets.

How many ways can you say fabulous? The Academy Award winner stole the show in this figure-flattering white dress. The peplum detail shows off her rockin' body, while her sultry waves and sleek back pumps amp up the sex appeal. October 4th, Los Angeles

We're not wild about Banks' hair, but her outfit is spot on. The crop top trend is still going strong, and we love this demure take on the fad. The matching top and skirt help to elongate her figure, as do her nude pumps. October 4th, Los Angeles

Nothing is more chic than a strapless gown. We love the houndstooth print and simple silhouette -- it really allows for Alba's curves to speak for themselves. October 4th, Los Angeles

Redheads often face challenges finding colors that compliment their skin tone and hair color, but a white dress is foolproof. This gown could have easily skewed Grecian goddess, but the modern silhouette and expert draping ensure that Moore doesn't look like she is wearing a costume. October 7th, Los Angeles

The creative director at Marie Claire proves that all black is often the way to go. Though her outfit is simple, the expert tailoring, minimal makeup and fashion-forward mules make the fashionista a force to be reckoned with. October 3rd, New York

We don't know what we love most about this look. The detail in the bustier, the gold belt, her strappy sandals or that bright red lipstick. October 7th, Cannes

Washington is off the worst-dressed list and right where she belongs. This graphic print dress looks great on the petite star, while her edgy pumps help to toughen up her otherwise feminine look. October 4th, Los Angeles

If you've ever questioned whether or not Penelope Cruz is a sex symbol, here is your answer. Her embellished black dress is so alluring, even though there isn't much exposed skin. The sheer detailing up top and the dress' curve-hugging silhouette are more than enough to show Cruz off in all her glory. October 3rd, London

White seems to be the color of the week. We love this short shift dress on Theron, it makes her legs look even longer than they already are. October 4th, Los Angeles

This dress could have easily skewed bridal, but the Czech model knew how to make it look high-fashion instead. The midi-length hem, black pumps and red lipstick ensure that no one confuses her for a bride. Paris, September 27th

It's so nice to see the Vogue editor out of a tweed suit and into one of the hottest prints of the year -- Hawaiian florals. We're also impressed that she was able to make it her own with her signature beaded necklace and kitten heels. Kudos, Anna. New York, September 11th

Though many A-listers get scolded for wearing the same outfit twice, Kloss manages to make it work. The supermodel donned this Cushnie et Ochs dress when she opened the brand's show during New York Fashion Week, and she put it on again for a night on the town. It's clear to see why she recycled the dress -- the silhouette and the cut-outs look as if they were made for Kloss' six-foot frame. New York, September 11th

Arizona Muse lives up to her name in this interesting black dress. The unusual neckline and high-slit take this outfit from blah to brilliant. New York, September 12th

There is a reason that Battaglia is on just about every street style blog -- the woman has style in spades. Her patent leather top is a sexy contrast to her sweet peplum skirt, while her belt helps to give her some curves. New York, September 12th

This outfit is a success because it achieves the perfect balance. Though Miller's boxy top could have added too much extra bulk, it was nicely offset by a pencil skirt and a slightly exposed tummy. London, September 16th

The wife of Russian billionaire Alexander Lebedev has been stealing the spotlight at fashion shows for months, and this outfit proves that she isn't dimming her light anytime soon. We love how she paired a high-waisted skirt with a cropped trench style coat -- the proportions are perfection. And we can't get enough of her accessories -- those strappy sandals and that embellished purse add just the right amount of visual interest. London, September 16th

Now's the time to get in as much white as possible. Although Paltrow's dress is plain, the spot-on fit and luxe material make it a winner. Los Angeles, September 16th

The model and author looks breathtaking in this form-fitting gown. The cut is hugging her curves in the best way possible, while the plunging neckline brings attention towards her gorgeous face. New York, September 17th

Prints have never looked better! The British actress smartly paired her orange and blue frock with demure accessories to make sure they didn't steal the focus away from her dress. London, September 17th

Now this is a dress that will stop anyone in their tracks! The all-leather ensemble is not only cool because of it's mustard yellow color, but the twisted halter neckline and monochromatic belt make the look fashion-forward. Milan, September 18th

The fashion risk-taker stepped out in a dress from Prabal Gurung's Spring 2014 collection, and she really let the gorgeous frock shine. Steinfeld was smart to keep her makeup and accessories simple, drawing focus to the interesting detail work in the gown. Hollywood, September 24th

Kerr can do no wrong. The model combined a few different trends (sheer, cut-outs and a midi length skirt) to create an outfit that was fashion-forward and flattering. New York, September 19th

If this dress were black, it would have been boring, but this vibrant orange color is what makes this simple gown a knockout. So many stars stick to neutrals on the red carpet, but a bright, bold hue can easily take a dress from ordinary to extraordinary. Los Angeles, September 22nd

Everything about this look is perfection -- the body-skimming fit, the interesting architectural cut-outs, the rich navy color, the bold orange lipstick -- it all just came together. New York, September 23rd

Now this is a gown. The color-blocking on the dress is very figure-flattering, while the voluminous bottom is perfectly balanced out by the tight bodice. New York, September 23rd

It's nice to see this "Downton Abbey" star looking so sweet. We love the short floral dress and bright yellow pumps -- afterall, it's not that cold out yet. Los Angeles, September 21st

We always forget that this "Mad Men" star is only 13 years old, as she has impeccable taste. Navy and black is one of our favorite color combinations (it's so sophisticated), and we love how she's chosen a classic shift shape with batwing sleeves, very unexpected. Los Angeles, September 19th

This look is incredibly sleek and sexy -- from Keibler's slicked-back hair and burgundy lipstick to her tight-fitting dress with leather accents. Los Angeles, September 19th

The print on Ackerman's white skirt is what makes this ensemble. Though she went simple on top, sporting a black tank, minimal makeup and low-key jewelry, her patterned skirt is what made this outfit one to remember. New York, September 24th

Va-va-voom! Union has shown the perfect amount of skin in this look. The low neckline and high slit aren't too much because of the dress' long and loose nature. We're also obsessed with her strappy shoes which are elongating her legs. Los Angeles, September 20th

It looks like this "Dancing with the Stars" winner found her color. The orangey-red hue is amazing against her complexion, and the textured pattern really makes he dress pop off of the red carpet. Beverly Hills, September 27th

Talk about amping up a LBD. The embellished collar and subtle tummy cut-outs are just enough to make this black frock very memorable. New York, September 28th

We love this minimalist look. Though her dress is so simple, the off-the-shoulder silhouette and subtle variation in hue make for an interesting ensemble. New York, October 1st

Oh, the power of a perfectly-tailored suit. Although Campbell could look good in just about anything, this white skirt suit is especially striking. The jacket fits like a glove, while the pencil skirt only makes her legs look even longer. We wish this was how all of corporate America dressed. London, September 26th

Julia has been turning it out lately, and this outfit is no exception. We love the slight V-neck of the dress and her low ponytail. Both are working to showcase her toned arms. Los Angeles, September 26th

If you've got it, flaunt it! We'll admit, there is a whole lot of exposed skin in this ensemble, but somehow it works. The wife of Russian billionaire Alexander Lebedev made sure she balanced out her outfit by choosing a dress with long sleeves and a long hemline. And the result: the hottest look on the best-dressed list. Paris, October 1st

The television host stunned in this hunter green gown. Not only do we love the color, but the double straps, silk piping and subtle vertical lines in the dress are all extremely flattering. Pasadena, September 27th

This outfit is so successful because it achieves perfect balance. The loose-fitting white shirt is made sexy by the plunging neckline, while her skintight sequined skirt isn't too sexy because of its long length. A+, Alba. Pasadena, September 27th

Oh, how we'll miss seeing Giovanna's Fashion Week looks. Every piece she wears is something special. Her embellished skirt is so quirky and cool, her graphic print sweater just reinforces how much we love the new trend and those cat ear shoes are now on our wish list. Paris, September 27th
Want more? Be sure to check out HuffPost Style on Twitter, Facebook, Tumblr, Pinterest and Instagram at @HuffPostStyle.