Imagine John Lennon on Mercury. It isn't hard to do—at least it wasn't hard for the folks tasked with giving names to craters on the planet. This week, they named 10 impact craters after famous artists, including the Beatles legend, Truman Capote, and Alexander Calder.
Just click through the slideshow below to see which inspiring cultural figures made the list.
Story continues below.
Mercury Craters Named After Famous Artists
Natalie Clifford Barney, (1876-1972), an American-French playwright, poet, and novelist.

Hector Berlioz (1803-1869), a French Romantic composer best known for his compositions "Symphonie fantastique" and "Grande messe des morts."

Alexander Calder (1898-1976), an American sculptor best known as the originator of the mobile, a type of kinetic sculpture made with delicately balanced or suspended components that move in response to motor power or air currents.

Truman Capote (1924-1984), an American author whose short stories, novels, plays, and nonfiction include the novella Breakfast at Tiffany's and the true-crime novel In Cold Blood.

Enrico Caruso (1873-1921), an Italian tenor who sang to great acclaim at the major opera houses of Europe and the Americas and appeared in a wide variety of roles from the Italian and French repertoires that ranged from the lyric to the dramatic.

James Sidney Ensor (1860-1949), a Belgian painter and printmaker, considered an important influence on expressionism and surrealism.

Jean Boulogne Giambologna (1529-1608), a Dutch sculptor known for his marble and bronze statuary in a late Renaissance or Mannerist style.

John Winston Ono Lennon (1940-1980), an English songwriter, musician, and singer who rose to worldwide fame as a founding member of the Beatles, the most commercially successful and critically acclaimed band in the history of popular music.

Erich Maria Remarque (1898-1970), a German author best known for his novel All Quiet on the Western Front, which depicted the horrors of war from the viewpoint of young German soldiers.

Maria Helena Vieira da Silva (1908-1992), a Portuguese-born French painter of intricate, semiabstract compositions.
All new craters must be named after "deceased artists, musicians, painters, and authors who have made outstanding or fundamental contributions to their field and have been recognized as art historically significant figures for more than 50 years," according to the International Astronomical Union, which approves all new names related to planets and satellites.
The craters join 114 others named after the first Mercury flyby was conducted by the MESSENGER probe in 2008.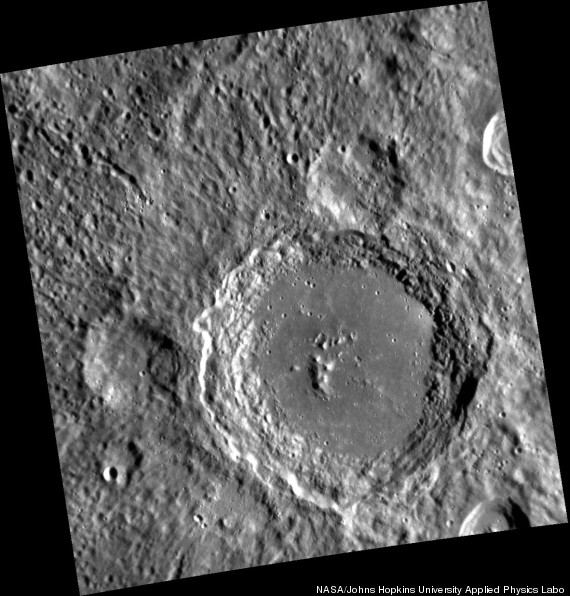 The Lennon crater, recently named to honor English musician/singer/songwriter John Lennon (1940-1980).
In dedication of the new Lennon crater, the MESSENGER mission released this cringeworthy tribute:
Imagine some ejecta

It isn't hard to do

Terraced walls and impact melt

Secondary craters too

Imagine central peaks

Rising above the floor...


You may say I'm a complex crater
But I'm not the only one
Someday more will join us
On the planet closest to the sun.