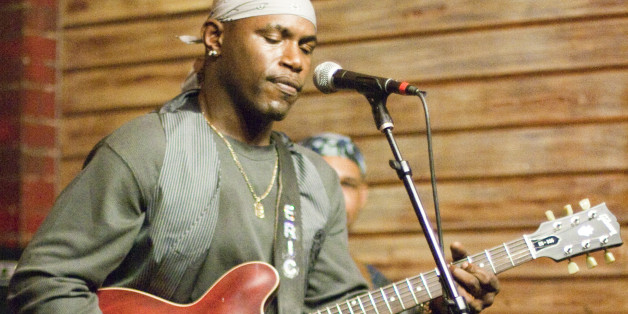 A familiar face to those who follow Chicago's blues scene has been identified as one of the latest victims of gun violence in the city.
Eric "Guitar" Davis, 41, was found fatally shot with multiple gunshot wounds inside a vehicle in the 6700 block of South East End Avenue in the city's South Shore neighborhood, the Chicago Sun-Times reports. He was killed just three blocks away from and about a half hour after another man, 74-year-old deacon Willie Cooper, was also found fatally shot inside a vehicle.
As DNAinfo Chicago notes, Davis was a fixture of the city's blues music community. He was the son of legendary blues drummer Bobby "Top Hat" Davis and an up-and-coming musician who fronted his band, the Troublemakers.
(UPDATE: A YouCaring.com fundraising page has been set up to help Davis' family fund funeral arrangements.)
Tony Mangiullo owns Rosa's Lounge, where Davis played a show earlier this month, and told DNAinfo he feels like he "lost a brother" and that he believes it was only "a matter of time" before the musician hit the big time.
At the time of his death, Davis had been preparing for a New Year's Eve gig at the Beale on Broadway in St. Louis. He was booked to play three shows, Dec. 27, Dec. 28 and Dec. 31, the St. Louis Post-Dispatch reports.
Davis' father played with music legends such as B.B. King, Ray Charles and Muddy Waters, which helped inspire him to follow in his father's footsteps.
Watch Davis performing "Trouble Making Man" at Beale on Broadway in November 2012:

Two other men were killed in Thursday shootings in Chicago. Barnett Adams, 33, was shot in the 5600 block of West Chicago Avenue in the Austin neighborhood while arguing with another man in the street about 5:10 p.m. He was pronounced dead about an hour later at an area hospital, according to the Sun-Times.
Earlier Thursday, 19-year-old Andre Hunter was shot about 2:40 p.m. in the 7700 block of South Stewart Street and was pronounced dead about 50 minutes later at Advocate Christ Medical Center in Oak Lawn, the Chicago Tribune reports.
Four other people were wounded in non-fatal shootings citywide Thursday.
RELATED ON HUFFPOST:
PHOTO GALLERY
BEFORE YOU GO
Crime In Chicago
PHOTO GALLERY
Crime In Chicago