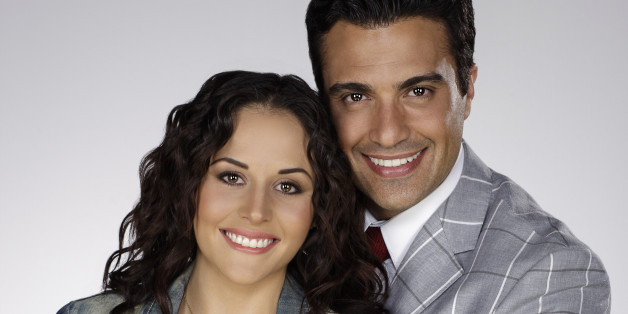 Jaime Camil regresa a Univision y nuevamente para hacer reír al público.
El actor estará a partir del lunes 6 de enero del 2014 a las 10/9 PM Centro en "Qué Pobres tan Ricos" la nueva novela romántica y cómica que protagoniza junto a Zuria Vega y un elenco de lujo que incluye a Mark Tacher, Ingrid Martz, Arturo Peniche, Roberto Blandón y la veterana actriz Sylvia Pasquel, entre otros.

Producida por Rosy Ocampo para Televisa, quien ha estado detrás de muchos éxitos, entre ellos los recientes "Mentir para vivir", "Por ella soy Eva" y "La fea más bella", esta novela apela a los valores familiares y la unidad por encima de cualquier riqueza o pobreza poniendo nuevamente a Camil como el de familia bien.
La presumida familia Ruizpalacios ha dedicado toda una vida a probar que es falsa la frase que dice que el dinero no compra la felicidad. Su mundo frívolo gira en torno a la riqueza y el estatus, hasta que un día fatídico, se dan cuenta de que su fortuna ha desaparecido.

Arruinados, los Ruizpalacios se ven forzados a mudarse con una familia de clase trabajadora en un barrio pobre, donde les cuesta adaptarse a una vida sin lujos. Hacer la transición de caviar a frijoles se les hace sumamente difícil, y los Menchaca, la familia de buen corazón que vive con ellos, deben lidiar con su manera presumida de actuar.

Las cosas se complican más cuando el creído Miguel Ángel (Jaime Camil) y Lupita (Zuria Vega), que tiene los pies en la tierra, se enamoran a pesar de diferencias sociales que aparentemente son insuperables.
Mientras ambas familias tratan de resolver sus problemas y vivir juntas en paz, los Ruizpalacios comienzan a descubrir los valores familiares, la lealtad y las cosas simples de la vida, y se dan cuenta de que lo que los Menchaca atesoran es lo que realmente cuenta y que la famosa frase en realidad es cierta.
SUBSCRIBE AND FOLLOW
Get top stories and blog posts emailed to me each day. Newsletters may offer personalized content or advertisements.
Learn more