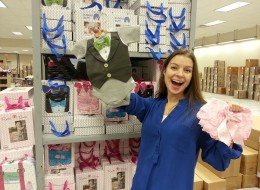 One of the reasons I started my website is that I wanted a place for women to come together and dream. We women need to know that we don't have to hang on to an old dream that has stopped nurturing us -- that there is always time to start a new dream. This week's story is about a woman who left her high paying job in search of something more fulfilling. Inspired by a childhood memory, her product is now being worn by celebrity kids all over Hollywood! -- Marlo, MarloThomas.quadcom
By Lori Weiss
Amber Schaub was making the kind of money most people can only dream of. She'd made her way to Dallas and landed a job selling high end condominiums in a development that was the talk of the town. And yet, just two years after she started, she walked away without a clue of what would come next.
"It was the second time that I was drawn to a job for the money," Amber explained, "and the second time I had to walk away. I was hoping that this job would be different, since I'd worked in real estate before and I loved helping people find their dream homes. But in the high end market, it was all about how quickly I could flip a property and make a commission. I was watching my colleagues lie and cheat and steal to achieve success -- and I'd come home in tears every night. I felt like I was selling my soul."
And while there are those that may think this sounds like a poor little rich girl tale -- there's nothing that could be further from the truth. Amber had taken these jobs because of the way she grew up -- in a household where luxuries were few and far between. On the rare occasions that her mother would come into a little extra cash, they'd splurge and add a few packs of cookies to their grocery cart. But what Amber did have growing up was happiness -- and she wanted to find that in her work life as well.
So with a little bit of a nest egg, Amber buried herself in entrepreneur magazines and business books -- determined to find something that she could feel good about doing. What she couldn't have known was that she'd find the happiness she was looking for in the same way she did for much of her young life -- on a little shopping trip with her mom.
"My mother was visiting," Amber recalled, "and we went out to find a baby gift for one of our friends. When I was little, my mother would dress me in these ruffled bloomers and I remembered loving them. She called them 'ruffle butts,' and she could get me to do just about anything with the promise that I could wear them under my pajamas to bed! So I thought every little girl needs a pair, and that's what we set out to find."
The two women went from store to store, but no one in the area carried anything remotely like the little bloomers Amber remembered so fondly.
"We had searched the city and even after my mother left, I kept looking. I was on the last possible store when the woman behind the counter said, 'We don't carry them, and I don't know why, because people come in asking for them every single day.' And that's when I knew. I walked to the parking lot and called my mother and said, 'I found it. I found what I'm supposed to do. I'm going to make ruffle butts!' And she just started to laugh."
As excited as Amber was to have figured out her next step, there was one little issue. She didn't know a thing about the apparel industry. She didn't even know how to sew.
"I knew I wasn't going to actually make them myself," Amber said, "but I wanted to be able to speak the language. I wanted to be able to explain to someone the kind of stitching I wanted. So I signed up for a sewing class and I started doing research. I had to find someone who could make samples and a manufacturer who could make larger quantities. And I had to trademark the name."
That trademark would turn out to be one of the toughest things Amber would set out to do. It was a $400 investment, which would pale in comparison to what she'd have to invest into production, but for a girl who grew up having to watch every penny, that $400 may as well have been $400,000.
"I couldn't hit the enter button. I was so afraid to waste our money. It was a lot of weight to bear -- to walk away from a big job, knowing my husband, Mark, was the only one working -- and that I could lose our money. But Mark said, 'This is your dream. You have to go after it.'"
And so she did. Amber pushed the button on what would begin the journey back to a time that a pair of ruffled bloomers were all it took to make her smile -- and towards a future that would soon include a multi-million dollar business.
Article continues below slideshow
Amber Schaub, a successful businesswoman working in high end real estate, realized that something was missing in her life. She took a huge risk by switching career paths to follow her passion to design children's clothing, and this decision would lead to a multimillion dollar business.

Now, Amber is the founder of an adorable line of infant and children's ruffled bloomers, lovingly named Ruffle Butts. Here, a little cutie shows off her hot pink Ruffle Butt Bloomers.

Next came Rugged Butts, a line of sporty boys' clothing so that the guys could get in on the fun, too! Here, a little MVP models his football-inspired Rugged Butts outfit.

Amber was a child of the 80s and loved to wear anything hot pink, ruffly and girly. "My mother would dress me in these ruffled bloomers and I loved them," reflected Amber. "She called them ruffle butts, and she could get me to do just about anything with the promise that I could wear them under my pajamas to bed!"

Growing up, Amber's family had few extravagances, so it was always a special treat when she and her mother could go on little shopping trips together. Years later, when Amber was an adult, one of those shopping trips with her mother would lead her to a very important entrepreneurial idea.

While working in Cincinatti, Amber met Mark, a real estate developer who lived in the same area. By her fourth date with Mark, Amber knew that this was the person she would marry. Here, the couple smiles at a friend's wedding in Chicago (2003).

Here, Amber poses with a jackhammer at a home she helped Mark flip after they moved to Dallas. Both Amber and Mark would soon take a giant leap towards new careers.

Here, Amber and Mark smile at their wedding in July 2004.

Before Amber could embark on her new dream career, there was just one technical problem: she had no formal sewing experience! To make sure she was competent in creating clothing, Amber began to take sewing classes.

After hiring a local pattern maker and securing a factory, the first batch of Ruffle Butts were born. Here, a sweet little girl plays in her pink Ruffle Butts outfit.

Before long, Amber and Mark would be welcoming yet another enormous change into their lives: Amber was pregnant with their first child, Aubrey. Here, Amber multi-tasks on her Blackberry while in labor in 2008. "I didn't have any employees at the time, so there was no one to keep things running but me!" remembered Amber.

Here's baby Aubrey, just a few days after coming home from the hospital. "She was our long-awaited joy and blessing," said Amber. Aubrey's wearing a Ruffle Butts t-shirt designed by her mother.

Throughout the changes in both their careers and family, Mark has been a supportive and loving husband. Here, Mark takes on stroller duty with baby Aubrey shortly after she came home from the hospital.

During the early days of Ruffle Butts, Amber would work from home in a converted basement office. Here, baby Aubrey helps Mom with some important paperwork.

It didn't take long for Ruffle Butts to become a favorite among Hollywood parents. Here's a picture from the paparazzi of Ali Landry and her daughter Estela wearing Ruffle Butts while playing on the beach in Malibu (2009). "She was super sweet and reminisced about her childhood also wearing 'ruffle butt' diaper covers. I was so excited to hear someone else in love with this memory from her childhood!" remembered Amber.

Here, Tim Allen and wife Jane Hajduk pose for a quick shot with a few pairs of Ruffle Butts at a pre-Golden Globe baby event in 2008.

Ellen DeGeneres gifted Jessica Alba a Ruffle Butt Bloomer along with an Ellen Onesie on her daytime TV show in 2010. The outfit was for Jessica's daughter Honor and Jessica tweeted a picture of her daughter in the RuffleButts shortly thereafter; a huge moment in the popularity of Ruffle Butts.

It wasn't long before Ruffle Butts hit retail shelves.Here's a shot of the first Ruffle Butt showroom at the AmericasMart in Atlanta (2009).

Shortly after the Ruffle Butts and Rugged Butts empire started to take off, Amber and Mark received another little blessing: their first son, Jonas. Here, Amber and Jonas hang out at the zoo in 2012.

Here, Amber, Aubrey and Jonas hang out in their front yard during a fun family day. They're both rocking Ruffle Butts and Rugged Butts gear.

Here, siblings Aubrey and Jonas model their Ruffle Butts & Rugged Butts at a photo shoot in Myrtle Beach in 2012.

Amber, Mark, Aubrey and Jonas even had their entrepreneurial debut on ABC's Shark Tank in October 2013.

It's not all work for the Schaub family. Here, Amber, Jonas, Aubrey and Mark pose for a quick pic in the sunshine during a fun family trip to Disney.

It wasn't long before the couple began adding lines of ruffled dresses and dancewear to their Ruffle Butts collection, attracting the attention of stores like Nordstrom and Neiman Marcus. Here, a happy gal smiles in her pink ballerina tutu.

Amber made a brave decision to pursue her dream and create a line of adorable girls' bloomers, and her success story is a testament to the supportive family that continues to inspire her daily.
But it would begin with a few bumps in the road.
"I signed up for a trade show in Las Vegas," she continued, "but in the meantime, I had to write a check for $40,000 to go into production. I needed to be able to fulfill orders, and that was the smallest quantity I could get the manufacturer to run. I had to keep reminding myself that there was a reason I'd stuck it out in real estate as long as I did -- so I could put away some money and do something I really wanted to do."
But when Amber arrived, she found herself in a tiny booth, in the very back -- and after days on the floor, she walked away with only two sales. And to make matters worse, when that first shipment of Ruffle Butts arrived, they were nothing like she had imagined.
"Fifty percent of the pieces were unsellable. The waistbands were different sizes, the embellishments were crooked. All I could see was the $40,000 we'd invested and all I could think was that I'd made a huge mistake."
So Amber did what she'd done so many times before -- she turned to her mom, who flew out and helped her measure every single piece, combing through dozens of boxes that were now laying all over the couple's living room floor.
"The manufacturer blamed me," she said with a sigh. "He said I should have told him that the seams couldn't be more than half an inch off and the thread had to be the same on all the garments. Aside from the sales at the trade show, people had found our website and were placing orders. I had to meet quality standards, so I didn't have a choice. I had to produce more."
The good news is, not one of those little Ruffle Butts would go to waste, because Amber was about to strike gold. While she had been overseeing production and handling sales, she was also making phone calls -- lots and lots of phone calls -- hoping to catch the attention of the press and celebrity stylists. It wasn't long before the determined entrepreneur was invited to be part of a gifting suite just before the Golden Globes. Almost overnight, little butts all over Hollywood were scrambling around in ruffles.
With Hollywood's stamp of approval, the press quickly followed, and soon boutiques were contacting Amber to inquire about her frilly fashions. Despite all her struggles, she brought in $100,000 in sales her first year in business and by all appearances there was a Ruffled Butt boom about to take place.
"I was doing everything myself -- so even when I went into labor with my daughter, Aubrey, I was answering emails on my Blackberry! Mark kept telling me to put it away, but there's no maternity leave when you own your own business."
The company quadrupled its revenue in the next year and the couple quickly realized that if they wanted to continue their growth, the new mom was going to need some help. And while Mark had been getting up early and staying up late to help out with the accounting and technical issues, they decided it was time for Ruffle Butts to become the official family business.
"We're big fans of the show Survivor," Amber laughed, "and I've come to realize that what happens on those islands is not so different from what happens in the business world. Everyone is just trying to survive -- so you need to build an alliance. And Mark is the person I trusted most to be on my team."
Soon the couple began adding lines of ruffled dresses and dancewear and stores like Nordstrom and Neiman Marcus were placing orders. That's when the pair decided it was time to let little boys in on the fun. They created a line called Rugged Butts, just in time for the birth of their son, Jonas, who quickly became the company's newest cover boy.
Just five years from the time Amber sold her first pair of bloomers, Ruffle Butts has blossomed into a five million dollar business. This month, Buy Buy Baby will introduce a brand new collection at a slightly lower price point, called Ruffly Rumps.
And the big stores are not the only ones interested in Ruffle Butts. Last Fall, QVC's Laurie Greiner offered Amber and Mark $600,000 for 9% of their business on ABC's Shark Tank. But at this point, the "survivors" have agreed to stick with their original alliance.
"I remember reading a book called 'Do What You Love. The Money Will Follow.' I'm not going to sugar coat this. That's not the real world. There's clearly a lot of sacrifice in starting your own business."
"But you have to ask yourself," Amber said softly "what your greatest regret will be twenty years from now -- taking a risk that didn't pay off or wondering what might have happened if you'd given it a shot?"
Add Marlo On Facebook:
Follow Marlo on Twitter:

Weekly Newsletter

Sign up to receive my email newsletter each week - It will keep you up-to-date on upcoming articles, Mondays with Marlo guests, videos, and more!

Sign up here