We've all been there: Holiday season rolls around and you either don't have time to get everyone on your list a gift or you just plain forget to include someone important altogether.
Our solution? Nip into the closest drugstore. These convenient, affordable establishments are treasure troves of beauty goods. If you can pick up everything from eye makeup palettes to French body oil to luxe hand soap at the drugstore, why go anywhere else for holiday shopping?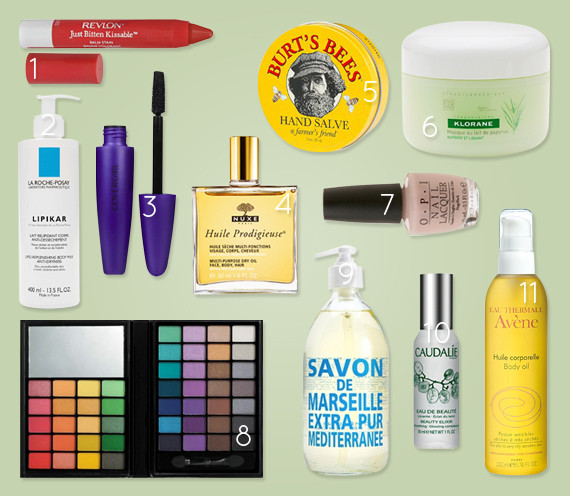 1. Revlon Just Bitten Kissable Balm Stain, $8.99
2. La Roche-Posay Lipikar Lipid-Replenishing Body Milk, $39.99
3. CoverGirl Lashblast Fusion Mascara, $8.95
4. Nuxe Multi-Usage Dry Oil, $29
5. Burt's Bees Farmer's Friend Hand Salve, $6.69
6. Klorane Hair Mask with Papyrus Milk, $24
7. OPI Soft Shades Collection Nail Lacquer, $8
8. e.l.f. Beauty Must Haves 48 Piece Eyeshadow Book, $6
9. Savon de Marseille Extra Pur Liquid Soap, $24
10. Caudalie Beauty Elixir, $18
11. Avene Body Oil, $24
More stand out gift ideas:
20 Best Websites For Unique Gifts
Wondermade: Gourmet marshmallows in unusual flavors. Check out: Bourbon Marshmallows, $7.95 for 16. You're welcome.

Given Goods: This marketplace is filled with unique gifts (home goods, kitchenware and accessories for women and men) that give back. Each product includes detailed info about the artisan or brand, the product's origin and the cause you're supporting. Check out: Lapis Lazuli Studs, $99. (Proceeds help create sustainable job opportunities for women in Afghanistan.)

PopChart Lab: You've probably seen their awesome infographic-inspired prints, but they also have tees and accessories. Check out: "The Very Many Varieties Of Beer" pint glass, $12.

Pink Olive: A super-cute site founded to turn the spotlight onto creative entrepreneurs. You'll find thoughtful gifts, but also the Olive Box, a monthly subscription box geared towards paper lovers. Check out: "You Are Loved" mug, $16.

Uncommon Goods: Fun gifts for everyone on your list, for nearly any budget. Think of it as a quirky Pier 1. Check out: Scratch Map, $20.

The Grommet: This e-tailer helps undiscovered products ("grommets") find their markets. You'll find really unique stuff here that you often won't find anywhere else -- just yet, at least. Check out: Everyday Artifact Silver Jewelry, $38.

Olive & Cocoa: Gift sets shine at this catalog, which covers everything from business gifting to seasonal finds. Check out: Bianca Grace floral arrangement, $94.

Leif: This online store is simply gorgeous to look at -- along with its well-edited selection of beautiful gifts. Perfect for that stylish but hard-to-shop-for friend. Check out: Gemstone Magnet Set, $38 for a set of 8.

Young Republic: You'll discover new designers from the worlds of fashion, jewelry, home decor and more at this site. Check out: Love Energizer iPhone Sleeve, $20, from Goodluckgoods.

ShanaLogic: Another great place to discover new handmade artisans and independent designers, boasting a cool selection of everything from housewares to "collectible plushes." (If you're near Ann Arbor, Michigan, you can also visit their shop.) Check out: Chemistry Cat Mousepad, $15.

Plasticland: Like Spencer's Gifts, but not shameful. Check out: Squirrel Tabletop Nightlight, $12.

Banquet: Awesome prints with retro-indie flair. Check out: Large Print Sea Animals Of The Gulf Coast, $60.

RH Signature: Pricey-but-stunning gifts for those you need to impress (or reward). Check out: Iconic Coco Chanel Quote Simplicity, $250.

Paloma's Nest: This shop features a selection of perfectly tasteful personalized keepsakes that are worlds away from your typical Hallmark offerings. Check out: Where We Met/Where You Were Born map ornament, $42.

Polka Dot Club: OK, so these are bears. But the adorable stuffed creatures are made of only natural fibers, using heritage techniques inspired by the turn of the 20th century. They are very fancy. Check out: PDC Classic Bear Well Dressed Girl, $230.

Mignon Kitchen Co: A simply gorgeous online shop for foodies and the people who love them. You'll find lovely gift sets, heavenly sweets and even a few cute packaging options for the DIY-type in your life. Check out: Handmade Felt Coasters, $20 for a set of 4.

Craftfoxes Marketplace: A well-curated marketplace filled with all things handmade. You'll mainly find small gifts here (jewelry, home accessories, aprons), but also supplies for your crafty friend. Check out: Small Monogram Vase, $62, from MaidOfClay.

CustomMade: An online destination for, well, custom-made anything. You'll find everything from hand-hewn dining tables to jewelry. Still not finding what you're looking for? Describe your idea and the site will connect you to a maker. Check out: Wallet Made From Car Seat Leather, $40-80, by Sven Schlegel.

Perpetual Kid: Ever need a VW Camper Van Tent? This is where to go. Think: Silly gifts at a wide range of price points. Check out: Yep, the VW Camper Van Tent, a splurge at $529.

One Kings Lane: The selection varies by the day at this e-tailer, which is part flash sale, part marketplace. Look here for vintage, one-of-a-kind and luxurious gifts. Check out: Sheepskin throws, starting at $99.
Want more? Be sure to check out HuffPost Style on Twitter, Facebook, Tumblr, Pinterest and Instagram at @HuffPostStyle.