It's been a pretty banner year for the fashion world as far as remaining open-minded. Trends that have previously been deemed ugly, unappealing or just unflattering have seemed to make a comeback on the collections presented in the past 12 months.
Below, see the 10 "ugly" trends that became cool in 2013.
Birkenstocks The clunky footwear, oft associated with hippies and the like, made a major comeback in collections for Edun, Trina Turk, Houghton and Shades of Grey.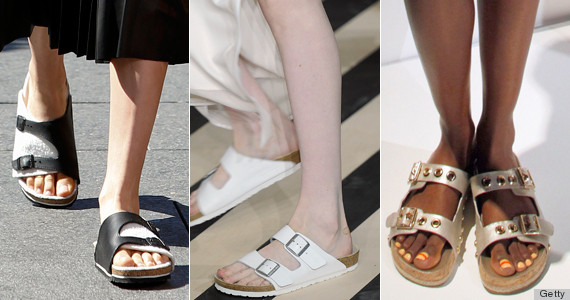 Laundry bag print It's official: Celine can basically turn garbage into gold.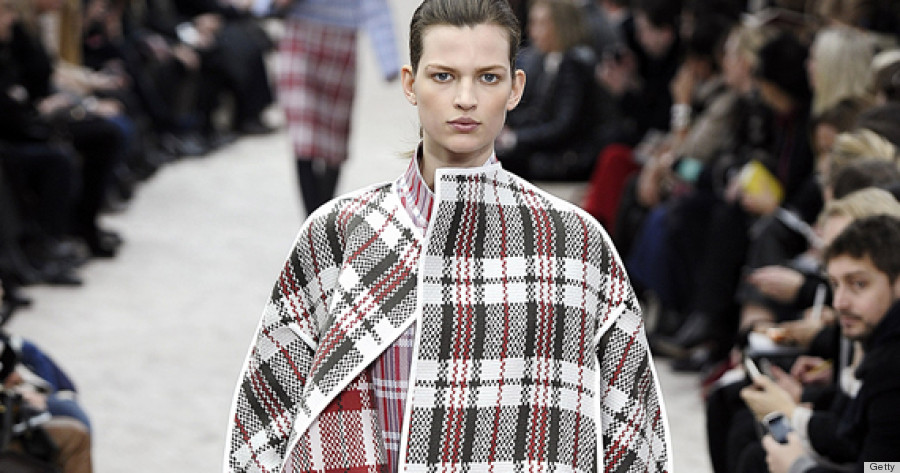 Culottes The always-awkward split skirt wormed its way back into our hearts via Alexander Wang, Emporio Armani and Proenza Schouler's runways.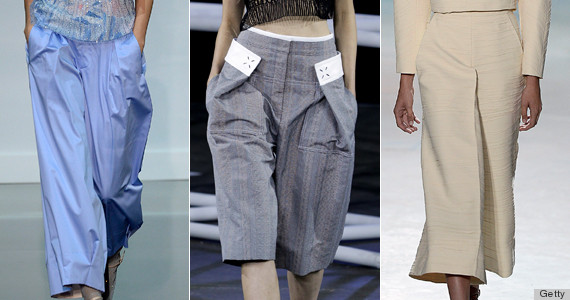 Flashy logos Think it's totally uncool to wear a logo-emblazoned sweater obnoxiously announcing to the world the designer label you're wearing? Alexander Wang, DKNY and Pucci suggest you think again.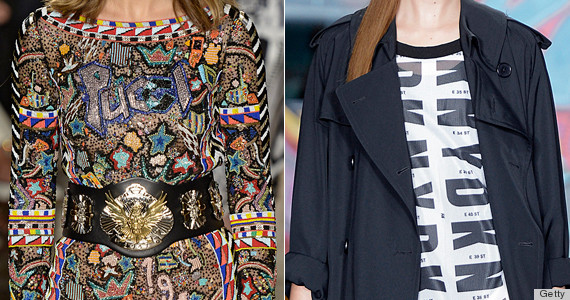 All-over leather Leather daddies made it mainstream, thanks to Prada, 3.1 Phillip Lim, Mulberry and Gucci.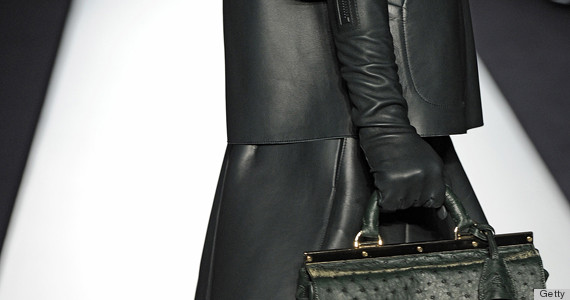 Adidas shower shoes We can't say we saw this one coming, but Misha Nonoo used them to present her collection this year.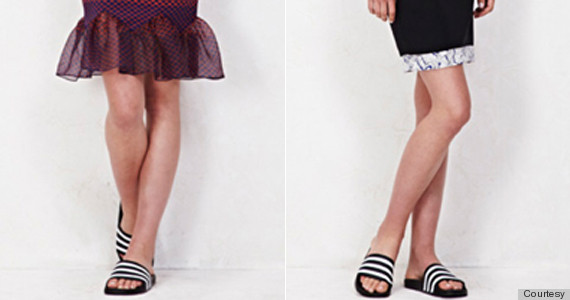 Overalls If DKNY, Rag & Bone and Mark McNairy New Amsterdam all support them, they're not just for farmers anymore.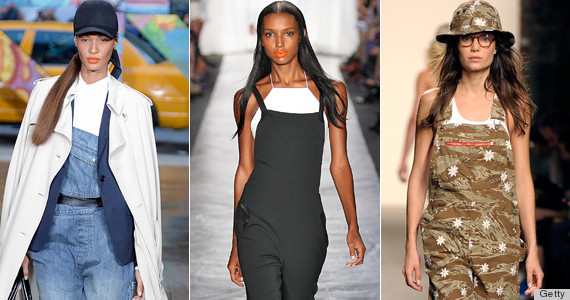 Boxy flannels In case you didn't notice, the '90s are back... and that includes those boxy flannels, courtesy of Saint Laurent and Rodarte.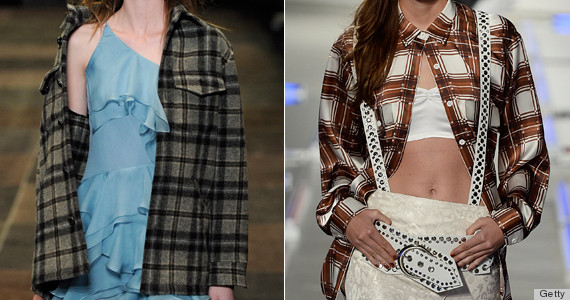 Flatforms We can't say we "get it," but the hoof-like shoes graced the collections of Tibi, Y-3 and Alice + Olivia this year.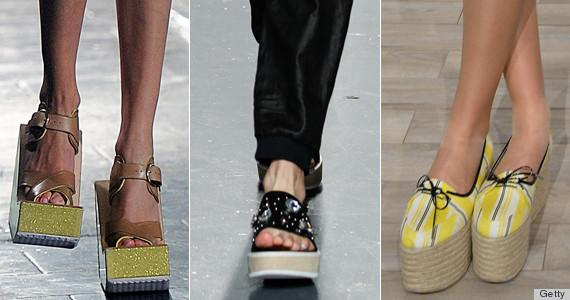 Colored fur Not since Dion in "Clueless" have we seen such cool colored fur (real or faux). Thanks, Anna Sui, BCBG and Michael Kors.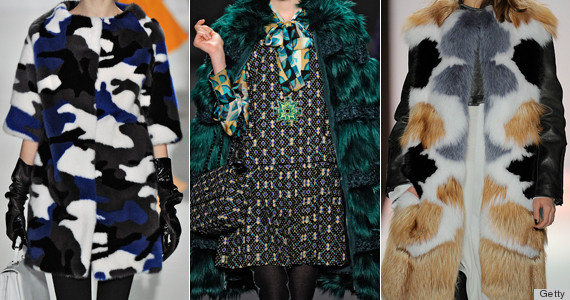 Some trends aren't so successful:
Loading Slideshow
1. Peplums

Kim Kardashian was perhaps peplums' most famous fan in 2012, but we kind of hope she gives them the Kris Humphries send-off in 2013. Yawn.

2. Sheer everything

Two words: <a href="http://www.huffingtonpost.com/2012/12/06/ellie-goulding-wardrobe-malfunction-see-through-white-dress_n_2249540.html">wardrobe malfunction.</a>

3. Gel manicures

Sure, they last a long time. But who wants a mani you can't take off yourself on a whim?

4. Half-shaved heads

2013 will be the year of Classy Scalp Uniformity.

5. Pastel hair

Katy Perry and <a href="http://www.huffingtonpost.com/2012/11/06/christina-aguilera-pink-hair-the-voice-2012-photos_n_2081680.html">Christina Aguilera </a>were among the ombre amours this year, but this go around, we hope everyone leaves the My Little Pony hair to, well, My Little Ponies.

6. Studded collars

We get it. Everyone's afraid of your lapels. Next!

7. Wedge sneakers

They're comfy. We like comfy! Towering sneaks are just a little bit overdone at this point.

8. High fashion sweatshirts

The <a href="http://www.openingceremony.us/products.asp?menuid=2&designerid=1335&productid=63924">Kenzo tiger</a> and the <a href="http://www.elbowsandkneesblog.com/?tag=balenciaga-galactic-sweaters">Balenciaga galactic print</a> both kicked off hot sweatshirt-y trends this year, but as far as we're concerned, any item of clothing we're going to spend triple digits on shouldn't be able to double as gym wear.

9. Neon

Day-Glo dresses, pants, jewelry, shoes, pantsuits, bags, lipstick -- enough!

10. Flatforms

We'd rather wear stilettos than clod around in a pair of these.

11. Printed pants

Don't get us wrong, we love this look fashion-wise, BUT, we're skeptical that a pair exists that doesn't make us our thighs look like walruses balancing on their tails.

12. Jumpsuits

Petitioning the White House to allow separate tops and bottoms in 2013.

13. Dark '90s lipstick

We have a feeling goth-y lips will be a mainstay this year, but we're already a bit over the "Interview with the Vampire" beauty thang.
Want more? Be sure to check out HuffPost Style on Twitter, Facebook, Tumblr, Pinterest and Instagram at @HuffPostStyle.