You'd never expect to find this between a gas station and a parking garage on a busy Detroit street. But sure enough, the historic (and humongous) Hecker-Smiley mansion looms on a block of Woodward Avenue -- and it's for sale for less than the price of a decent two-bedroom apartment in Manhattan.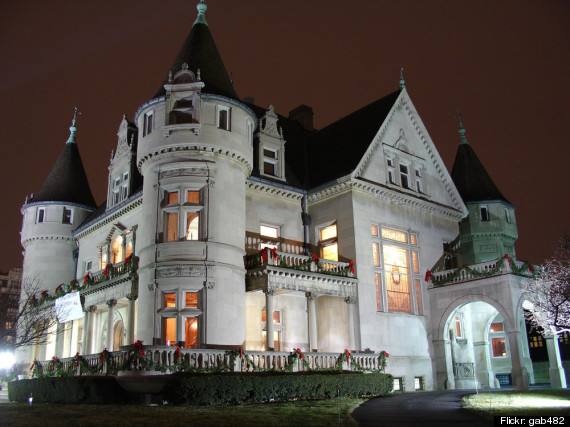 Flickr photo by gab482.
Looking at the mansion, now on the market for $2.8 million, you can see why Detroit was once called the Paris of the West.
Two American presidents, and one vice president, have visited the former residence of Col. Frank Hecker. Built by architect Louis Kamper and finished in 1892, the 21,000-square-foot French Renaissance-styled home was modeled after the 16th century Château de Chenonceau in the Loire Valley as an ode to the city's French roots. It was the first residence in Michigan to have electricity, and some of its original electric light fixtures still remain.
Hecker, a railroad tycoon, lived there until his death in 1927; the house was then used as a boarding house before Paul Smiley purchased in 1945 for his company, Smiley Brothers Music Co. In the 1990s, current owners Charfoos & Christensen moved in and completed an extensive renovation, for which they were given a Historic Rehabilitation Excellence Award from the National Park Service in 1994, according to the Michigan Bar Journal. The home has since been used as the law firm's offices.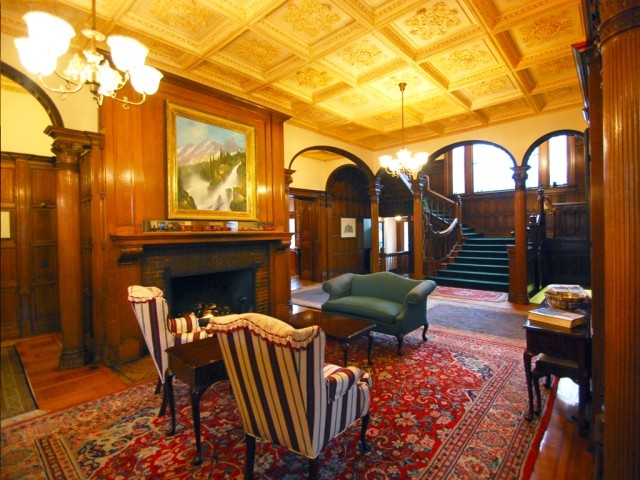 The home has so many rooms that Doug Peters, attorney and expert on the home's history, had difficulty counting. Historic Detroit estimates there are 49 rooms on the mansion's three floors, which wouldn't include the finished basement or two-story, 6,000-square-foot carriage house. The second building holds a mock courtroom that used to be a stable; oats for the horses sometimes still shake loose and collect in a light fixture.
One walk around the mansion isn't enough to take in all its details and history, from the 13 fireplaces to the large paintings of Detroit scenes by Hungarian artist Balazs Szabo. You couldn't tell that Vice President Joe Biden has visited the home recently and, much less recently, former Presidents Rutherford B. Hayes and William McKinley stayed there.
There are countless nooks and crannies, and the house's turrets create charming round spaces. Many rooms are lined with ornate paneling and parquet floors. While renovating, the lawyers stumbled on one of the best surprises: a secret passageway that ran around the mansion's perimeter. It's former use is still unclear.
Levi Smith, a broker with Southfield, Mich. real estate firm Principal Associates, said the home has been on the market for several years and the price has come down from over $3 million. They imagine the building being right for a nonprofit, a professional organization, small museum, club or consulate: it currently serves as the Royal Danish Consulate of Detroit.
But it could also potentially be used as a residential home, he said. So if you'd like to live like a railroad tycoon for less than the cost of a 2-bedroom New York condo, it's worth a look at the photos below -- and be sure to send us an invitation to the ball.
Most importantly, it needs to go to someone who will care for the historic home. Who knew the Motor City had so many opulent mansions?
PHOTO GALLERY
BEFORE YOU GO
Detroit's Historic Hecker-Smiley Mansion
PHOTO GALLERY
Detroit's Historic Hecker-Smiley Mansion
Hat tip: Curbed Detroit.