It's not news to anyone that when the president comes to town, he comes with a ton of security. But when the president comes to a small island in the middle of the Pacific -- a small island that is already home to the nation's second worst traffic -- his security apparatus is a bit more noticeable.
By Land:
Concrete blockades and security patrols block the entrance to the neighborhood where the president stays and "no parking" signs keep the streets clear. Doug Miller lives just outside the security check-points and has devised a system using a little Chia Obama likeness to communicate Obama's movements to his neighbors.
"When we have him facing down the road that means that he's still out -- the motorcade is out," Miller told Hawaii News Now, "but if he's come in and is in residence then we just turn it back facing the place that he's staying. It's our little indication of whether the President is in residence or not."
As always, the president travels with 20-30 vehicles, which makes a noticeable impact on Honolulu's already strained traffic. Obama's sister, Maya Soetoro-Ng, who lives in Hawaii, asked residents for their patience and understanding during the vacation. "Please forgive any traffic that is increased or made more dense as a result of his arrival," she said, "and know that he and the rest of the family are very thankful for this chance to find a retreat." A US Secret Service Agent talks to people at a checkpoint for the area where President Barack Obama and his family are staying in Kailua.
By Sea:
The Coast Guard enforces a temporary security zone in the waters of Kailua Bay, near the president's rental home. Officials have contacted boat owners in the area to remind them that the canal and surf spots facing the home are off limits, and armed Coast Guard dinghies line the banks of the canal.
Any person entering the zone without the permission of the Coast Guard Captain of the Port is subject to a penalty up to $40,000 or a criminal penalty resulting in imprisonment of up to 10 years.
Unfortunately, the Secret Service's strategy for protecting against sharks and jellyfish remains classified.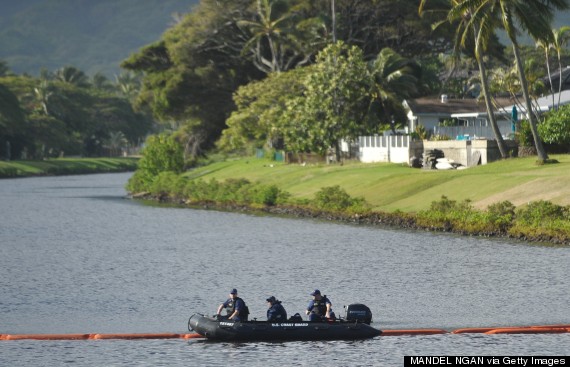 A Coast Guard dinghie patrols the canal near Obama's rental home.
By Air:
The FAA files "temporary flight restrictions for VIP Movement" during the president's stay. Any aircraft within a 30 nautical mile radius -- which, we'll point out, encompasses the entire island of Oahu -- must apply for special approval to fly from the FAA.
If you think this only affects commercial planes, think again. Oahu is home to a bustling tourism industry of helicopter tours, hang-gliding tours, and skydiving companies, all of which are affected to some degree by the FAA restrictions. Frank Hinshaw of Skydive Hawaii says that he's "very grateful to be flying while the president is in town," but his planes are grounded if the president decides to take a trip to the North Shore. "We're closed while he's in our vicinity," Henshaw says.
That's because the FAA has more strict restrictions for what it calls the "inner core," the 10 nautical mile radius that follows the president's movements. Only approved law enforcement and military flights directly supporting the Secret Service are allowed in this space, although exceptions are made for "lifesaving" or ambulance flights with proper approval.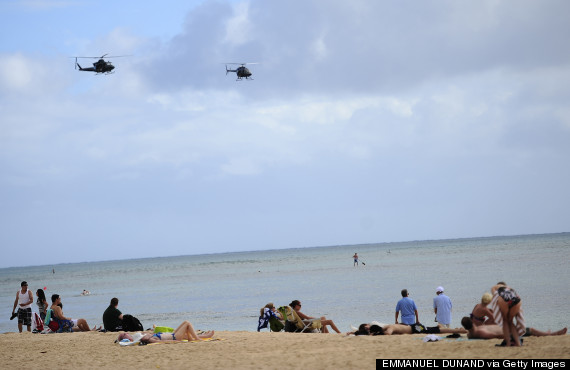 Military helicopters patrol Waikiki Beach.
Also on HuffPost:
Malia & Sasha Obama's Holiday Style
SUBSCRIBE AND FOLLOW
Get top stories and blog posts emailed to me each day. Newsletters may offer personalized content or advertisements.
Learn more