The media made some notable mistakes in 2013, some jaw-dropping, some hilarious and some just cringe-worthy.
When two bombs exploded at the Boston Marathon and when shots were fired at the Navy Yard in Washington, D.C., networks repeatedly reported false information under pressure. Even the most experienced news anchors were guilty of on-air errors this year.
Below, we have compiled a list of many (admittedly not all) of the biggest media screw-ups of 2013. This list is in no particular order.
Media coverage of the Boston Marathon bombing in April was full of wrong information. CNN's John King ID'ed the suspect as "a dark-skinned male":
Fox News' Megyn Kelly was one of several anchors to falsely confirm that a suspect had been arrested. Most notoriously, John King reported that police had identified the suspect and made an arrest, all which turned out to be false.
The New York Post released the "Bag Men" cover that falsely identified these two men as the suspects: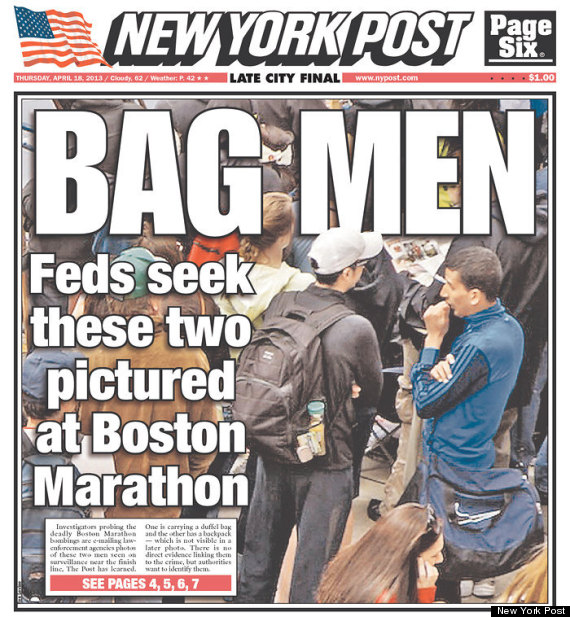 Then, in the mass shooting at the Washington Navy Yard in September, both NBC News and CBS identified the wrong man as the shooter and were forced to retract their statements:
BREAKING. @johnmillercbs advises the initial reports identifying the suspected shooter as Rollie Chance are wrong.

— Charlie Kaye (@CharlieKayeCBS) September 16, 2013
NBC News: we are now NOT reporting name of shooter; retracting that report. deleting those tweets

— Chuck Todd (@chucktodd) September 16, 2013
The Globe and Mail falsely reported the death of former NSA chief Michael Hayden at the Los Angeles International Airport shooting following a fake tweet sent by "Breaking News":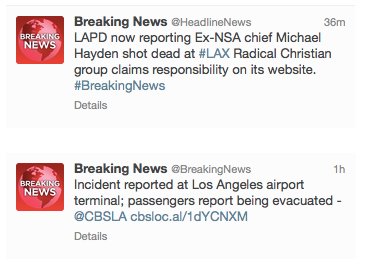 @mathewi @margafret Here's a screenshot of the Globe's Hayden story pic.twitter.com/9RaOi54PDz

— Ben Dreyfuss (@bendreyfuss) November 1, 2013
NBC News' covered the train explosion in Canada and decided that New Hampshire no longer existed: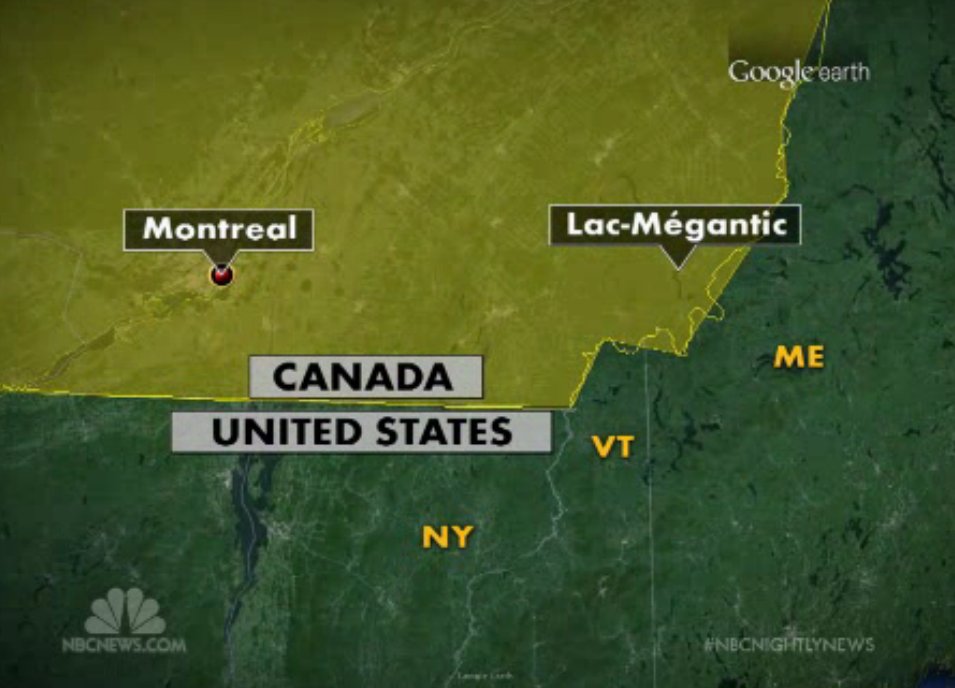 But at least Brian Williams apologized for it the next day:
KTVU misidentified the Asiana airline pilots involved in the San Francisco International Airport crash using four fake (and pretty offensive) Korean names.
And then they apologized too:
But perhaps the biggest apology of 2013, in what was deemed the "Error of the Year," was Lara Logan's confession to the botched "60 Minutes" Benghazi report in an on-air apology stating, "We were wrong":
WE NOW PRESENT to you the other side of media mistakes this year: The epic fails you just have to laugh at, starting with this local NBC reporter getting absolutely laid out by her cameraman:
There were some pretty epic sign-offs this year as well, like the Channel 7 News reporter who signed off as "lesbian":
But this one still takes the cake:
Duluth's Northland News Center anchors got called out for pretending to cover the parade from outside in the cold...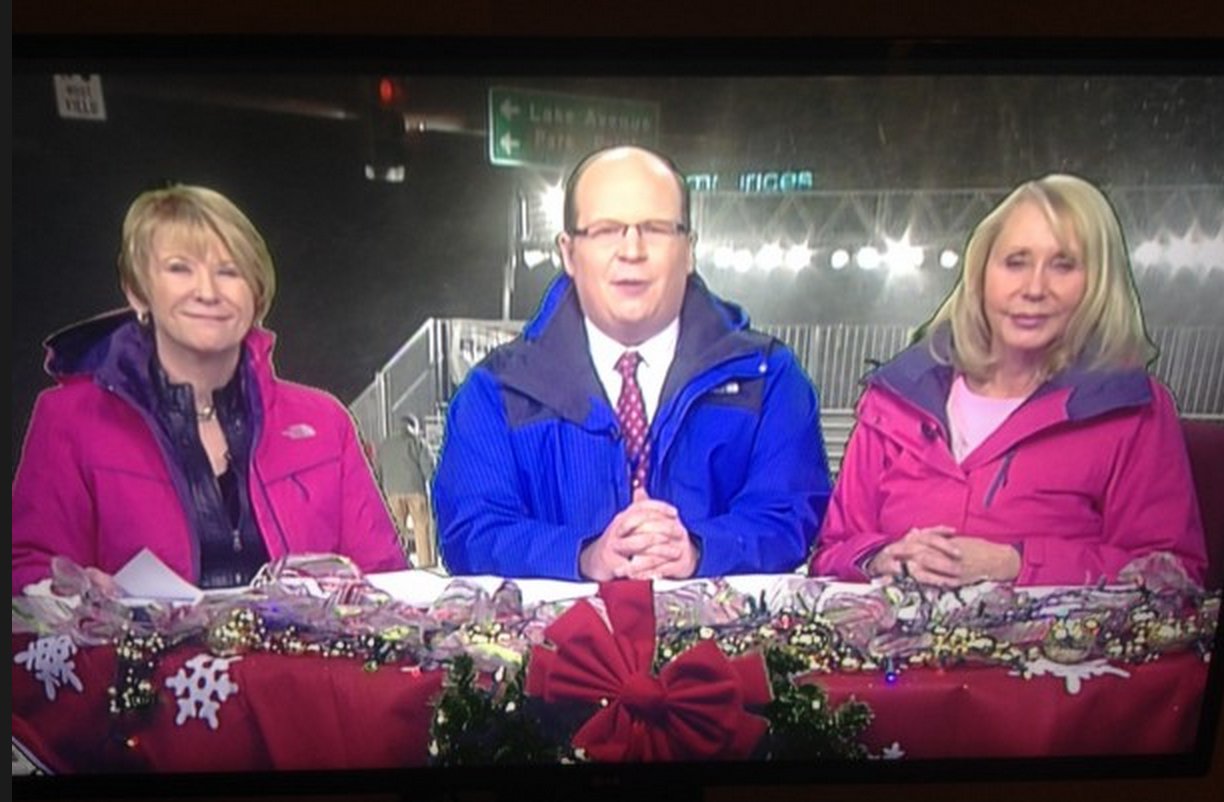 ...while they were actually just sitting inside in front of a green screen.
CNN reported that Nelson Mandela died in 2012:
2012? @cnn #sitroom #mandela pic.twitter.com/SvXc3BqJRC

— Nathalie Venema (@NathalieVenema) December 5, 2013
Oh, and that Hong Kong was the new South America:
Print corrections were pretty good this year too. The New York Times made this amazing Mario Brothers correction:



And then this one:
Seriously, it doesn't get better than this in life. #pt pic.twitter.com/lfy0XzFVU5

— Jillian C. York (@jilliancyork) November 1, 2013
And then this one from Slate:

Or what about when the Sun called a woman on maternity leave "lazy":
Page 2 of today's Sun. Their apology to me. pic.twitter.com/13nJGqgcgY

— Lucy Powell (@LucyMPowell) December 18, 2013
Nothing to see here folks, just the Chronicle Herald spelling its own name wrong: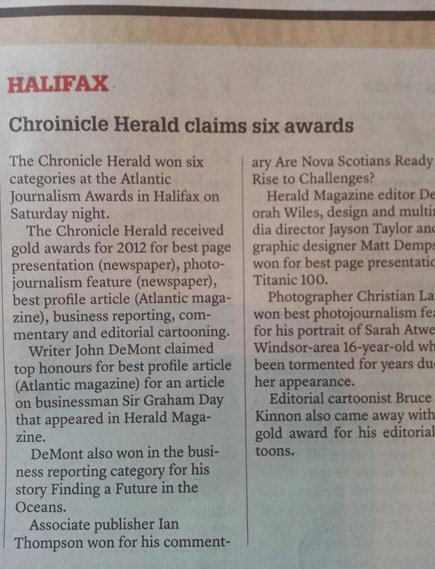 CNN made an epic fail when they tried to air a split screen of Nancy Grace and Ashleigh Banfield in the same parking lot:
And then this BBC anchor tried to get away with holding a pile of paper in place of an i-Pad:
But at least there was some jaw-dropping, earth-stopping "Breaking News" this year to keep us on our toes:


OMG OMG OMG OMG:
Okay, this one may or may not have been a mistake, but we just had to include it. Congratulations Kim and Kanye:
ALSO ON HUFFPOST:
PHOTO GALLERY
BEFORE YOU GO
Gaffes In The Media
PHOTO GALLERY
Gaffes In The Media