Bill Watterson's classic comic strip always took an extra sharp turn for the weird around the season's first snowfall. And although there hasn't been a new "Calvin and Hobbes" printed in the last twenty or so years, Calvin's mischievous spirit has quite clearly lived on.
Without further ado, here are some of the strangest snowmen to grace the cold, white earth.

A snow-witch doctor stewing some shriveled heads.

A snow monster and its victims.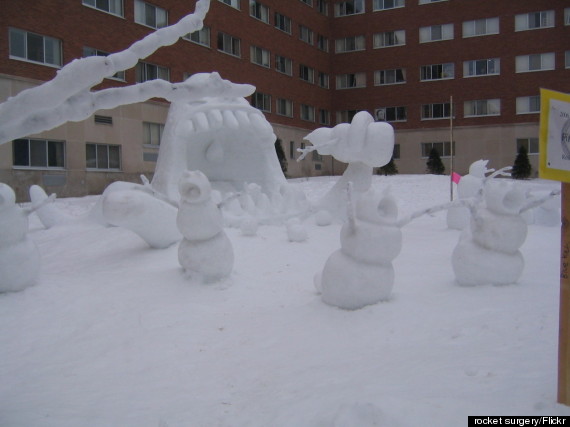 A lot of snow monsters and their victim.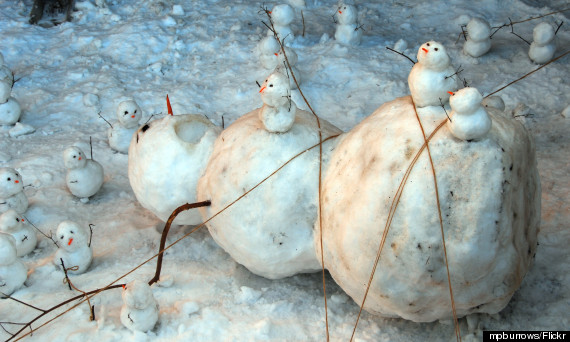 Snow monsters or Lilliputians -- your pick. Calvin would no doubt be proud that someone decided to reenact "Gulliver's Travels" with evil snowmen.

A snowman reenactment of Shaun of the Dead.

A very hungry snowman.

A snowman army.

A snow AT-AT.

A perfectly un-perfect snowman.

A snowman shark attack.

A snow Dalek.

Rage snowman.

"Temple of Doom" snowman.

A two-headed mutant snowman.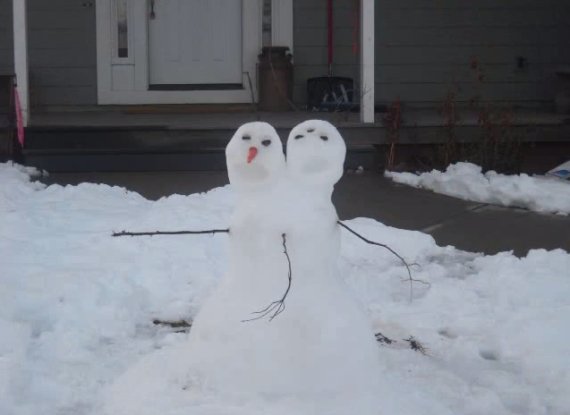 (YouTube)

A snowman in the throes of death.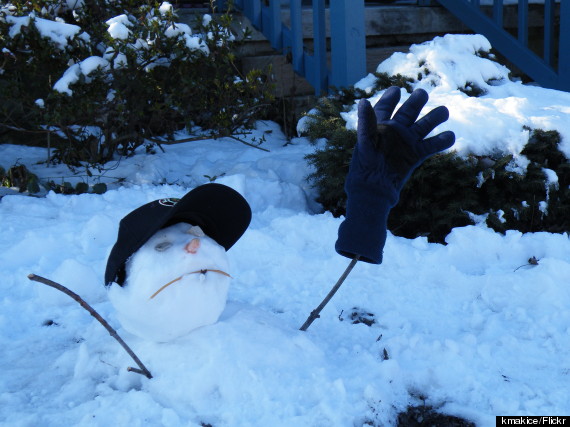 Snowman homicide.

A casual outhouse scene.

A shocking snowman hit-and-run.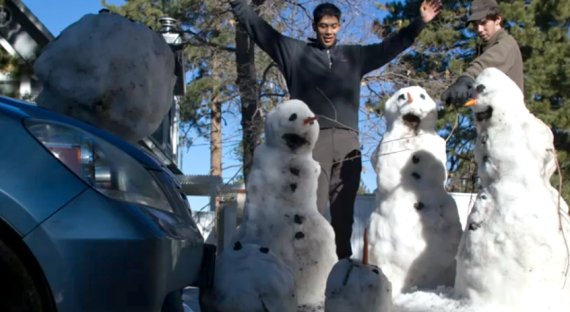 (YouTube)

Snowman crime scene.

Snow that wants you to rock on.

A snowman escaping death by snowshark.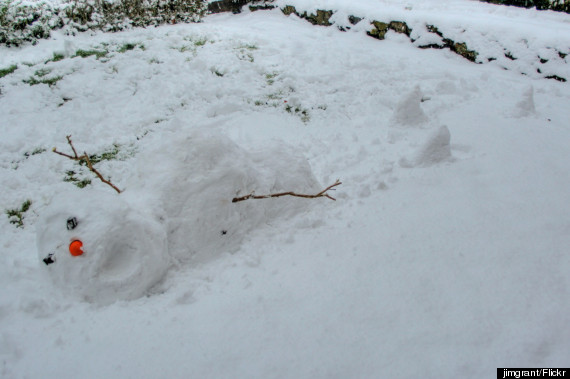 A snow intruder.

Another snowman homicide. It's a dangerous world out there.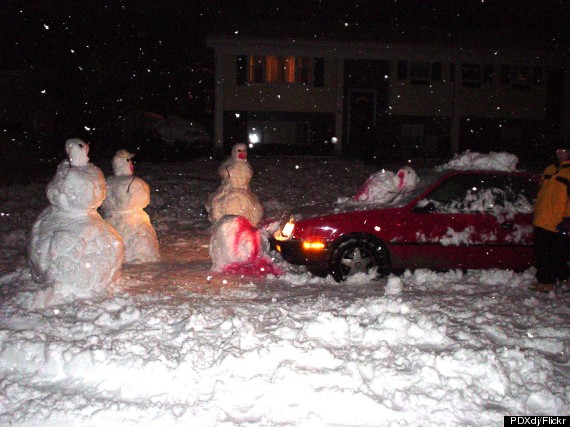 A snowman doing some thinking.

A snowman taking his revenge.

A snowman with a lot to say.

This piece has been updated to note the "Gulliver's Travels" reference in #3.
Also on HuffPost:
Loading Slideshow
Amanusa, Bali

The ultra-elegant, uber-luxurious Amanusa hotel is Bali with a seriously chic accent. Located on a sensational cliff-top with 35 suites, all with private pools, this was once Princess Diana's Bali abode. Privacy and seclusion are guaranteed. A private beach, complete with daybeds in secluded alcoves is the perfect setting for a Balinese massage and candlelight dinner under the stars - with your own team of chefs. Read more about <a href="http://www.gogobot.com/bali-indonesia" target="_hplink">Bali</a>.

Parrot Cay, Turks and Caicos

Set on a private island, Parrot Cay is as synonymous with luxury as it is with Turks and Caicos. The world-renowned spa sanctuary is the height of pampering, where your co-residents will likely be regular A-listers such as Donna Karan, Bruce Willis and Sir Paul McCartney. 1,000 acres of lush grounds are the playground of the elite. Whitewashed suites glisten as sheer materials billow in the breeze. Parrot Cay retains favor for its signature laid-back ambiance. Read more on <a href="http://www.gogobot.com/turks-and-caicos-islands" target="_hplink">Turks and Caicos</a>.

Hermitage Bay, Antigua and Barbuda

In January, Antigua Yacht Club hosts the 'Round the Island Race' and the Superyacht Challenge, with a vibrant international crowd. Intimate, stylish and ultra-exclusive, Hermitage Bay is a secluded property camouflaged within lush wild hills and private golden beach. The 'It' hotel for honeymooners and those seeking total privacy, features 25 cottage suites stretching 10 acres from cliff-side to beachfront. My sensational hilltop suite with Jacuzzi and infinity pool overlooks sweeping beach and piton views. Read more on <a href="http://www.gogobot.com/antigua-and-barbuda" target="_hplink">Antigua and Barbuda</a>.

Banyan Tree Mayakoba, Playa del Carmen

The most sophisticated and secluded address along Mexico's Riviera Maya is the Banyan Tree Mayakoba. The entirely separate oasis, with PGA golf course, is cocooned by a network of lagoons. Hop on board the hotel boat tour to spot turtles and crocodiles. With the Mexican jungle, Mayan archaeological sites and populous beaches minutes away, this is the definitive spot for an ultra-exclusive haven. Private beachfront allows guests their own portion of the world's second largest coral reef. Read more about <a href="http://www.gogobot.com/playa-del-carmen" target="_hplink">Playa del Carmen</a>.

The Siam Hotel, Bangkok

The Asian fashion and historical capital is a quickly spinning wheel of evolution. But when you've finished with the frenetic bustle, head to The Siam's regal oasis of riverfront serenity. The wellness sanctuary features the city's only riverside pool suites, designed as artistic masterpieces, benefitting progressive shades of romanticism from dawn to dusk. Accruing breathtaking vision and surreal luxury, the property is trending in the fashion world. My highlight is being whisked by private boat to and from the city. Read more on <a href="http://www.gogobot.com/bangkok" target="_hplink">Bangkok</a>.

The Chedi, Muscat

Oman is an unspoiled haven of Middle Eastern tradition. Surrounded by dramatic mountains, the 'Grand Canyon of the Middle East,' and miles of turquoise seas, tradition and modernity converge. The Chedi is a multiple award-winning property, fusing sensual Omani architecture with stylish design. Expect to see a beautiful international crowd sipping Singapore Slings whilst soaking in indented beds in the longest infinity pool in the Middle East. On-site chocolatiers, patisserie chefs and cake artisans bring Arabian Nights fantasies to life. Read more on <a href="http://www.gogobot.com/oman" target="_hplink">Oman</a>.

Mandarin Oriental, Kuala Lumpur

The easiest way to combat Kuala Lumpur heat is to cool off in shopping malls, rehydrate in uber-trendy bars and grab posh nosh at your pick of global restaurants. To rest your weary head, the exquisite Mandarin Oriental is flawless. My sumptuous suite boasted floor-to-ceiling glass views of the Petronas Towers from the lounge, and a dining room for 10, complete with handpicked art. Meet friends for a late-night swim and drinks before retiring to a designer Orient-themed bedroom. Read more about <a href="http://www.gogobot.com/kuala-lumpur" target="_hplink">Kuala Lumpur</a>.

Ngapali Bay, Myanmar

As Myanmar tourism expands, many miss the exotic, authentic Bay of Bengal. Ngapali Bay hotel & spa features designer glass-front villas along sweeping beachfront. Enjoy fresh lobster and cocktails by a tiny rustic beach bar, while beautiful village ladies wander past balancing baskets of fruit on their heads. The hotel's biggest selling point is it's familiar feel and beachfront proximity to the working fishermen's village which exudes a fascinating flurry of activity at dawn. Read more on <a href="http://www.gogobot.com/myanmarburma" target="_hplink">Myanmar</a>.

Azura Quilalea Private Island, Mozambique

Just nine seafront villas pepper Azura Quilalea private island, preferred by Anne, Princess Royal. The lush oasis is a globule in the coral-filled Quirimbas marine sanctuary. World-class diving sites and snorkeling straight off island beaches alongside humpback whales, dolphins and nesting turtles, enhance the desert island experience. Surrounding nature is dense with baobab and frangipani, an idyll for kayaking. Mozambique offers scenes of serenity with panoramic lunar landscapes and unpolluted night skies studded with entire starry constellations. Read more on <a href="http://www.gogobot.com/mozambique" target="_hplink">Mozambique</a>.

The Cotton House, Mustique, St. Vincent and the Grenadines

This private island is the choice retreat of Britain's royal family, most recently the Duke and Duchess of Cambridge. Measuring three by one and a half miles, the island is renowned for its wild 70's hedonism, a legacy continued at world-famous Basil's Bar. Cotton House, the sole full-service hotel, boasts an impressive guest book of celebrity signatures. 17 suites span 13 acres, neighboring mansions of Mick Jagger and Bryan Adams. Private golf buggies enable the few guests to whiz around 9 bewitching beaches, oozing exclusivity. Read more on <a href="http://www.gogobot.com/st-vincent-and-the-grenadines" target="_hplink">St Vincent and the Grenadines </a>.

Turtle Inn, Placencia, Belize

Placencia is a sleepy peninsula in Belize blessed with peace. One long road is lined by white sands, warm Caribbean Sea and mangrove lagoon. The village feeling is like rewinding to Barbados before its heyday, echoes of the Kriol language in the air. Cute beach bars spill into the sea, home to the world's second largest barrier reef offering world-class diving. Turtle Inn is a refuge of understated luxury. Hollywood director Francis Ford Coppolla, has turned castaway villas into an enchanted fairytale film set. Read more about <a href="http://www.gogobot.com/belize" target="_hplink">Belize</a>.