Google appears to have cracked down hard on a rap lyrics website that was allegedly trying to game its search algorithm.
RapGenius.com disappeared from top Google search results on Wednesday, TechCrunch first reported. As of Thursday afternoon, a Google search for "rap genius" didn't bring up a link to rapgenius.com until the sixth page of results.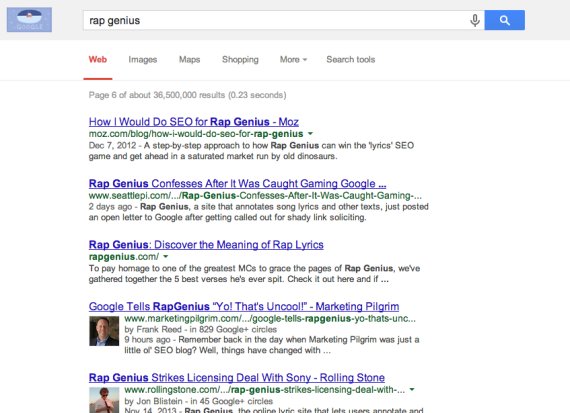 Founded in 2009 by three Yale graduates, Rap Genius bills itself as a "hip hop Wikipedia," a compendium of song lyrics annotated with notes on their meanings. The site made headlines last year when it landed $15 million in funding.
The website seems to have incurred Google's wrath after blogger John Marbach published an email from Rap Genius encouraging affiliate writers to throw links about Justin Bieber into any random post in order to get more traffic.
Google's webmaster guidelines note that "any links intended to manipulate PageRank or a site's ranking in Google search results may be considered part of a link scheme and a violation."
The Rap Genius founders responded with an open letter apologizing to Google for their SEO practices, and arguing that other lyrics sites are guilty of similar violations.
TechCrunch reported that the two companies are working toward a resolution. Google did not immediately respond to a request for comment.
In a different vein, Rap Genius has caught flack in the past for "translating" hip-hop lyrics in a racially insensitive way. As Gawker wrote last year:
Another big issue with Rap Genius is that it trades on a particular noxious brand of humor that has infected the internet for years: white people "translating" rap lyrics in arch, academic prose ... The presumption — one that partly fuels Rap Genius, if even inadvertently — is that rappers are too dumb to use "correct" English. A very early instance of the joke was a chain e-mail from the 1990s that offered a dry translation of Biggie's "One More Chance (remix)" under the guise of a competition in an Oakland school district that asked students to "translate ebonics."
ALSO ON HUFFPOST:
PHOTO GALLERY
BEFORE YOU GO
Google Easter Eggs
PHOTO GALLERY
Google Easter Eggs