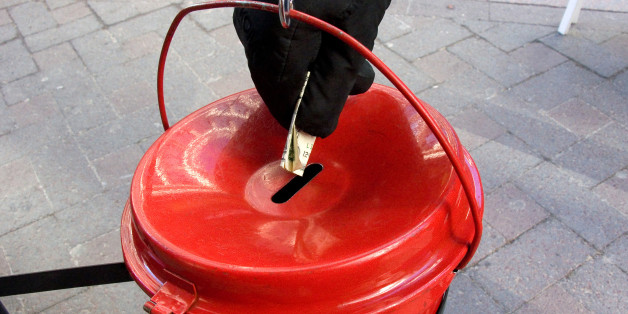 The Salvation Army in Michigan City, Ind., is counting its lucky stars this holiday season after one very generous donor quietly slipped a valuable gold bar into a collection kettle.
Corinne Charleston discovered the gold bar while counting donations over the Christmas weekend, the News-Dispatch reports. The bar, valued at $1,200, is believed to have been wrapped in a bill to escape detection and was slipped into a Salvation Army ringer's kettle outside a local Walgreens.
"You never think it will happen to you," Charleston told the News-Dispatch.
Lt. Bill Brutto, a pastor and administrator at the organization, said that while small, the gold bar would be a very valuable addition to the organization's tight budget, which will help fund programs such as food baskets and holiday gifts. Brutto, a 10-year veteran of the Salvation Army, told local television station WSBT the find was "really exciting."
"It was the first time I had ever found gold in a kettle,'' Brutto said.
He said the thin, 1-ounce bar has been sold to a "private buyer'' for $1,300 -- slightly more than for what it was appraised, WSBT notes.
The find represents the latest valuable donation anonymously left with Salvation Army ringers across the country this year.
In Sioux Falls, S.D., someone left a similar gold bar in a kettle with a note that read, "Bell ringers are special people," NBC affiliate KDLT reports.
Meanwhile, in Biloxi, Miss., a diamond engagement ring and gold wedding ring were left in a Salvation Army kettle along with a two-page letter requesting they go to a committed Christian couple who could not afford a diamond, the Associated Press reports.
And in South Florida, a $3,500 diamond ring turned up in a kettle in a Pinecrest Publix Super Market wrapped with a note that read: "Continue your good caring for the needy in God's name," NBC Miami reports.
ALSO ON HUFFPOST:
PHOTO GALLERY
BEFORE YOU GO
Wacky Finds Worth Big Bucks
PHOTO GALLERY
Wacky Finds Worth Big Bucks