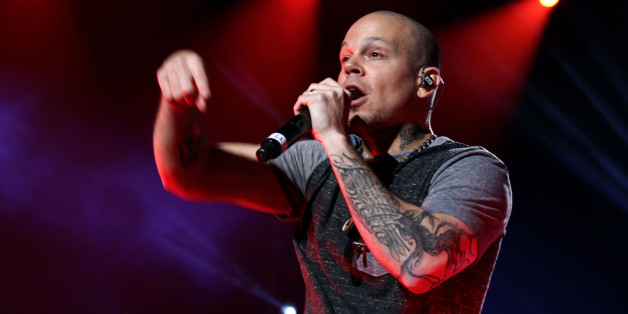 By Michael Lopez

Something tells us Residente won't be entering U.S. politics anytime soon. The Calle 13 frontman recently revealed that he's been asked to give up his American citizenship and he's given it some thought.
Speaking with a Puerto Rican newspaper, Residente said that his loyalty lies with Puerto Rico and he would prefer to not associate himself with the U.S. and its policies. But he later admitted that carrying out the exit process is easier said than done.
Si un puertorriqueño renuncia a la Ciudadanía Americana, se considerará extranjero, le aplicarán las Leyes de Inmigración y Naturalización

— Residente C13/ RC13 (@Calle13Oficial) December 23, 2013
no podrá trabajar en PRico sin la autorización del Servicio de Inmigración y Naturalización,tampoco se le permitirá votar en las elecciones

— Residente C13/ RC13 (@Calle13Oficial) December 23, 2013
"If a Puerto Rican renounces American citizenship, he will be considered a foreigner and will be subject to the immigration and naturalization laws. He won't be able to work in Puerto Rico without the authorization of Immigration and Naturalization Services. They also won't be able to vote in elections," Residente posted in a series of tweets.
After several publications published the news that the Calle 13 frontman wanted to renounce his U.S. Citizenship, the singer clarified the facts on Twitter.
"Quieren q renuncie a mi ciudadanía por q quiero a PR libre" es muy diferente a "quiero renunciar a mi ciudadanía". #noticiamalcontada

— Residente C13/ RC13 (@Calle13Oficial) December 28, 2013
"People wanting me to renounce my citizenship because I want a free Puerto Rico" is very different from "I want to renounce my citizenship," Rene said via Twitter.
Giving up his citizenship would make it very difficult for him to tour and perform in his native Puerto Rico. So (for now, at least) Residente is still part of the good ol' US of A.
Read more Blogamole's News and Chisme here.
EARLIER ON HUFFPOST:
PHOTO GALLERY
BEFORE YOU GO
16 Things You Didn't Know About Puerto Rico
PHOTO GALLERY
16 Things You Didn't Know About Puerto Rico