The local food movement has taken the restaurant industry by storm. Menus featuring local cuisine have gone from special, to trendy to commonplace. The term "local" is so overused, it has almost lost meaning entirely. Vinland, a restaurant that opened Friday in Portland, Maine, is about to put all of those restaurants serving "local" ingredients -- be they sincere or disingenuous -- to shame.
Vinland will use ingredients exclusively found in Maine. That means no olive oil, lemons, sugar or black pepper, the Bangor Daily News reports. If you're wondering about salt, apparently Maine harvests its own sea salt, which means it's fair game for Vinland.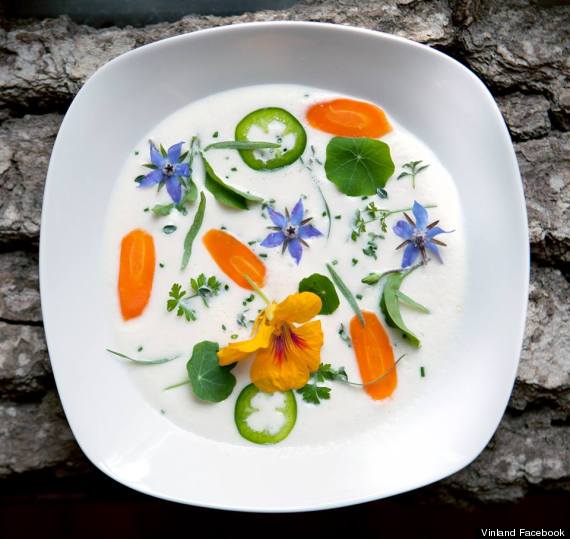 More than just a restaurant, Vinland is a movement. Chef David Levi has outlined his food philosophy in something of a manifesto on his website, where he lists 19 guiding principles, including, "We are what we eat," "Real food must nourish," and "Monetary profits should enrich the human and non-human community."
Levi chides our industrial food system, which he says produces "bad food." "It tastes bad and it is bad for us. It is not real food," he writes. "Real" food, Levi says, should be readily available to all people.
The chef sees himself as part of a food revolution, which is ultimately part of a greater social, cultural and political revolution. He believes the current state of food production is unsustainable and wants to prepare his community for "the crash." At the end his website's mini-manifesto, Levi offers further reading, listing books like Michael Pollan's "The Omnivore's Dilemma" and Thoreau's "Walden."
Levi claims Vinland is the first restaurant in the U.S. that will serve 100 percent local and organic food, but it doesn't stop with the cuisine. The waitstaff will wear clothes made by a local manufacturer, and the restaurant's interior is composed of local material, like white birch.
Men of Vinland, cuttin birch and shit. pic.twitter.com/CvfoywvxHp

— David Levi (@DavidScottLevi) December 4, 2013
It all sounds like it's straight out of Portland, Oregon, not Maine, but Levi chose Maine for a reason. It was on his first trip to the state, he tells Frontier Psychiatrist, that he fell in love with wild foods. He started picking chanterelles in Maine, and ended up cooking in some of the most renowned "locavore" restaurants in the world, including René Redzepi's Noma in Copenhagen and Magnus Nilsson's Fäviken in Sweden.
Like so many restaurants these days, Vinland began with a Kickstarter campaign, and to date has raised more than $45,000. The restaurant had its soft opening on Friday.
Watch this video to hear Chef David Levi talk about his passion for foraging and local food, and the launch of his new restaurant:

[h/t Eater]
Also on HuffPost:
Loading Slideshow
Use Cloth Napkins

Start using cloth napkins instead of paper. To reuse, simply wash them! Restaurants do this, and you can pick out colorful patterns to suit any meal.

Scale Back On Excess Packaging

Try not to purchase items with excess packaging -- you know, household products masquerading as <a href="http://en.wikipedia.org/wiki/Matryoshka_doll" target="_blank">Matryoshkas</a> (why do they package paper towels individually when you buy them in bulk? Try to avoid this where you can).

Make 2 Trips To The Grocery Store

Yep, try to make TWO trips a week to the grocery store to ensure you are actually using everything you're purchasing and not throwing food away.

Replace Your Shower Heads

Replace your shower heads with low flow devices to reduce your water usage and don't forget to turn off the faucet when you're brushing your teeth!

Unplug Your Electronics

Unplug your electronic devices when you're not using them.

Switch Out Your Lightbulbs

Get compact fluorescents (a.k.a. the swirly light bulb). As an added bonus, it's an easy way to cut down on the electricity bill.

Practice Responsible Spring Cleaning

Did you know that many household cleaners are chock full of toxic chemicals that aren't good for the environment or your family? Look for cleaners that are biodegradable and non-toxic.

Careful What You Pour Down The Sink

Take note from slide No. 7 and don't pour toxic chemicals down the sink!

Grow Your Own Produce

Start a garden! Grow your own organic fruits, veggies and spices.

Shop At Farmers Markets

Support your local growers! Perhaps one of the best features of farmers markets are the delicious fresh samples.

Unplug

This doesn't just mean the act of physically taking the plug out of the outlet, but being mindful. Practice personal sustainability.

Start Small

Rome wasn't built in a day, don't overwhelm yourself. Just pick a couple things from this list to start living more sustainably. Once your foot's in the door, you can add more to the list!