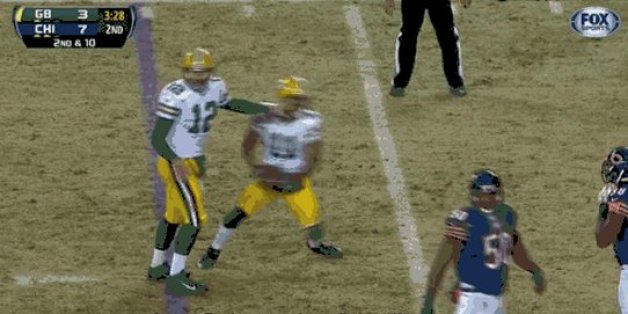 The Chicago Bears and most of the Green Bay Packers forgot to play until the whistle is blown in the second quarter of their regular-season finale. What ensued was a bizarre touchdown for the Packers.
Chicago's Julius Peppers had knocked the ball out of Green Bay quarterback Aaron Rodgers' hands before he could throw it. The ball traveled about 10 yards through the air and landed in the middle of the field. Packers receiver Jarrett Boykin rushed over to pick it up around Chicago's 15-yard line. But perhaps thinking it was an incomplete pass instead of a fumble, Boykin and every Bears defender stopped playing. Rodgers then ran over to his teammate with the ball, looked around, and then ran behind Boykin as he sprinted into the end zone for a fumble return touchdown. The play was reviewed and the call was confirmed, giving Green Bay a 10-7 lead.
(GIF via SBNationGif)
"Boykin finally picked it up, I looked back at (referee) Clete (Blakeman), he was looking at us so I think myself and everybody on the sideline was telling him to start running," Rodgers said of the play after Green Bay's division-clinching win, per the Associated Press. "It was one of the crazier plays I've been part of."
ALSO ON HUFFPOST:
PHOTO GALLERY
BEFORE YOU GO
PHOTOS: NFL Week 17
PHOTO GALLERY
PHOTOS: NFL Week 17