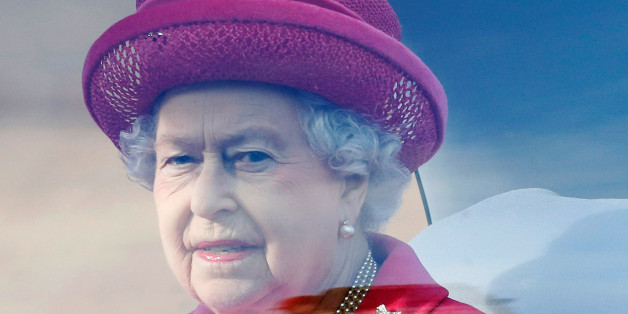 It may be holiday season, but Queen Elizabeth II doesn't seem to be in the spirit of things.
Her Majesty disappointed crowds of children yesterday, leaving the church at Sandringham without stopping to collect flowers from the youngsters who showed up to meet her. The monarch waved and walked straight to her Bentley, skipping out on the traditional meet-and-greet.
"We drove more than 50 miles with our 5-year-old daughter so she could present a small bouquet to the Queen," one parent told The Telegraph. "She had practiced how to curtsey and it would have been a big moment for her, so it was very disappointing to be told that the Queen was not receiving any flowers. This policeman just told us that it was not happening today because the Queen was late for her family lunch on Christmas Day due to so many children giving her flowers."
Aside from failing to appease the kiddos, it seems that the Queen also disappointed her royal family members, reportedly banning Prince William and Kate Middleton's dog Lupo from Christmas festivities at Sandringham. "The Queen made it clear that Lupo was not on the guest list," a courtier told The Telegraph. Sounds pretty puppy-elitist to ban the poor cocker spaniel when the Queen herself has a handful of corgis, no? (To be fair, those corgis don't mix well with other dogs... or people, for that matter.)
Luckily, little Lupo is waiting for Kate and Will in Berkshire at the Middleton home, where the royal couple will reportedly spend New Year's Eve. It's probably best that way -- the Queen seems like she's pretty much over the holidays at this point.
Royals usually love dogs:
PHOTO GALLERY
BEFORE YOU GO
Royals With Dogs
PHOTO GALLERY
Royals With Dogs
Want more? Be sure to check out HuffPost Style on Twitter, Facebook, Tumblr, Pinterest and Instagram at @HuffPostStyle.