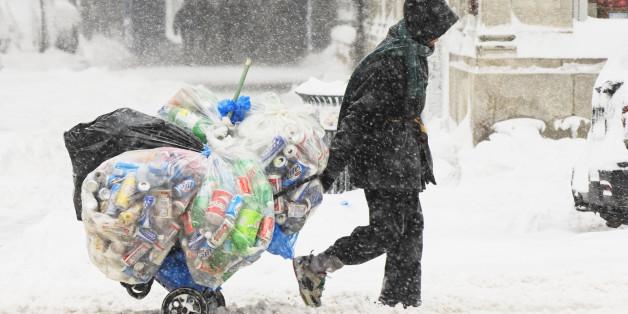 Those in the path of the storm faced dangerous road conditions and extreme temperatures. For the thousands of homeless people living in these states, seeking shelter was an urgent necessity.
"So far, it's been OK. The large majority [of homeless people] are already in homeless shelters because we have a legal right to shelter that was established 30 years ago," Patrick Markee, senior policy analyst at New York's Homeless Coalition, told The Huffington Post over the phone. "It's been close to 53,000 a night, including last night, which is the highest number the city's ever recorded."
In the wake of Thursday's storm, Markee says the most important thing is to immediately find shelter and help others in need. According to ABC News, outreach teams worked throughout the night searching city streets for homeless people at risk of freezing to death.
"If [people] see someone on the streets they should call 311 and ask homeless outreach to come. Call 911 if they're in real distress," Markee said.
Nearby in Boston, which expects temperatures to dip as low as 6 degrees below zero, city officials prepared for a larger influx of homeless people, CNN reported.
"Our main emphasis is getting people inside, where it is safer and warmer," Jennifer Harris, a spokeswoman for Pine Street Inn shelter system in Boston, told CNN. "Pine Street Inn is making sure to have extra staff and food and water. We are geared up to provide to a greater number of people."
In Philadelphia, homelessness and poverty advocacy organization Project HOME has been operating its Homeless Outreach Hotline for anyone seeking shelter or for those who see someone on the street in need of help.
"If people see people who are outside or even if people see people going into abandoned buildings, we encourage them to contact this hotline number and an outreach worker will come and attempt to engage that person and offer them a place indoors, or water, or socks, or things like that to help them," Project HOME spokeswoman Laura Weinbaum told NBC Philadelphia.
If you or someone you know seeks a shelter please call 311. If you're in the Philadelphia area call the Homeless Outreach Hotline at 215-232-1984.
SUBSCRIBE AND FOLLOW
Get top stories and blog posts emailed to me each day. Newsletters may offer personalized content or advertisements.
Learn more