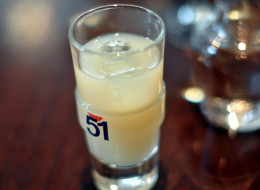 We know you don't need a lot of reasons to drink your way through winter. With so many great hot, boozy drinks to choose, from, why wouldn't you? But rather than wallow in self pity at how many of your toes are frost-bitten and how long it's been since you've been able to feel your nose as you nurse your hot toddy, we suggest giving up the winter cocktails for something a little more uplifting.
Wouldn't you like to be plucked out of the sub-zero temperatures that this year's winter is bringing and find yourself sitting in a sun-basked terrace in the south of France? That's a resounding yes, we're sure. And we'll tell you how to do just that, without having to get on the plane: by drinking a glass of pastis.
Pastis is THE aperitif of Provence. Walk through any town along the coast and you'll find this drink on all the cafe table tops. It pours out of the bottle as a dark-yellow liquid which lightens to an off-white color similar to the sand on the beaches of France. And it goes down your throat like a ray of sunshine. This anise-and-licorice-root-flavored liqueur has been around since the 1930s and has been a staple aperitif throughout France since -- and with reason, it's that good.
To enjoy Pastis, serve 2 ounces of the liqueur in a small Collins glass with a pitcher of mineral water on the side. Add water to the Pastis (at about a 1-to-5 ratio) and watch the magical color transformation. The reason you dilute Pastis is because it's 45 percent alcohol, so drinking it straight would be like sipping on a glass of gin. And the reason each person dilutes their own glass is because Pastis mixing is a personal thing, and Pastis drinkers respect individuality.
So put down your old fashioned and let Pastis jolt you out of your winter stupor with a bolt of flavor (because yes, it tastes just like you're chewing on a piece of black licorice) and a reminder of sunnier times.
Want to read more from HuffPost Taste? Follow us on Twitter, Facebook, Pinterest and Tumblr.
If you aren't into licorice, check out these other great aperitifs.
Dubonnet -- an aperitif-style wine -- is a blend of fortified wine, herbs and spices. First developed to encourage those in tropical climates to take quinine, it was formulated in 1846 and became widely popular. Some would say this drink is reponsible for the popularity of the aperitif in general. It's available in Rouge, Blanc and Gold (vanilla and orange) varieties.

The name vermouth comes from the German word for Wormwood (which, if you don't know, is the ingredient in absinthe that allegedly made people insane). There are two types of vermouth, sweet and dry -- and neither of them contain wormwood. The difference between sweet and dry vermouth is that sweet vermouth has sugar added (there's about 15 percent sugar in sweet vermouth whereas the dry variety is closer to 4 percent). Typically, vermouths are a mixture of white wine and flavors from such herbs and spices as cloves, citrus peel, cardamom, marjoram,juniper, hyssop and ginger. In Europe, both the sweet and dry can be enjoyed as an aperitif, but in the U.S. they're predominately mixed into cocktails. This beverage is best served chilled, with a slice of citrus fruit. Major brands that sell vermouth: Martini and Rossi, Cinzano and Noilly Prat.

Pastis is an anise-based aperitif that's truly an aquired taste. Pastis was first produced by Paul Ricard after the absinthe ban; it maintained a similar absinthe liquorish flavor, but without the wormwood ingredient. Pastis is normally served in a small glass and is diluted with water. The typical dilution ratio is about 1:5, but it's traditional to provide a carafe of water so that each person can dilute the aperitif to their preference. Pastis is a transparent yellow color, but when mixed with water becomes a soft milky white. Major brands that make pastis: Ricard, Pernod, Pastis 51 and Pastis Henri Bardouin.

Another quinquina, Lillet was produced in 1887 by two French brothers. It was first developed in the Bordeaux region, so naturally is mostly (about 85 percent) a blend of white Bordeaux wines (such as Sauvignon Blanc, Semillon and Muscadelle). The other 15 percent is a mixture of fruit liqueurs, mostly citrus. This beverage is best served chilled, with a slice of citrus fruit.

Campari is an Italian aperitif made from an infusion of herbs and fruit (including chinotto) in alcohol and water. Characterized by its bright red color and bitter, orange flavor, it's often times served with club soda. A similar aperitif to Campari is Aperol. Aperol has a similar taste and look to Campari, but has a lower alcohol percentage and also, a distinctive zing of rhubarb.

Cynar is an Italian aperitif made from 13 herbs and plants -- the most predominant of those being artichokes (hence the illustration on the label). Cynar is a dark brown color and has a bittersweet aftertaste. This is best served over ice.

Champagne, or any type of sparkling wine really, is commonly served as an aperitif. This can either be 'au natural' or as a kir royal. A dry white wine is also an acceptable aperitif option -- and can also be served with a dash of cassis or plain.