Raeana Roberson doesn't think of herself as "Negro."
So when the 25-year-old New York City teacher, who is black, was asked to identify herself on a prospective juror form Monday at the Queens County courthouse as either "Black, African American or Negro," she was aghast.
"Is this an old form?" she said she thought to herself. "From the 1950s?"
"I felt shocked and upset and totally disrespected," Roberson said.
Roberson crossed out the word "Negro" on the form, and wrote "offensive! it's 2014!" She then snapped a photo of the form, which she posted to Facebook with the caption, "REALLY? 'Negro' ... that I am not. Hello 2014? ... jury duty.."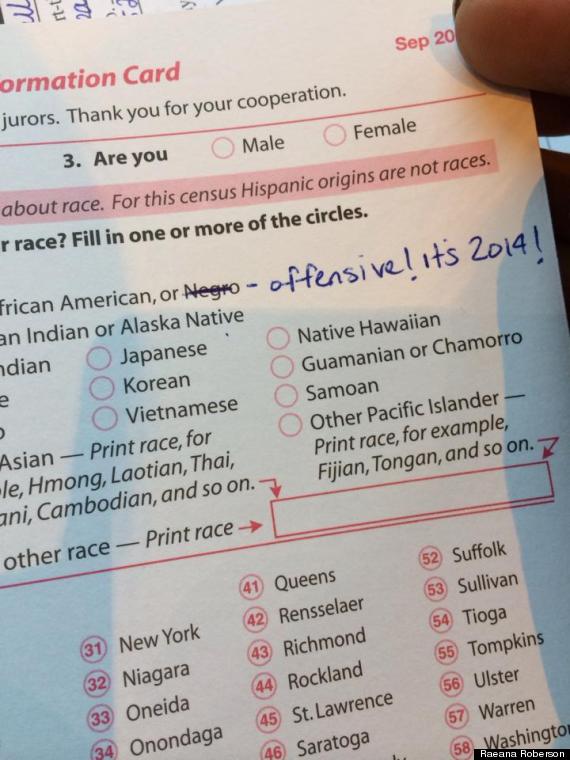 Roberson said she returned the form to a court employee -- a black woman -- and waited for a reaction, but got none. She said there were probably 300 prospective jurors in the room that day, of different races. No one else, she said, seemed upset by the form.
Roberson said the word stirs memories of segregation. "My grandfather is from South Carolina. He grew up in the Jim Crow South," she said. The history of "Negro," and the context in which the word has been used in the past, makes it offensive," she said.
In the 2010 census, only 36,000 people self-identified as Negro. Samuel Roberts, a Columbia University associate professor of history, said in a phone interview that the word has gone out of date.
"I would probably say it's an oversight. I don't think it was meant to be an offense, per se," said Roberts. "If a white person wanted to insult you in 1965, they had a much wider variety of choices to pick besides 'Negro.'
"Keep in mind that [the term] 'black' came around because of the black power movement," Roberts said. "Stokely Carmichael was one of most vocal advocates for calling ourselves 'black,' and he was reacting to people who were slightly older, maybe eight or 10 years older than him, like Martin Luther King, who talked about a Negro revolution."
Carmichael argued that the term "implied black inferiority." In 1967, following the publication of his book, Black Power: The Politics of Liberation in America, many black activists and black publications quit using the word.
Still, in 2014, "Negro" isn't just on juror forms in Queens. The word appears on forms across New York state.
Arlene Hackel, spokeswoman for the New York State office of court administration, explained that the race classification categories come from the U.S. Census Bureau.
"We don't have expertise in classification, so we follow their language, their classification, which is explained on the information card," Hackel said in a phone interview with The Huffington Post.
Section 528 was created in 2010 to ensure that New York complies with the Constitution's Sixth Amendment, which guarantees a right to a fair trial before a jury that represents a cross-section of the community where the crime occurred.
"It's good that Queens is collecting that data," said Greg Hurley, an analyst at the National Center for State Courts, noting that many courts across the country don't ask jurors to identify their race and gender on a form.
The NCSC, at the behest of seven states in 2010, created its own version of a form for prospective jurors. That form, which used the 2010 Census demographic categorizations, did not include the word "Negro."
"We thought it would give the courts the information it needed without creating discomfort," Hurley said of the organization's form.
Although New York's data collection forms look to the Census Bureau for race categories, the state may be a little behind the Census. An uproar from the black community after the inclusion of the term "Negro" on the 2010 Census prompted an apology from the bureau, which said it would cease using the term, effective in 2014.
"Some of the commentary on the question comes from people offended by the term. I apologize to them," Robert Groves, the Census Bureau director at the time, wrote in a 2010 blog post.
"I am confident that the intent of my colleagues in using the same wording as Census 2000 was to make sure as many people as possible saw words that matched their self-identities," Groves continued. "Full inclusiveness was the goal."
New York, however, still hasn't made the change.
"We are aware that it is an outdated term and we will be changing it as they change it," explained Hackel. "I can't give you a specific date, but I know that we have plans to make that change."
Roberson, meanwhile, after waiting 2 1/2 hours Monday at the courthouse, wasn't selected as a juror.
Also on HuffPost:
Racist Moments: 2013 Edition
SUBSCRIBE AND FOLLOW
Get top stories and blog posts emailed to me each day. Newsletters may offer personalized content or advertisements.
Learn more