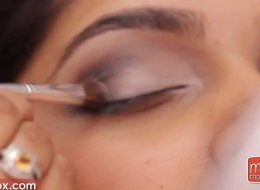 Co-Founder and Co-CEO of Birchbox Katia Beauchamp had a few tricks for making an eye color pop.

"You can make every color shadow pop, so it's really all about the application," she said. The trick is to use contouring in three different places on the eye: the crease, lash line and middle. "The pop of color should be on the crease and lash line," said Katia. In the middle of your eyelid, you should use a lighter color.

"For a traditional smoky eye, I like to use a rosy, pink color in the middle to make smoky eyes stand out but still feel natural," she told us.
For more of Katia's winter beauty tips, see the slideshow below:
Katia Beauchamp's Beauty Tips
Katia Beauchamp, Co-Founder & Co-CEO of Birchbox, insists that even when it's cold, you absolutely still need to be wearing sunscreen every day to protect your skin! If your moisturizer doesn't have SPF, make sure you're using a foundation or powder with at least an SPF 30 or above.

To help keep your skin fresh and glowing, the first step is to remove dead skin by exfoliating. Be sure to use an exfoliator with beads, and scrub at least three times a week depending on your skin's sensitivity.

Katia and the Birchbox team is all about the bold brow this season. "This winter is the season to get a brow pencil," said Katia. "Feel comfortable, play around with the look and try it out on the weekends."

As a quick remedy for dry, static-y winter hat hair, rub a dryer sheet on your hair. Another insider tip: rub a dab of hair oil on your hands and work it into the ends of your hair.

"Bronzer is your best friend!" said Katia. "It makes you look like you are getting outside more." Use a powder bronzer sparingly, always tap your brush three times before applying and be sure to blend well.

If you're suffering from dry lips this season, you may not be drinking enough water. Vitamin E capsules are also another quick remedy for dry lips.

Katia recommends cleansing your face twice daily, though she also warns against harsh cleansers that can be tough on skin. After cleansing, your skin should not feel squeaky clean or too tight. Katia recommends staying away from foaming cleansers that contain alcohol, as these tend to be harsh and drying.

In the winter, masks and at-home spa treatments are a great thing to do while you're indoors watching a movie. Katia recommends mud masks from brands such as GlamGlow to keep skin healthy and bright.
Add Marlo On Facebook:
Follow Marlo on Twitter:

Weekly Newsletter

Sign up to receive my email newsletter each week - It will keep you up-to-date on upcoming articles, Mondays with Marlo guests, videos, and more!

Sign up here