Upgrade Your Soup Recipes With 10 Easy Tricks (PHOTOS)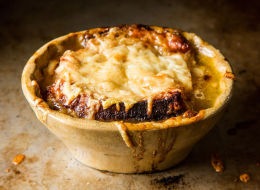 We're deep in the throes of soup season. With the big blizzard and an episode of freakish sub-zero temperatures already behind us, you had better believe that we're going to need many bowls of soup to get us through this year's cold months. This is going to be one rough winter guys, and that's why we need a ridiculous amount of soup recipes (100 to be exact).
But even with 100 recipes and a deep love for soup, it is still possible to get sick of it. That is unless you know how to up your soup game. It's easy, you'll see. Here are 10 quick ways to instantly upgrade your bowl of soup and make your winter so much more bearable.
Brown Butter Garlic Croutons

How Sweet It Is

Pancetta

James Ransom/Food52

Melted Cheese

James Ransom/Food52

Olive Croutons

James Ransom/Food52

Bread Bowls

How Sweet It Is

Caramelized Onions

James Ransom/Food52

Feta Scallion Biscuits

Annie's Eats

Basil Oil

James Ransom/Food52

Maple Roasted Chickpeas

Two Peas and Their Pod

Brown Butter Cinnamon Sugar Croutons

How Sweet It Is
Want to read more from HuffPost Taste? Follow us on Twitter, Facebook, Pinterest and Tumblr.
Try the upgrades with these soup recipes.
Get the Shrimp Bisque recipe by Verses from my Kitchen

Get the Creamy Tomato Soup with Brown Butter Garlic Croutons recipe from How Sweet It Is

Get the Italian Sausage Tortellini Soup recipe by Two Peas & Their Pod

Get the Shoyu Ramen recipe

Get the Warm and Spicy Cashew and Tomato Soup recipe from Daily Unadventures in Cooking

Get the Hot & Sour Noodle Soup with Shrimp recipe by Verses from my Kitchen

Get the Chicken Pot Pie Soup recipe by How Sweet It Is

Get the Thai Clam Chowder recipe from Tartine and Apron Strings

Get the Curried Squash & Orange Soup with Pancetta, Sage and Creme Fraiche recipe by Verses from my Kitchen

Get the Pear & Watercress Soup recipe by Verses from my Kitchen

Get the Holy Mole Chicken and Squash Chili recipe from Five and Spice

Get the Pork and Poblano Stew recipe from Simply Recipes

Get the Buttermilk Fennel Vichyssoise recipe from Food52

Get the African Chicken Peanut Stew recipe from Simply Recipes

Get the Pumpkin, Coconut & Lime recipe by Verses from my Kitchen

Get the Easy Roasted Chicken Noodle Soup recipe by How Sweet It Is

Get the Parsnip Soup with Leeks and Parsley recipe from Simply Recipes

Get the Spicy Tomato Lentil Soup recipe from Heather Christo Cooks

Get the Split Pea Soup recipe from A Little Zaftig

Get the Steak Chili recipe from Damn Delicious

Get the Watercress Soup recipe from Food52

Get the Lobster Corn Chowder recipe from A Pretty Life

Get the Tibetan Noodle Soup recipe

Get the Corn Chowder recipe from Delightfully Tacky

Get the Parsley Root & Chestnut Soup recipe by Verses from my Kitchen

Get the Chipotle Pumpkin Soup recipe from Simply Recipes

Get the Spicy Sausage, Potato and Kale Soup recipe from The Candid Appetite

Get the Mini Chicken Meatball Soup recipe by How Sweet It Is

Get the Kidney Bean Soup recipe from Macheesmo

Get the Cauliflower Stilton Soup recipe from Macheesmo

Get the Butternut Squash Chipotle Chili with Avocado recipe from Cookie + Kate

Get the Smoked Tomato Chowder recipe from Lemon Fire Brigade

Get the Broccoli Chowder recipe from Everyday Food Challenge

Get the Artichoke Soup recipe from Simply Recipes

Get the Broccoli Parmesan Soup recipe from Macheesmo

Get the New England Clam Chowder recipe from Life as a Strawberry

Get the Colombian Chicken Soup recipe from Pip & Ebby

Get the Roasted Vegetable and Pesto Minestrone recipe from Bev Cooks

Get the Pea and Mint Cream recipe from Food52

Get the French Onion Soup with Guinness recipe

Get the Garlicky Lentil Soup with Vinegar and Olive Oil recipe

Get the Vegetable Lime Chickpea Chili recipe by Two Peas & Their Pod

Get the White Bean and Ham Soup recipe from Simply Recipes

Get the Paprika & Red Pepper Soup With Pistachio Puree recipe

Get the Smoky Ham-and-Corn Chowder recipe

Get the Garbanzos con Espinacas (Moorish-style Chickpea and Spinach Stew) recipe

Get the Posole Rojo recipe from Simply Recipes

Get the Chunky Root Vegetable and Barley Broth with Herbed Dumplings recipe

Get the Oyster Stew recipe from Simply Recipes

Get the Creamy Slow-Cooker Tomato Soup recipe from Pass The Sushi

Get the White Bean and Pumpkin Pork Chili recipe from Foodiecrush

Get the Creamy Cauliflower Soup with Crispy Capers recipe by How Sweet It Is

Get the Salmon Chowder recipe from Heather Christo Cooks

Get the Three-Bean Chili Pot Pie recipe from How Sweet It Is

Get the Ginger Chicken Udon with Spinach and Mushrooms recipe

Get the Spicy Roasted Corn and Poblano Soup recipe by How Sweet It Is

Get the Shiitake-and-Swiss-Chard Soup with Hand-Cut Noodles recipe

Get the Avgolemono Soup recipe from Simply Recipes

Get the Herbed Matzoh Ball Soup recipe from Running With Tweezers

Get the Rustic Parsley & Orzo Soup with Walnuts recipe

Get the Borscht recipe from Simply Recipes

Get the Tom Kha Gai recipe from She Simmers

Get the Pasta e Fagioli recipe

Get the Chinese Congee recipe from Steamy Kitchen

Get The Heat Is On Peanut Butter Carrot Soup recipe We know this sounds crazy, but really do not knock it until you try it. Spicy peanut butter is a healer.

Get the Ski Day Potato Soup recipe from Macheesmo

Get the Bourbon Sweet Potato Bisque with Brown Butter Cinnamon Sugar Croutons recipe by How Sweet It Is

Get the Roasted Beet Soup recipe from Macheesmo

Get the Menudo recipe from No Recipes For the kind of cold that requires the big guns to be brought in.

Get the Roasted Tomato Basil Soup with Orzo recipe from Foodie Crush

Get the White Bean and Escarole Soup recipe

Get the Potato Rosemary Soup recipe by Two Peas & Their Pod

Get the Tofu and Mushroom Miso Soup recipe from Steamy Kitchen

Get the Roasted Tomato Soup recipe from Steamy Kitchen

Get the Carnitas Caldo recipe from Gimme Some Oven

Get the Shrimp and Roasted Corn Chowder recipe from Closet Cooking

Get the Silken Tofu and Edamame Soup (Edamame No Surinagashi) recipe

Get the White Bean Chowder recipe from A Communal Table

Get the Butternut Squash Apple Soup recipe from Simply Recipes

Get the Pork Chili Verde recipe from Heather Christo Cooks

Get the Fire Pot Soup recipe from Eat, Live, Run

Get the Green Gumbo recipe from Simply Recipes

Get the Asparagus Soup with Parmesan Shortbread Coins recipe

Get the Hot and Sour Soup recipe from Macheesmo

Get the Chinese Hot Pots recipe from A Spicy Perspective

Get the Baby Spinach Soup Topped with Chunky Green Olives and Oregano recipe

Get the Black Bean Chili recipe from Add a Pinch

Get the Turkish Yogurt Soup with Lamb Meatballs recipe from Food52

Get the Cod in Garlic-Ginger Broth recipe from Steamy Kitchen

Get the Old-Fashioned Onion Soup with Comté Tartines recipe from Manger

Get The Modern Pea and Ham Soup recipe

Get the Egg Drop Soup with Ginger, Chiles and Spring Peas recipe from Food52

Get the Bouillabaisse recipe from Steamy Kitchen

Get the Hearty Chili recipe from My Baking Addiction

Get the Tomato, White Bean and Bacon Soup recipe from Simply Recipes

Get the Spicy Black Bean Soup with Crème Fraîche and Cilantro recipe

Get the Roasted Eggplant and Tomato Soup recipe from Simply Recipes

Get the Vegetarian Chili recipe from White On Rice Couple

Get the Buffalo Wing Chowder recipe from An Edible Mosaic

Get the Creamy White Asparagus Soup recipe