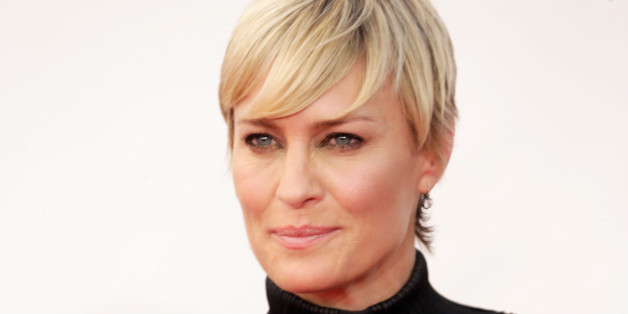 Robin Wright picked up the Golden Globe for Best actress in a TV Drama Sunday night.
The 47-year-old won for her role as the wife of a corrupt US congressman, played by Kevin Spacey, in the Netflix original series "House of Cards." This is her first Golden Globe win and second nomination; she was previously nominated in 1995 for Best Supporting Actress in a Motion Picture for her work in "Forrest Gump."
Wright faced heavy competition this year from other talented actresses in what proved to be a strong year for leading ladies in television dramas. The other nominees included Julianna Margulies for "The Good Wife," Tatiana Maslany for "Orphan Black," Taylor Schilling for "Orange is the New Black" and Kerry Washington for "Scandal."
In her speech, she thanked the crew, Netflix and Kevin Spacey, calling her co-star "the best playdate ever."
01/12/2014 11:30 PM EST
What Better Way To End This Live Blog
"This is really boring television" Elisabeth Moss, my new role model for all social interactions #GoldenGlobes

— Jessica Goodman (@jessgood) 5 years ago
Good night, all!
01/12/2014 11:29 PM EST
Ronan Farrow Is Not Happy With Woody Allen
Missed the Woody Allen tribute - did they put the part where a woman publicly confirmed he molested her at age 7 before or after Annie Hall?

— Ronan Farrow (@RonanFarrow) 2 years ago
01/12/2014 11:00 PM EST
"12 Years A Slave" Wins Best Picture - Drama
It was the only win of the night for "12 Years A Slave," but it was a big one. Steve McQueen's acclaimed drama won Best Picture - Drama, besting "Gravity," "Philomena," "Rush" and "Captain Phillips."
01/12/2014 10:50 PM EST
Matthew McConaughey Wins Best Actor - Drama For "Dallas Buyers Club"
All right, all right, all right.
01/12/2014 10:46 PM EST
Cate Blanchett Wins Best Actress - Drama
A no-brainer.
01/12/2014 10:39 PM EST
"American Hustle" Wins Best Motion Picture - Musical Or Comedy
"American Hustle" wins Best Motion Picture - Musical Or Comedy, besting "The Wolf Of Wall Street," "Her," "Nebraska" and "Inside Llewyn Davis."
01/12/2014 10:22 PM EST
"Brooklyn Nine-Nine" Wins Best Comedy At The Golden Globes
The Globes love them some "Brooklyn Nine-Nine," which has been on the air for half a season.
01/12/2014 10:16 PM EST
Liam Neeson Introduces "Gravity"
One of Liam Neeson's particular set of skills: introducing movies about space! #goldenglobes

— kase!! (@worstkase) 5 years ago
Also on HuffPost:
Golden Globes 2014: The WHOLE Red Carpet
SUBSCRIBE AND FOLLOW
Get top stories and blog posts emailed to me each day. Newsletters may offer personalized content or advertisements.
Learn more