Diane Keaton's L'Oreal Ad Raises Eyebrows For Showing Star 'Ageless And Wrinkle-Free'
We were bowled over when we saw Diane Keaton take the stage at Sunday night's Golden Globes -- that suit! That hair! That glow! (Yeah, we've got a little bit of a crush.)
But immediately after Keaton was done accepting the Cecil B. DeMille Award on Woody Allen's behalf, the Golden Globes cut to a commercial break with a L'Oreal ad starring none other than Diane Keaton... looking different than she did just one minute before, according to some viewers on Twitter. Some comments after L'Oreal's Age Perfect Glow Renewal Facial Oil ad ran:
L'oreal shouldn't run their Diane Keaton commercial right after she's been onstage WITHOUT Photoshop. #GoldenGIobes

— LogicalLibby (@LogicalLibby) January 13, 2014
After seeing the Diane Keaton L'Oréal commercial, it's very apparent there's no filter on the #GoldenGlobes cameras.

— Vicky King (@TresVicky) January 13, 2014
Whoever set this L'Oreal ad w/Diane Keaton to air at the exact moment when everyone was going, "Wow, Diane Keaton looks great," is a genius.

— Bridget Smith (@bredalot) January 13, 2014
Worst commercial placement ever. Diane Keaton wrinkled on #GoldenGlobes then ageless and wrinkle-free in L'Oreal wrinkle serum commercial.

— Gregg Giannillo (@Giannillo) January 13, 2014
There's no question that 68-year-old Keaton has awesome skin and a youthful glow -- that much was apparent to anyone watching her live at the Globes. But did L'Oreal make her even more youthful in its latest commercial? If so, the brand could find itself in trouble: Several makeup companies have had their ads banned after accusations they digitally modified their models to imply better results.
Watch the commercial below.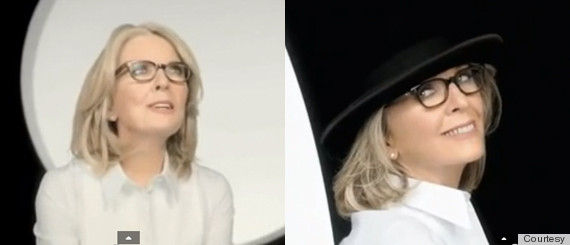 This isn't the first time a band's come under fire:
100 Ads That Got People Talking
Levis.

Saatchi and Saatchi's campaign for The Conservative Party ahead of the 1979 general election.

Durex.

Sisley fashion brand.

Sean John's Unforgivable Woman fragrance.

Linford Christie stars in Kleenex's tissue advert.

Lynx.

BMW.

BaF's anti-domestic violence ad.

Red Tape menswear fashion brand.

Controversial French anti-smoking advert,

MacDonald's.

QSOL service provider.

NSPCC

A German MacDonald's advert.

Heinz.

Cadbury's.

Miquita Oliver in Women's Aid advert.

Advert for Chicolate chocolate substitute.

Skin Burn, anti-smoking ad

Barnardo's.

Tipalet cigarette advert.

Benetton

TG4 television program entitled 'Paisean Faisean'.

Courage beer.

Budweiser.

Barcardi rum.

Amnesty International

Skyy alcoholic drink.

Amnesty International

Amnesty International

Anti binge-drinking advert

Van Heusen

BMW

Pitney-Bowes Postage Meter

Government anti-drug driving advert

Anti-abortion advert

Advert against verbal abuse

Fabrica

Benson & Hedges

American Apparel

Amnesty International

Post-It

An M&C Saatchi advert for St Matthew's in the City in Aukland, New Zealand.

Israel is still angry that the supermodel didn't serve in the army, and they are even more angry that she is in a tourism video for the country.

Wonderbra's infamous advert.
Want more? Be sure to check out HuffPost Style on Twitter, Facebook, Tumblr, Pinterest and Instagram at @HuffPostStyle.