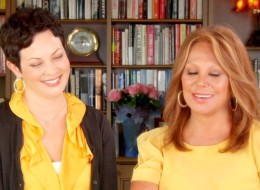 Ellie Krieger, nutritionist and author of Weeknight Wonders recommends avoiding these three unhealthy food items.
"First of all, I never say never!" Ellie told us, explaining that eating healthy is all about portion control and compromise. There are, however, certain unhealthy food items that Ellie chooses not to keep in her kitchen.
First: ice cream. Ellie recommends keeping ice cream out of the house to encourage portion control. If you have a craving, make the trip and take the family out to get a small serving of ice cream to avoid overeating.
Another rule of thumb: avoid anything made with hydrogenated vegetable oil. "This is a bad trans fat that is worse for your heart than any other food!" Ellie insisted. "You'll find it in a lot of packaged cookies and cakes."
Finally: artificial coloring. Many foods made for children have artificial color, like yogurts. Ellie suggests never keeping these items in the house.
See more of Ellie's delicious tips here
Tips From Ellie Krieger's New Cookbook, "Weeknight Wonders"
Keep pre-washed greens handy for instant salads, or to toss into pastas, sauces and soups. Pre-washed kale is a great option to throw into a quick sauteé.

Cook a big batch of whole grains to quickly re-heat during the week. Brown rice and quinoa, for example, are versatile and re-heat nicely. You can also buy pre-cooked, packaged whole grains and whole grain blends in the grocery store; just be sure to get the unseasoned versions to lower sodium.

Cook a double batch of soup, chili or stew, and freeze the leftovers in individual portions for a quick dinner on hectic weeknights.

Take advantage of rotisserie chicken! Either roast your own or buy one at the beginning of the week. Use the thighs and legs (skin off) for dinner the first night, and then use the breast meat for salads and sandwiches over the next few days.

Baby carrots, cut peppers, celery sticks, apple slices and fruit salads are all ready to be eaten and work perfectly in a sandwich, as a side, or as part of a healthy snack. These are a staple in Ellie's refrigerator on busy weeknights.

To have healthy produce at your fingertips, stock up on frozen fruits that are unsweetened, and vegetables with no sauce or seasonings added. They are nutritionally comparable to fresh produce and work well in many recipes.

To save time and take the stress out of meal planning, keep a your pantry stocked with nonperishable essentials. Fill your cupboard with no-salt-added canned beans and tomatoes, low sodium boxed broths and whole grain pastas.

Keep quick, easy and upscale proteins like frozen, cleaned shrimp on-hand for use in yummy appetizers or main courses.

To satisfy a frozen dessert craving in a healthy way, blend frozen fruit, such as mango or strawberries, with a splash or two of light coconut milk and a drizzle of honey.

Even on the busiest weeknights, be sure to take the time to enjoy your meal. Set the table elegantly even if you are dining solo, turn off the TV and computer and put away your phone. Sit down, relax and really savor each bite.
Add Marlo On Facebook:
Follow Marlo on Twitter:

Weekly Newsletter

Sign up to receive my email newsletter each week - It will keep you up-to-date on upcoming articles, Mondays with Marlo guests, videos, and more!

Sign up here