Paul George may not participate in the 2014 NBA Slam Dunk Contest during the league's upcoming All-Star weekend but that shouldn't necessarily keep him from being named the winner.
The Indiana Pacers' high-flying swingman threw down a jaw-dropping, gravity-defying, 360-degree windmill dunk against the Los Angeles Clippers on Saturday night that will be considered the NBA's "Dunk Of The Year" until someone tops it.
(GIF via @SBNationGIF)
(GIF via @HPBasketball)
George would pour in 36 points as the Pacers rolled to a 106-92 win but it was these two particularly spectacular points that had everyone talking and tweeting.
"It came to me naturally," George after the win, via the Indy Star. "I had a fast break. I usually go for something simple, but we've got a great crowd tonight, and I wanted to put on a show, keep guys coming back."
The crowd certainly seemed to enjoy the epic throwdown but perhaps no one was as excited as George's teammates.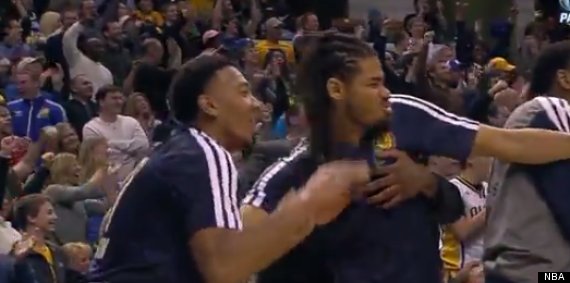 "That was unbelievable," said Pacers reserve Chris Copeland, via NBA.com's Hang Time blog. "That would have gotten 10′s in a dunk contest. But in the game? That makes it 10 times more impressive."
SUBSCRIBE TO & FOLLOW THE MORNING EMAIL
The Morning Email helps you start your workday with everything you need to know: breaking news, entertainment and a dash of fun. Learn more