Back in the days when Renaissance and Baroque art reigned supreme, artists went to work immortalizing matters of love, mythology, war and -- if they were lucky -- the occasional bacchanal. Manhattan based painter Kathleen Gilje creates rich, alternative pictorial universes that translate the many styles of yore to a more contemporary mindset. How would Albrecht Dürer have portrayed global warming? How would text messaging or online dating fit into a society portrait?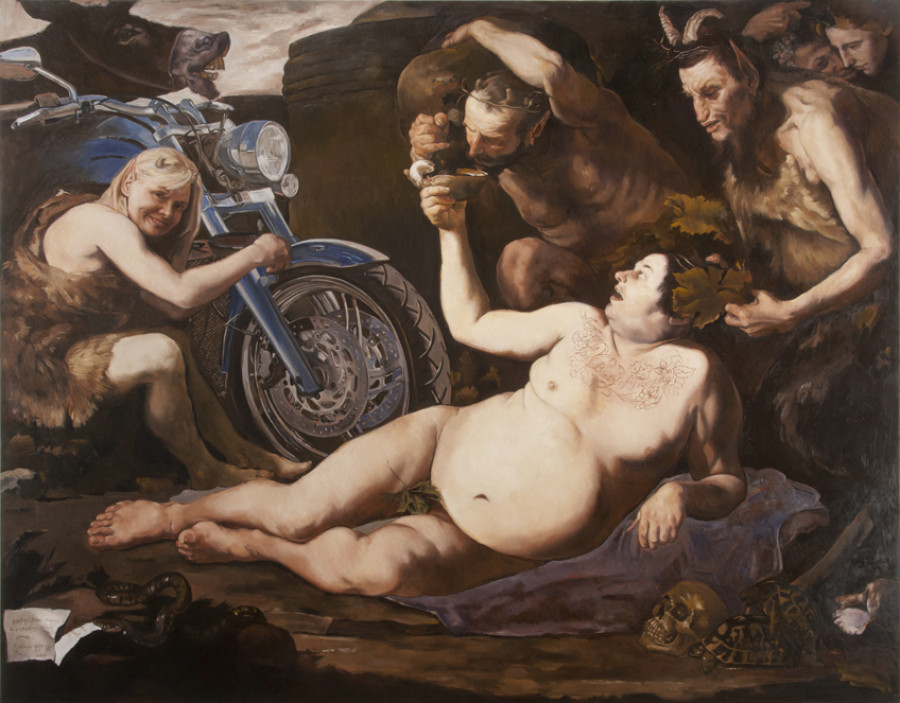 The Birth of Tragedy after Giuseppe de Ribera's Drunken Silenus, 2013
Gilje, who studied 16th and 17th Century Italian art, worked as a restorer before exhibiting her own work. Thus the artist has a mastery of painting styles past, as well as a knack for mimicking art history's greatest creators. Gilje seems to conjure artists like Artemisia Gentileschi and Anthony van Dyck, capturing the essence of their movement and brushstrokes while giving their subject matter a millennial reboot. She refers to her works as "contemporary restorations," touching up the conceptual rather than formal aspects.
In "The Birth of Tragedy", for example, Gilje riffs off Giuseppe de Ribera's 1626 piece "Drunken Silenus," which she herself restored in Naples. "I remember it in great detail," she told The Huffington Post. "In the painting, is my self-portrait as an elf with pointy ears and horns, drinking wine. The tattoo in 'The Birth of Tragedy' (with wine grapes) refers to Nietzsche's early work where he writes about the Dionysian ideas of immediate gratification versus the Apollonian idea of long term perspective. In the upper right of the painting are Dionysus and Apollo. The donkey in the left rides into the picture on a blue motorcycle, enjoying a Dionysian moment. On the lower right is a skull next to two turtles procreating, representing the circle of life."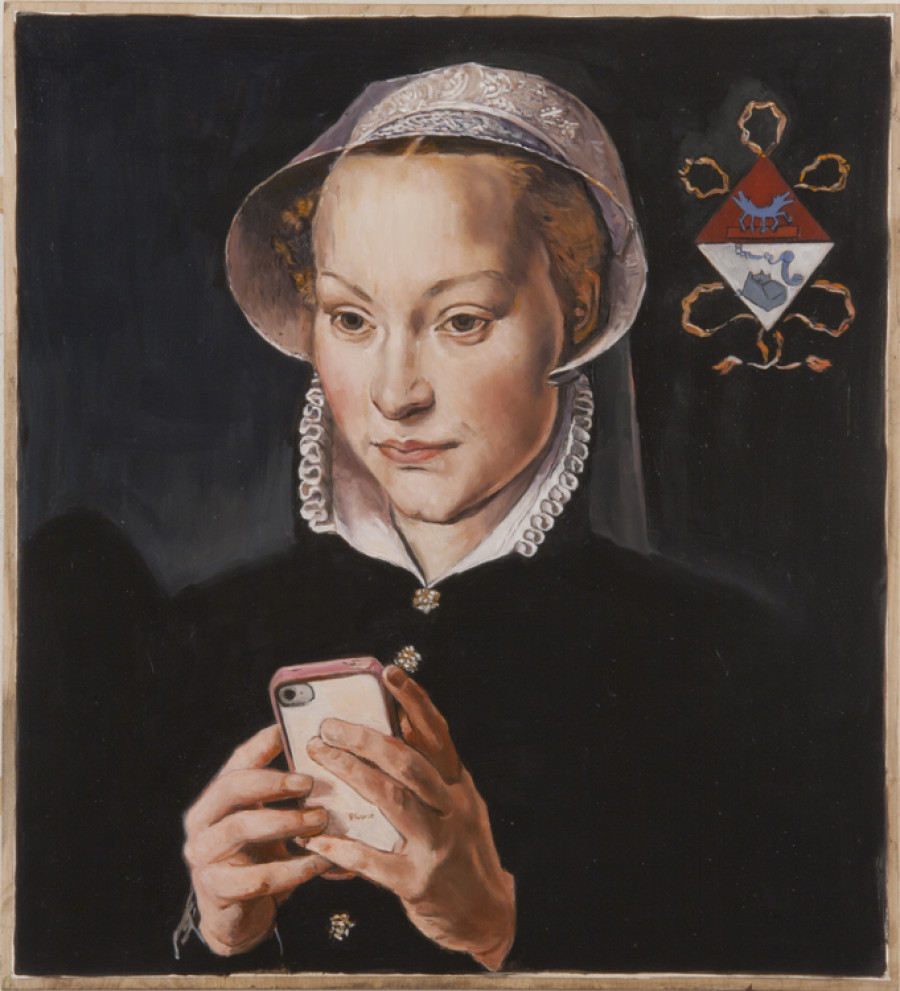 The Text Message after Pieter Pourbus's Portrait of a Married Lady of Bruges and Images from Keith Haring, 2013
Check out the remixed classics below and let us know if you think Renaissance artworks would have benefitted from some FOMO anxiety, or perhaps a motorcycle fetish.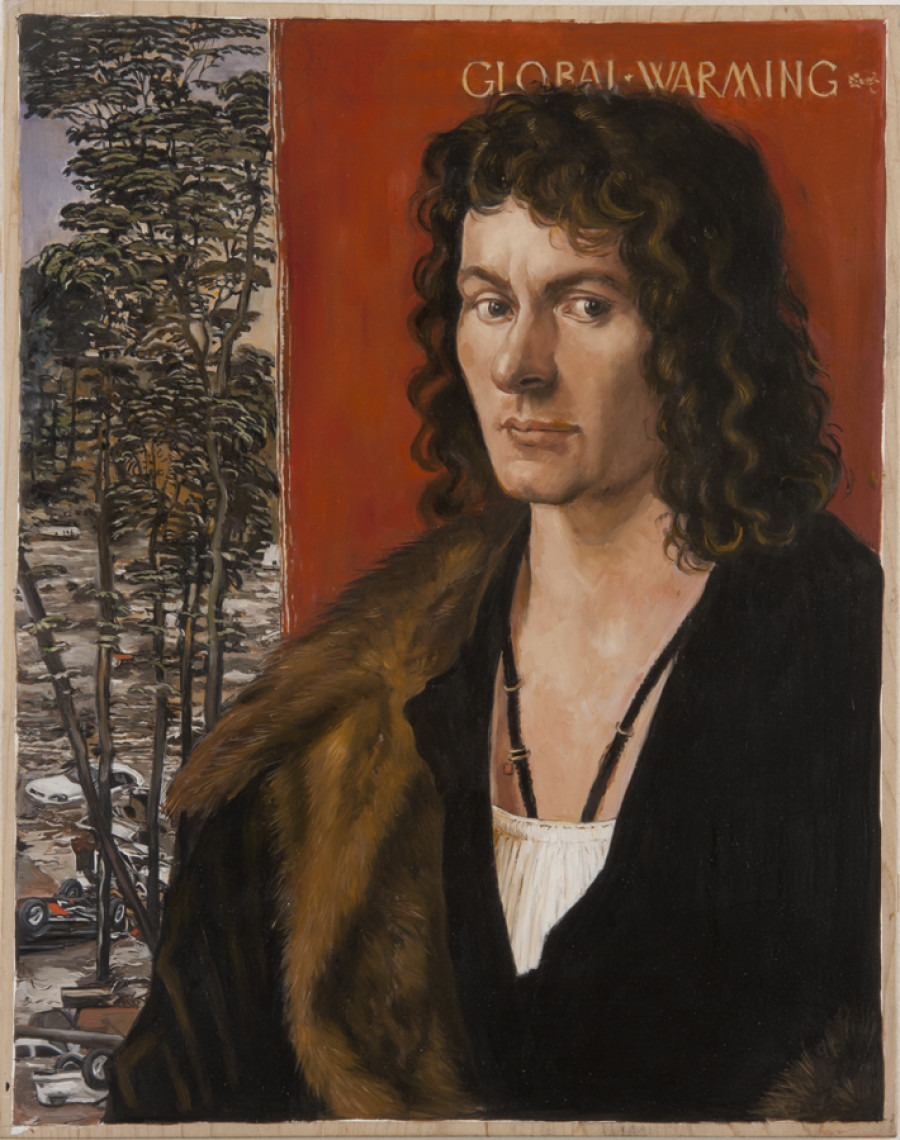 Global Warming after Albrecht Durer's Portrait of Oswolt Krel, 2013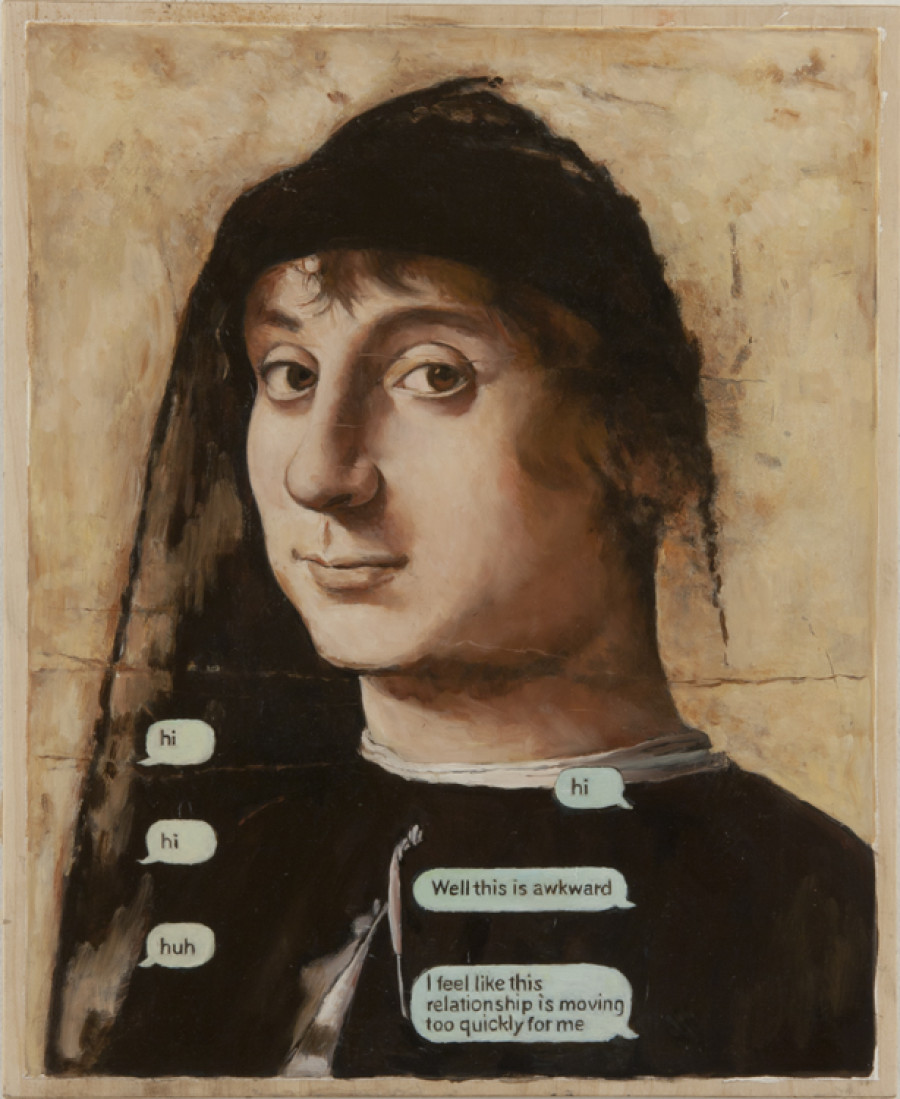 Online Dating-This Relationship is Going Too Fast for Me after Antonello da Messina's Portrait of an Unknown Man, 2013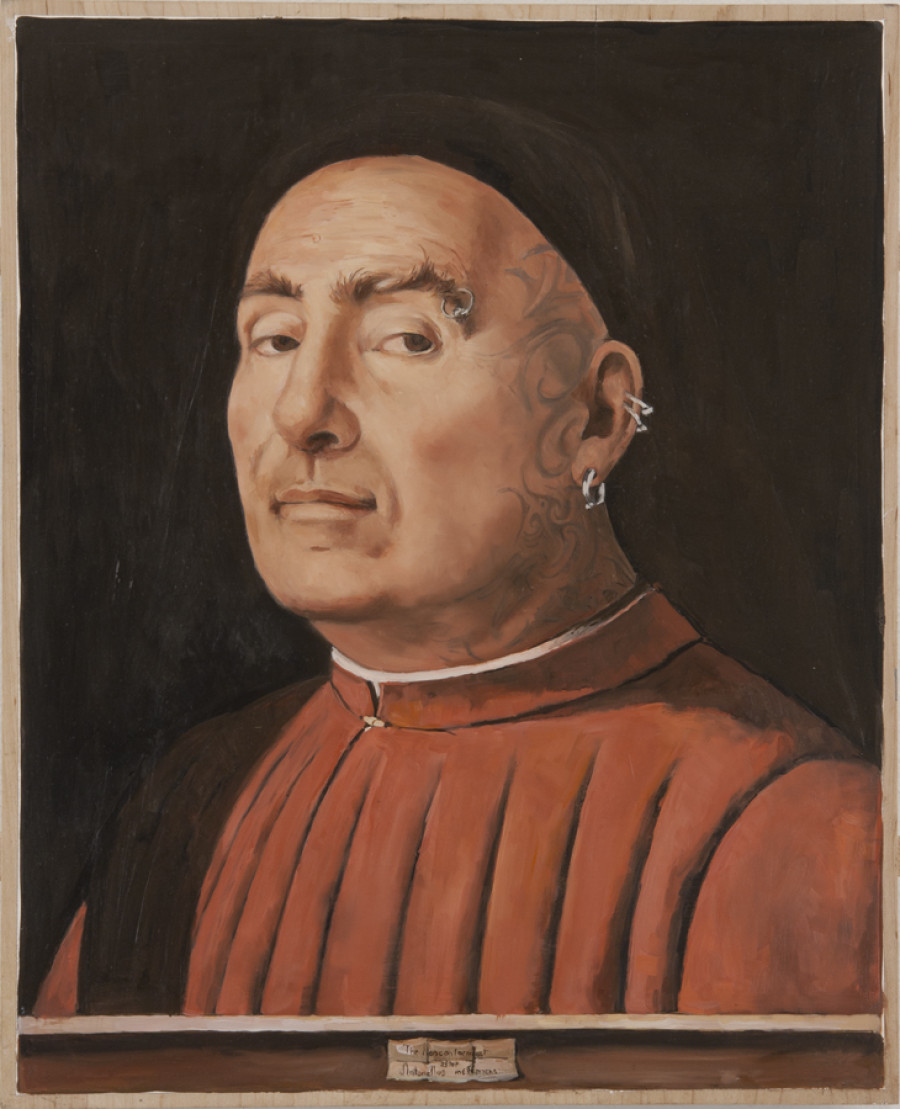 The Nonconformist after Antonello da Messina's Portrait of a Man, 2013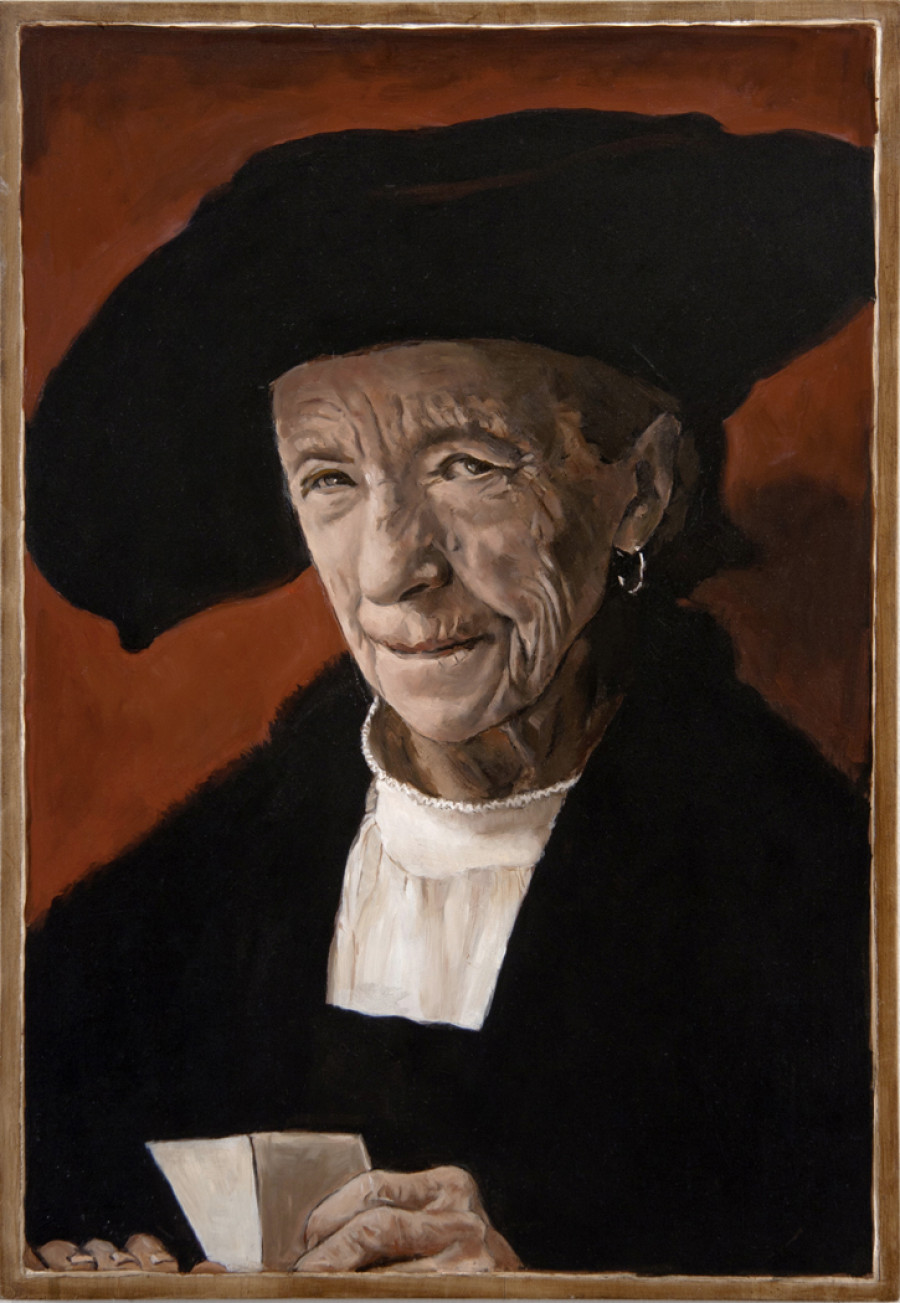 Portrait of Louise Bourgeois after Durer's Portrait of Bernhard von Reesen 2012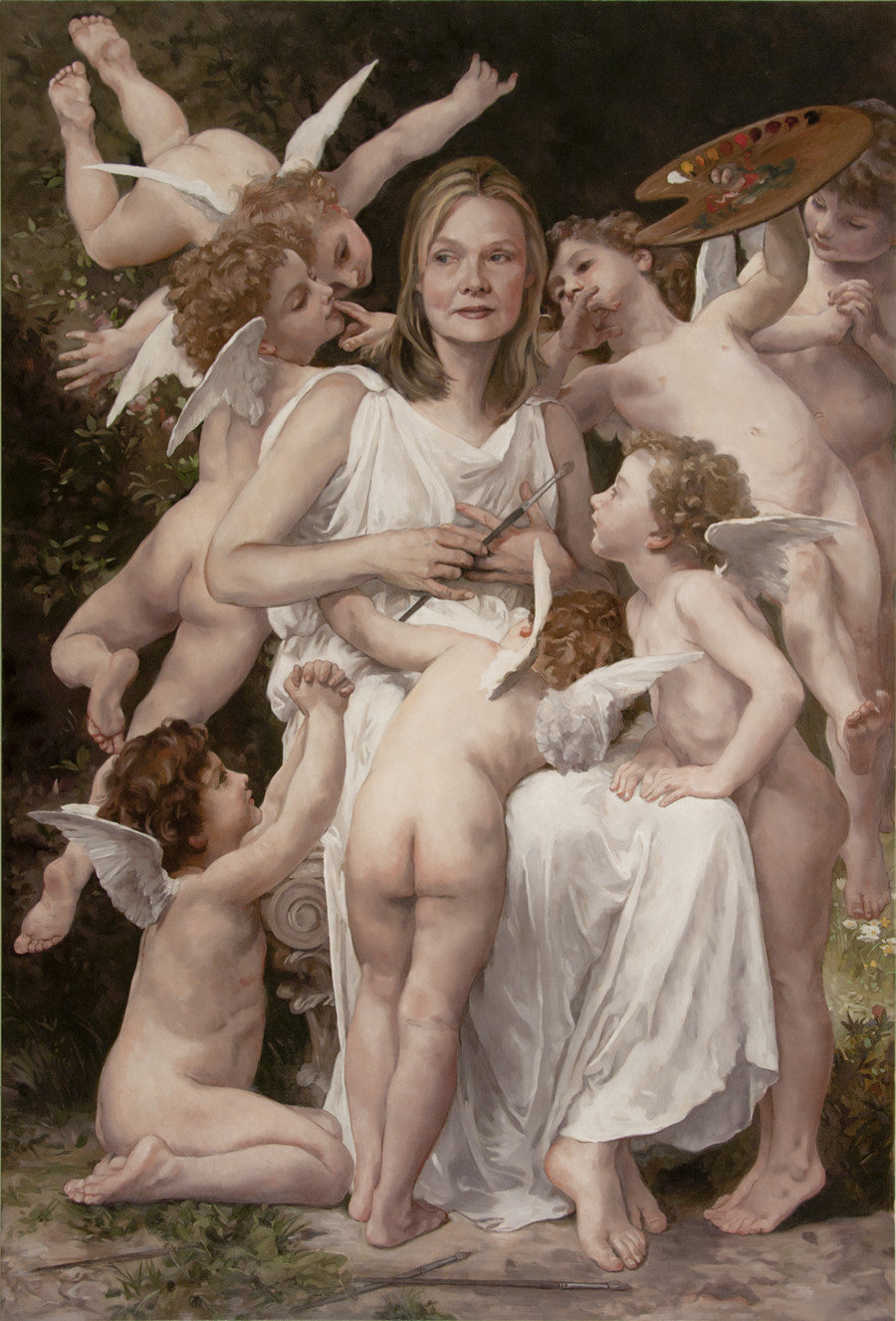 Self Portrait as Bouguereau's The Assault, 2012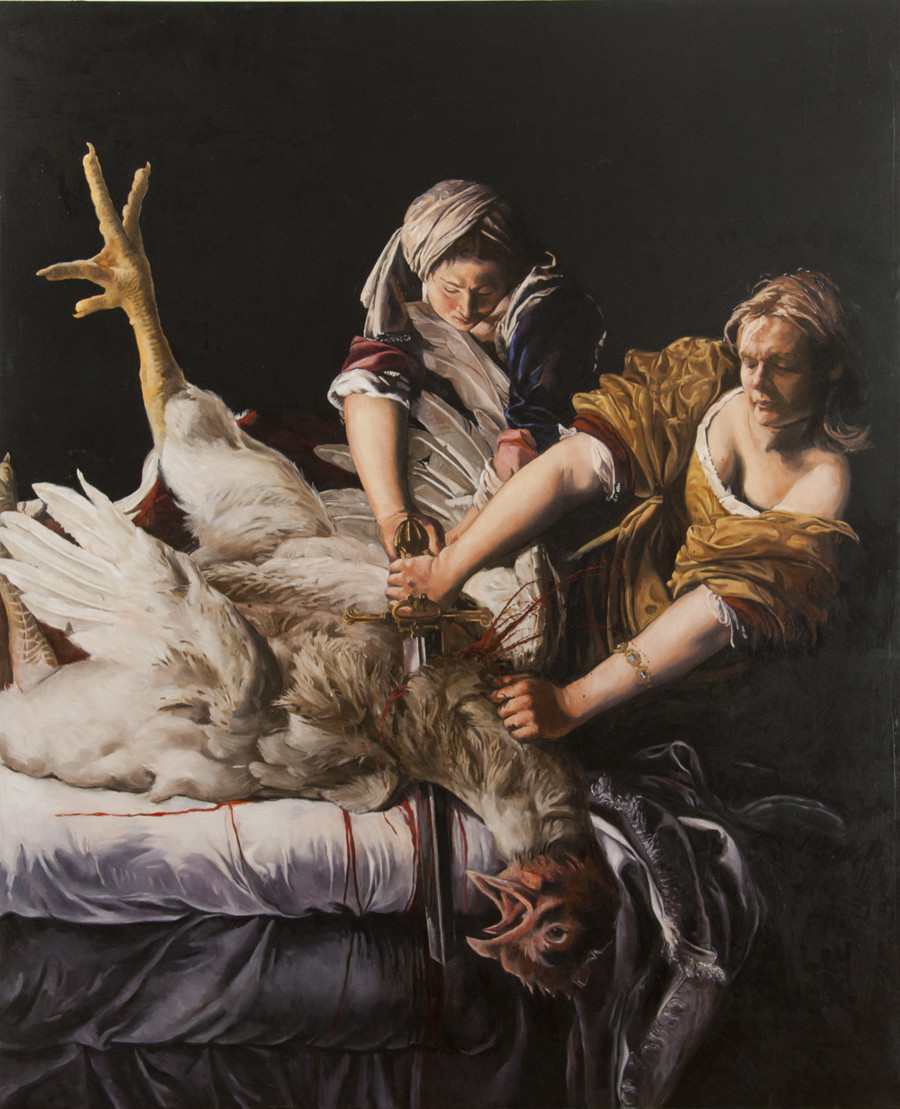 Self Portrait Slaying a Rooster after Artemisia Gentileschi's Judith Slaying Holofernes, 2012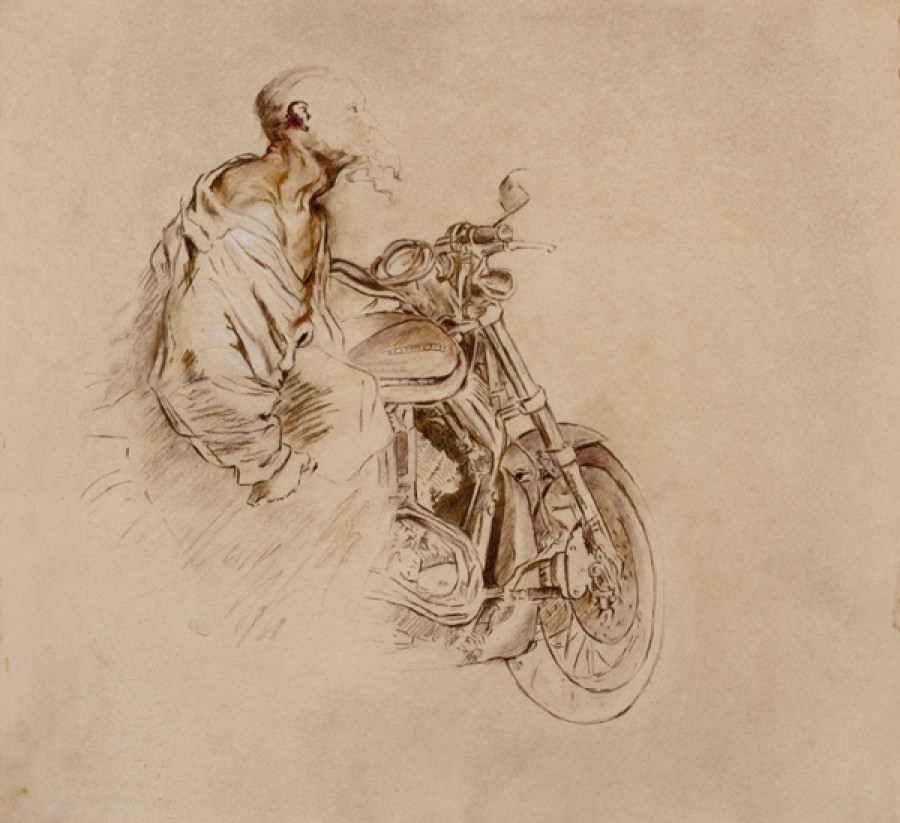 The Biker after Van Dyck's Old Bearded Man Carrying a Bundle, 2013