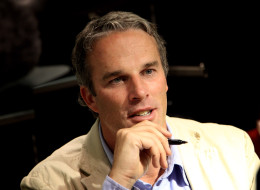 To those of us who are satisfied with a jog on the treadmill or a 45-minute yoga class, endurance adventures like running 100 miles or swimming from Cuba to Florida can sound plain crazy.
Which is part of what makes Lewis Pugh's accomplishments all the more impressive, considering the wisdom he has gathered through his extreme swims.
Pugh, who has swum in every ocean in the world, was also the first person to complete a long-distance swim at the North Pole, where waters are below zero degrees centigrade -- the freezing point for fresh water, Mashable pointed out.
This week, he's joining global leaders at the 2014 annual meeting of the World Economic Forum in Davos, Switzerland to share some of the lessons he learned while training and swimming at the North Pole as well as in a lake on Mt Everest. Many, he asserts, also apply to leadership on terra firma:
Davos is where the world's leading CEO's & politicians meet for 5 days every January. A dream place to share my message.

— Lewis Pugh (@LewisPugh) November 6, 2013
Called the Human Polar Bear, Pugh has spoken about leadership before, most famously in a 2008 Business Innovation Factory speech named one of the seven most inspiring videos on the Web by Mashable in 2009.
In the video, he describes three "anchors" his coach gave him to help him stay motivated through times of self-doubt and fear of his impending swim. Through those anchors, he was able to find the symbolism in his swim and uses his extreme accomplishments to shed light on the important global issues he discusses in the video below:
Get more from Davos below:
Share +
"We are very fortunate to do what we like to do... so I get a lot of energy out of what I do," Polman said.
"I don't personally believe in work/life balance," Polman said, adding that he hopes to have a happy life balance that includes his work.
"We have to watch what we do, I like to run so I do that every day, and increasingly watch what you eat and maintain your health a little bit," Polman said.