Sir Leszek Borysiewicz Warns Of The Dangers Of Cuts To Education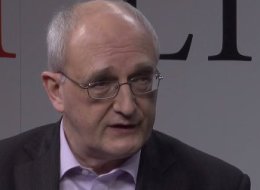 Sir Leszek Borysiewicz, Vice Chancellor of Cambridge University, told HuffPost Live at Davos he's concerned about the long-term impact of cuts to education funding.
"If we fail to invest in education today, you won't feel the ills necessarily in three to five years, but you will feel them in the long term," he said.
Borysiewicz said he's concerned that some students aren't encouraged to think about higher education early in life.
"One of the biggest problems that we face is actually, will students aspire to college or university early enough..." Borysiewicz said, noting it's the responsibility of a university to help develop students' aspirations at an early age.
Borysiewicz lamented that some students don't see schools like Oxford or Cambridge as realistic options for higher education.
"Some of the toughest areas in getting to schools... have never sent students to Cambridge or Oxford. They just don't see this as an outcome of their educational experience," Borysiewicz said.
Watch Borysiewicz on HuffPost Live above, and see more from Davos below:
Share +
"We are very fortunate to do what we like to do... so I get a lot of energy out of what I do," Polman said.
"I don't personally believe in work/life balance," Polman said, adding that he hopes to have a happy life balance that includes his work.
"We have to watch what we do, I like to run so I do that every day, and increasingly watch what you eat and maintain your health a little bit," Polman said.