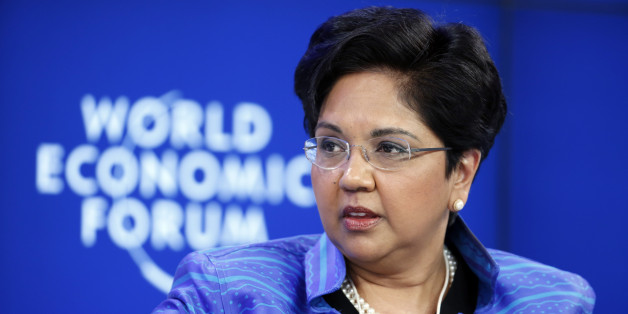 Global changemakers are in Davos this week to discuss the most pressing issues facing the world today -- poverty and humanitarian crises, business and the global economy, science and technology, and health and well-being.
Many of these international leaders of business and politics have called for seismic change -- from the way businesses view their role in society to the way individuals and institutions define success.
Here are some of the most poignant and inspiring quotes from global leaders at Davos.
"Each and every part of society not only has a role to play in encouraging healthy living, but also a vested interest in getting it right... Business has to be part of the solution, but no sector can enact meaningful change alone. It is only by working together on holistic approaches that we can achieve positive, lasting health outcomes." - Indra Nooyi, CEO of PepsiCo
"Money is not success. Today the entire idea of success is translated into the volume of money you make. That's the wrong way... We have to write new textbooks, because the conceptual framework has to be redesigned." - Muhammad Yunus, Nobel Laureate and social entrepreneur
"If you want to solve the problems of the world, you go through women." - Matt Damon
"The role of business in society has been changed. The boundaries between what is public interest and what is private interest have been blurred. Companies have a public responsibility... taking care of the environment, taking care of the social issues in the world." - Feike Sijbesma, CEO of DSM
"[Meditation] is about bringing the human back into humanity." - Goldie Hawn
"Forget about personal profit making. Once you get out of the personal profit idea, business is a very powerful tool. You can use it to solve human problems." - Muhammed Yunus
SUBSCRIBE AND FOLLOW
Get top stories and blog posts emailed to me each day. Newsletters may offer personalized content or advertisements.
Learn more