Fit Links: New Ways To Use Brown Rice, 10-Minute Workouts You'll Love And More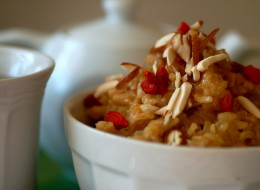 There are hundreds of wonderful sites on healthy living to be seen all over the blogosphere. Here at Fit Links, we'll introduce you to some that have caught our eye.
Your favorite whole grain is no longer just a boring base for your sizzling stir-fry! Try out these five creative uses for brown rice from SparkPeople.
So you've only got 10 minutes. That's no excuse not to break a sweat with these four 10-minute workouts you'll love from Fit Bottomed Girls.
Knowing what we do about the damage high heels do to our feet, we can only applaud the use of running shoes in the Spring 2014 Chanel couture show in Paris. Swoon over the high-fashion, fitness-minded looks at Well + Good.
And if haute couture sneaks aren't your thing, POPSUGAR Fitness rounded up a whole bunch of workout basics -- all for less than $20.