Sherri Shepherd's Ultimate Sacrifice (VIDEO)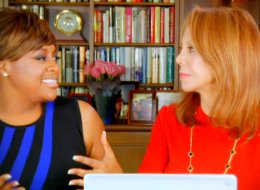 Sherri Shepherd, Emmy Award-Winning Cohost of The View, went through a very painful and difficult time with her son Jeffrey, and she shared some of that experience with us.
When her son was in therapy in Los Angeles, Sherri was faced with the tough decision of whether or not she should bring him with her to New York while she pursued her career in acting and hosting. Since her son had developed a strong bond with his therapist, uprooting him from Los Angeles "would have felt like kidnapping him," she said.
For two years, Sherri would fly between New York and Los Angeles in between tapings of The View to visit her son. "I sat on The View and waved and smiled, and then cried in the greenroom," she reflected.
After a bitter, two year-long court battle, Sherri finally got custody of her son, and he is now with her in New York. "One day, Jeffrey will realize Mommy did everything she could to provide the best life," she said.
Order Sherri's book, Plan D - How to Lose Weight and Beat Diabetes.
For more healthy living tips from Sherri, see the slideshow below:
Tips From Sherri Shepherd
Start by making small changes. For example, Sherry used to be addicted to diet soda. She'd have it for breakfast, lunch and dinner. Now, if she drinks a diet soda, she'll drink a 16-ounce bottle of water as well. As she decreased the soda, she increased the water.

Use what you have! "I go to the park for the view," Sherri says, "and I wrap my resistance bands around the fences. I'll do pull ups, lunges and climb the monkey bars."

Look closely at your carb and sugar intake."When you eat things that are high in carbohydrates, your body converts them into sugar," Sherri says. "Get rid of all the 'white' stuff like white bread, pasta and rice, and replace those items with good carbs, like whole wheat bread and brown rice."

Sherri is a Type II Diabetic, so desserts like cheesecake are out of the question for her. Instead, she'll eat Greek yogurt with blueberries or apples with peanut butter.

The goal is not to go to a restaurant and eat everything you can. "Eat something before you arrive," Sherri suggests, "and make sure you spend most of your time conversing at the event instead of eating."

Alcoholic beverages convert to sugar when they enter your body, so Sherri stays away from sugary alcoholic drinks like amaretto sours and piña coladas.

When you're eating on the road, load up your plate with as many greens as possible. "You can always find veggies!" Sherri says "Pack vegetables to have with you during a long trip."

Sherri stays away from fruits that are high in sugar like watermelon, papaya and grapes. Berries are always a safe, low-sugar option.
Add Marlo On Facebook:
Follow Marlo on Twitter:

Weekly Newsletter

Sign up to receive my email newsletter each week - It will keep you up-to-date on upcoming articles, Mondays with Marlo guests, videos, and more!

Sign up here