Chicago Wind Chill Already Threatening To Hamper Monday Commute As More Snow Is In Store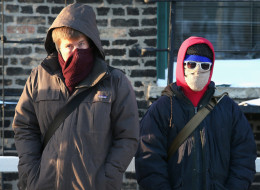 With wind chills in the Chicago area expected to dip to as low as 40 degrees below zero in the coming days, Windy Citizens are already bracing for a rough Monday morning commute.
Monday temps will be "almost a mirror image of the cold we experienced a few weeks ago," National Weather Spokesman Stephen Rodriguez told the Sun-Times, referring to the arctic deep-freeze temps of the polar vortex.
The frigid weather was showing no sign of letting up, save a brief "warm up" to weekend temperatures in the 20s. But with the mercury forecast to take another dip, Metra was even prompted to issue a Friday alert warning passenger about service delays likely to affect Monday trains.
"When it gets this cold we have to operate at slower speeds. We expect boarding of passengers to take just a bit longer," Metra spokesperson Michael Gills told ABC Chicago.
A Winter Weather Advisory expired Saturday morning, but anticipated 25 and 35 mph with gusts that could reach up to 50 mph could blow the several inches of snow forecast to fall Sunday.